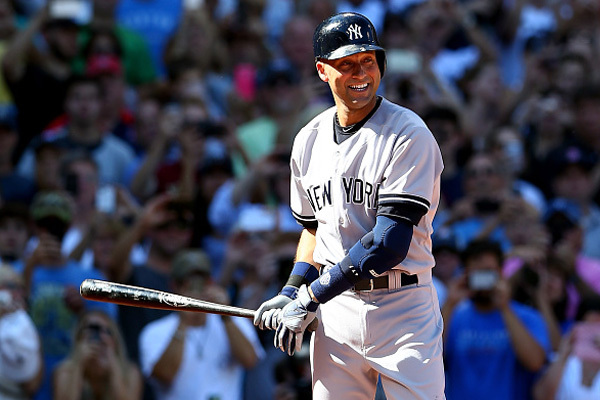 Should baseball legend Derek Jeter be the last captain of the New York Yankees?
Elsa/Getty Images
By Gordon Dixon
For over a decade, Derek Jeter served as captain for the New York Yankees. During that time he appeared in numerous All-Star Games, won a World Series, and carried himself in a way that made him one of the more beloved Yankees in the team's storied history. With his career now over, there is no ready-made replacement to fill the role.
He doesn't have a say in the matter, but general manager Brian Cashman thinks the position should be retired with Jeter the last to hold the title.
"As far as I'm concerned, and I'm not to decision maker on this, that captaincy should be retired with No. 2," Cashman said on ESPN Radio Thursday via the New York Daily News. "I wouldn't give up another captain's title to anyone else."
"Leadership comes in a lot of forms, it would be a hard one to anoint someone captain," Cashman said, "regardless of how great they might be."
There are certain franchises in sports that are transcendent and the Yankees are comfortably on that list. To say there will never be another player to wear pinstripes worthy of being captain would be inaccurate. However, Jeter was as perfect in the role as one can possibly be and Cashman surely isn't the only one who feels having Jeter as the final Yankees captain would be fitting given his tenure.
Babe Ruth, Lou Gehrig, Thurman Munson, and Don Mattingly have previously been named captains. If Jeter is the final one, he's certainly a good one to end on. If not, his successor will certainly have large shoes to fill.
MORE FROM YARDBARKER
Yankees News

Delivered to your inbox

You'll also receive Yardbarker's daily Top 10, featuring the best sports stories from around the web. Customize your newsletter to get articles on your favorite sports and teams. And the best part? It's free!