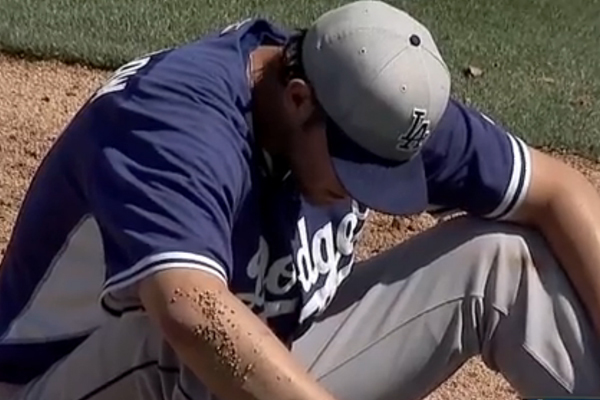 The Dodgers ace had a scary moment on the mound on Friday.
MLB.com
By Steve DelVecchio
The Los Angeles Dodgers received quite a scare on Friday afternoon when their ace, $215 million man Clayton Kershaw, took a soft liner to the face.
Kershaw was pitching in a Cactus League game against the Oakland A's when infielder Andy Parrino hit a line drive straight back to the mound. Fortunately, Parrino broke his bat. It was almost like a changeup coming at Kershaw, and he was unable to get his glove up in time.
Trainers came out to examine Kershaw's jaw area and everything seemed fine. He threw a warmup pitch and then remained in the game, so he obviously avoided any type of serious injury.
Had Parrino not broken his bat, that could have been really bad. We've seen the type of damage a line drive can do when a pitcher can't get out of the way. The Dodgers are breathing a huge sigh of relief.
MORE FROM YARDBARKER
Dodgers News

Delivered to your inbox

You'll also receive Yardbarker's daily Top 10, featuring the best sports stories from around the web. Customize your newsletter to get articles on your favorite sports and teams. And the best part? It's free!