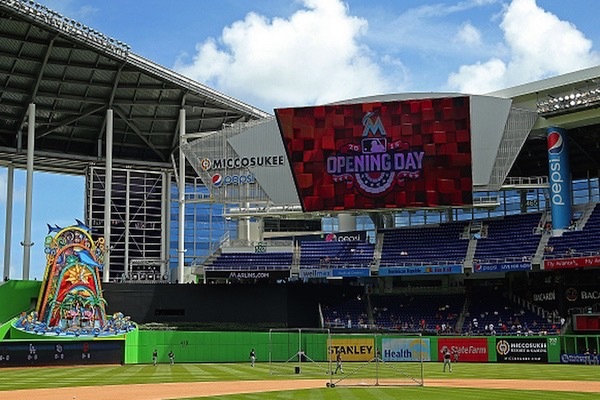 The Marlins have a retractable roof but still experienced a rain delay.
Mike Ehrmann/Getty Images
By Steve DelVecchio
The Miami Marlins opened a new ballpark in 2012 that features a retractable roof. Yet, somehow, their first home game of the 2015 season was stopped in the second inning because of rain.
The weather in South Florida can be extremely unpredictable, which is why the Marlins became one of just six teams in professional baseball to build a stadium with a retractable roof. But like anything else in life, the roof only works if the team uses it properly. And since the team is the Marlins, that was an issue on Monday.
The rain is pouring at Marlins Park. Which has a roof. Which is open.

— Anthony Castrovince (@castrovince) April 6, 2015
Sorry for the delay, folks. That's why we have a roof. We'll be back to #OpeningDay momentarily.

— Marlins Park (@MarlinsPark) April 6, 2015
As many of you have pointed out, the first rain delay of 2015 comes from retractable-roofed Marlins Park.

— YCPB (@cantpredictball) April 6, 2015
For what it's worth, the sun was shining at the start of the game. That said, a simple glance at the radar would have informed the Marlins that trouble was on its way.
Haré to tell you this #Marlins fans, but these showers are moving towards MMarlinsPark. #OpeningDay pic.twitter.com/wDKLzt1vq2

— John Morales (@JohnMoralesNBC6) April 6, 2015
Whether the situation could have been avoided or not, it's still hilarious that it happened to the Marlins. If Derek Jeter really is thinking about doing what some have said he will do in retirement, he better sleep on it some more.

MORE FROM YARDBARKER
Marlins News

Delivered to your inbox

You'll also receive Yardbarker's daily Top 10, featuring the best sports stories from around the web. Customize your newsletter to get articles on your favorite sports and teams. And the best part? It's free!