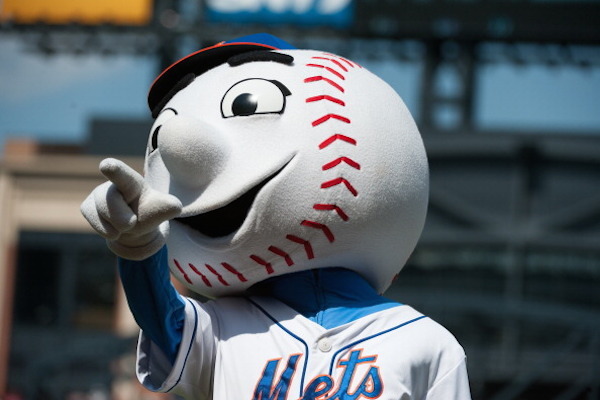 Even Mr. Met will be embarrassed if the reports indicating the Mets are making players pay to attend offseason workouts proves accurate.
Thomas Levinson/MLB Photos via Getty Images
By Steve DelVecchio
Like all other teams in Major League Baseball, the New York Mets have been holding voluntary workouts throughout the winter. These sessions are typically a chance for younger players to get some extra reps and impress the coaching staff. With the Mets, however, the younger guys have to be able to afford it first.
It would seem that the Mets are requiring some of their players to pay a fee to attend certain offseason workouts. Hardball Talk shared a screenshot of an interesting exchange that took place on Thursday between ESPNNewYork.com's Adam Rubin and some Twitter followers.
Rubin later specified that he was told minor leaguers are being charged $1,000 to attend.
Think an agent told me they asked $1,000 from minor leaguers.RT @SaltyGary: is it true players are paying for this out of their own pockets?

— Adam Rubin (@AdamRubinESPN) January 15, 2015
They're pushing envelope of what's permissible in terms of sponsored offseason workouts. Almost seems like there's penalty for not attending

— Adam Rubin (@AdamRubinESPN) January 15, 2015
If you ask me, having to pay $1,000 would be an incentive to work out somewhere else. But if the Mets are pressuring players from the lower levels of their organization to attend the workouts and making them pay a fee, that seems incredibly unfair.
Haven't the Mets dealt with enough embarrassment both on and off the field recently? The stuff that former employee was suing the team for back in September was embarrassing enough. If you dont want to spend to assemble a winner, that's fine. Don't make younger players pay for trying to improve.
MORE FROM YARDBARKER
Mets News

Delivered to your inbox

You'll also receive Yardbarker's daily Top 10, featuring the best sports stories from around the web. Customize your newsletter to get articles on your favorite sports and teams. And the best part? It's free!