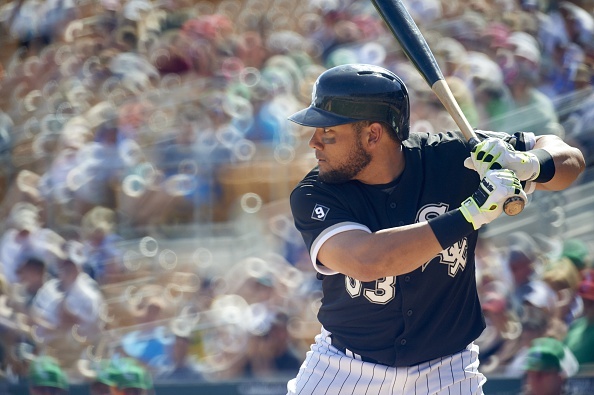 Signing Melky Cabrera during the offseason may have cost the White Sox, but his batting average should be worth the expense when it comes time for the pennant chase.
John Biever /Sports Illustrated/Getty Images
By: Shaun Ranft
Since winning the World Series in 2005, the Chicago White Sox have only managed one playoff appearance and just four seasons over .500 in the past nine seasons. But if there's one thing that's been made apparent in the months leading up to the 2015 Major League Baseball season, it's this: the White Sox are knocking on the AL Central's door, and they've got plenty to be excited about as the future unfolds.
Of course, finishing poorly and drafting high has its upsides, as the White Sox have steadily improved their farm system in recent years. General manager Rick Hahn heaped praise on Marco Paddy—who was hired as a special assistant to the Hahn in 2013—and the way the farm system as developed as a whole over time. "Improvements are a function of many things: Marco Paddy signing international talent, re-establishing themselves internationally, changes in CBA allowed them to be more aggressive in amateur draft, and picking higher in the draft," Hahn said in a conference call last week. Of course, losing just to pick higher isn't the goal. "The end all be all is winning in Chicago," Hahn said.
Vice president and assistant GM Buddy Bell also gave plenty of praise to Paddy, and noted a handful of players he's got his eye on, including Jase Frye, Spencer Adams, Amado Nunez, and Courtney Hawkins.
Bell said "balance and direction" were focal points for Hawkins while noting that he "can see him getting better on a daily basis as opposed to once in a while," but added that there's a big difference between spring training and the big leagues. That said, he certainly didn't discredit the preseason camp. "You see a little bit in spring, but it's been an important step absolutely, without question," Bell said.
Hahn touched on a handful ranging from all levels of experience, such as Gordon Beckham, Micah Johnson, and Chris Sale, as well as the process of sacrificing draft picks to sign the likes of Melky Cabrera and Dave Robertson.
Service time and arbitration rules were discussed with regards to the Kris Bryant situation with the Chicago Cubs, the focus of it being on Johnson. Hahn was straightforward, saying, "We handle it fairly cut and dry. If Johnson wins the second base job, he will be the opening day starter."
A non-roster invite, Johnson is batting .327/.375/.462 with 10 runs scored and 3 stolen bases. According to manager Robin Ventura, he appears to have the inside track. "He's done well enough to kind of be the leading guy," Ventura said. So while things look promising for the 24-year-old infielder, what awaits Tyler Saladino the 25-year-old infielder? Hahn wasn't worried for if and when the time calls for Saladino, saying, "Tyler will be playing every day in the minors. If he's needed later on, he'll be ready."
As for Carlos Rodon, the third overall selection in the 2014 draft, Hahn said there's "a good feel for where he'll end up." He added that Rodon could start in the minors but could join Chicago's bullpen at some point. Either way, don't expect Rodon to be in the minor leagues for all that long.
Relating to the amateur draft, Hawkins specifically, and how they handle spring training performances, Bell had plenty to offer — repeating "balance and direction" as focal points for Hawkins while noting that he "can see him getting better on a daily basis as opposed to once in awhile," but reminded us all that there's a big difference between spring training and the big leagues. That said, he certainly didn't discredit the preseason camp: "You see a little bit in spring, but it's been an important step absolutely, without question."
Hahn carried himself with an understated confidence throughout the call, and it was clear that he's finally got this team heading towards sustained success. When you're striving for sustained success, sometimes sacrifices need to be made in order to bring in more productive and expensive talent. Such was the case for free agent acquisitions Cabrera and Robertson, who each cost the organization a future draft pick. Fortunately, their first-round choice was a protected one and that made the decision all the easier to swoop in and sign these guys:
"It's much different when you have a pick that's not protected as to one that is," Hahn said. "Having a protected pick at eight, we felt comfortable pulling the trigger on a second and third rounder for Melky [Cabrera] and [Dave] Robertson. We felt like now was the right time to acquire specific targets to get back into contention."
Residing in a division that appears to be fairly open this coming year, Hahn has his White Sox in the right place at the right time. The Detroit Tigers are regressing, the Kansas City Royals will have a bit of a letdown year after their terrific postseason run, the Cleveland Indians will be in the wild card picture, and the Minnesota Twins are still in the midst of building themselves back up. At worst, the White Sox look like a wild-card team in 2015.
Hahn's parting words were about Sale, who is rehabbing a foot injury that many believed would keep him out for opening day. "Chris is progressing nicely, has hit each threshold thus far," he said. "Ultimately, we may not need someone to jump in for him." While he'd only be out a couple of weeks at most, it's encouraging that he's recovering quicker than expected. Alongside Jeff Samardzija and the budding José Quintana, Sale could make their rotation the most formidable in the division.
Bell emphasized the White Sox's philosophy to constantly challenge their young players and see what adjustments have to be made. "Low-A to high-A is not a big jump," he said. "As a player, I wanted to be push and understand what I wanted to do. Within reason, our philosophy is to push guys a bit. A jump from low-A to high-A is not a big deal in my mind. A jump from A-ball to Triple-A isn't as great as it used to be. It's all relative, but Triple-A is not even close to the big leagues."
They've got a firm grasp on what these youngsters can do, and definitely seem to be bent on providing all of the tools for them to succeed. Having a former player such as Bell in this kind of position can often be a good thing. Generally speaking, players respect those who have been there before them, walked in their shoes, and played the game at a professional level. They understand that these former major league players can teach them a whole lot, but it's up to them how they deal with it.
With guys like Tim Anderson (21) and Spencer Adams (18), it's all about taking it slow. Anderson hasn't played a full year yet after getting hurt last June. Bell said he's made a lot of progress, and could possibly will be lead off, or at the very least be near the top of the order in the minors. Bell wants Anderson, a first-round selection in 2013, to run more and maintain the strike zone a bit better.
Bell was very high on Adams, but pointed out the need to protect him. "Adams just needs to continue doing what he's doing, and we're going to be fairly protective" due to his age and general lack of experience, he said.
The White Sox have been subpar in spring training thus far, sitting near the bottom of the standings at 11–16. However, Bell thought it could be a good sign for the season ahead. "When I had a bad spring I got off to a good start, when I had a good spring I got off to a bad start," he said, laughing. "Maybe that's just me." Regardless, it's apparent the White Sox are looking to contend right now, and are in good shape going forward.
MORE FROM YARDBARKER
White Sox News

Delivered to your inbox

You'll also receive Yardbarker's daily Top 10, featuring the best sports stories from around the web. Customize your newsletter to get articles on your favorite sports and teams. And the best part? It's free!