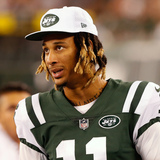 The Jets have some major decisions to make on players this offseason, including troubled wide receiver Robby Anderson. Anderson's embarrassing arrest last week has put his spot in jeopardy, but Andy Vasquez of The Bergen Record expects him to get another chance given his enormous potential. Vasquez estimates that the same can't be said for players who have underperformed, like quarterbacks...
Next year's Brooklyn Nets will look very similar to this year's team, at least at the top of the roster. Andy Vasquez from The Record quoted forward Thaddeus Young saying that both he and center Brook Lopez will be back. Thaddeus Young: "I've been told I'll be here, along with Brook." #Nets — Andy Vasquez (@andy_vasquez) May 16, 2016 It's not surprising that they'll be back. It...
The Nets might be getting aggressive. We're not sure. They're being cryptic about it.From Andy Vasquez of the Bergen Record:At this point, we really can't know what that means. Are they just scrolling through their contact lists, sending out text after text, hoping someone will respond? Or are they actually being assertive in talking to upcoming free agents in a quest to get them...
How do you ensure you'll be nine games under .500 heading into March? Just don't go on any hot streaks.  The 24-33 Brooklyn Nets have gotten quite good at that, as noted by Andy Vasquez of the Bergen Record. At the very least, the Nets are playing better of late. They're coming off an impressive win in Dallas over the Mavericks, they recently destroyed the Denver Nuggets on the road...
  Here at the Fix, we are dedicated to giving you the best possible information in the clearest concise way possible, so in accordance with our in depth articles every night, we want to supply you all with a great NBA Twitter list to make for your Tweet Deck, or if you don't have Tweet Deck, just give all these good folks a follow. We get our NBA injury news straight from them....
MORE STORIES >>
MLB News

Delivered to your inbox

You'll also receive Yardbarker's daily Top 10, featuring the best sports stories from around the web. Customize your newsletter to get articles on your favorite sports and teams. And the best part? It's free!