We've updated our Privacy Policy.
By continuing to use this site, you are agreeing to the new Privacy Policy.
He's back!Well, he might be.According to Tim Brown of Yahoo Sports three-time All-Star pitcher Brian Wilson could be returning to Major League Baseball. And he plans to return as a knuckleballer.Brown's article mentions the 34-year-old recently threw some pitches on a mound at USC, and a "handful were knuckleballs.""That right there," Wilson said while pulling off his muck-caked...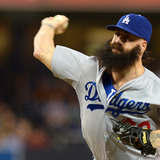 If you missed seeing Brian Wilson's bearded face this season, don't worry: the eccentric relief pitcher may soon be back in MLB. Yahoo Sports' Tim Brown reports that Wilson will begin working out and throwing soon with the intention of making a comeback next season: Brian Wilson is working out and soon will begin throwing with the intention of returning to the big leagues in...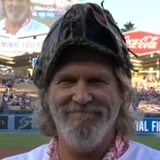 Jeff Bridges bowled a strike during Friday night's Cubs-Dodgers game. He was asked to throw out the first pitch, and that's exactly what he did. But as a tribute to his character in The Big Lebowski, The Dude bowled a strike rather than actually throwing it...
LIKE WHAT YOU SEE?
GET THE DAILY NEWSLETTER: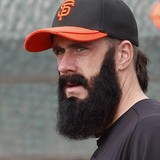 On Saturday, Brian Wilson had a very frustrating outing. He faced five batters, walked one, struck out one, and allowed two hits. He allowed one run (and allowed an inherited runner to score), but Kenley Jansen was able to close out the game in the ninth and sealed the Dodger victory. It took Wilson 23 pitches to finish the inning, and just 11 of them were strikes. It seemed like...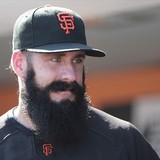 In a lengthy process in which a transformation was made from eccentric bad boy into an unkempt, disheveled cretin, Los Angeles Dodgers relief pitcher Brian Wilson finally has completed his devolution from man to bum. Wilson's removal of his hat during Sunday's game against the San Diego Padres revealed an abject, matted mess of nasty, […] The post Brian Wilson: You, my friend, have...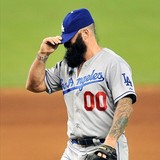 HAIRY SITUATION AVOIDED
TMZ is reporting that despite reported negotiations between Los Angeles Dodgers relief pitcher Brian Wilson's people and the proprietors of 800razors.com, the Bearded One apparently has rejected the online razor retailer's $1 million offer to shave his beard and become the company's brand ambassador. Thank goodness. MVP Sports Group, the agency that represents Wilson, reportedly...
A MILLION REASONS
This cannot happen. According to RadarOnline.com, a razor blad company is offering newly activated Los Angeles Dodgers reliever Brian Wilson some big bucks to shave off his trademark beard. The kicker?  Dude is considering it. "His management feels we need to match his present salary of $1 million at a minimum," co-founder and President of 800Razors.com Philip Masiello. So...
What would Los Angeles Dodgers pitcher Brian Wilson be without the beard? Wilson's insane facial hair became a symbol of the San Francisco Giants' success since he stepped into the team's closer role in 2008. It has been featured on billboards, buses, and even a commercial airliner ever since, but a $1 million offer could […]
BACK IN THE BIGS
We can now officially welcome Brian Wilson and his beard back to Major League Baseball. The Los Angeles Dodgers activated the 31-year-old right-hander from the disabled list on Monday and added him to their bullpen. Wilson signed with the Dodgers last month and has thrown 4.1 scoreless innings in the minors. He is reportedly fully recovered from Tommy John surgery, and ready to return...
A TMZ camera crew caught up with The Bearded One, Brian Wilson, on the streets of Los Angeles as he exited a gym and asked him how he felt about joining the Los Angeles Dodgers organization. As Wilson, 31, is wont to do, he was his usual colorful self. Dressed in shorts, garish shoes and [...]The post A nattily attired Brian Wilson on joining Dodgers: 'F**king exciting' (video) appeared...
MORE STORIES >>
Dodgers News

Delivered to your inbox

You'll also receive Yardbarker's daily Top 10, featuring the best sports stories from around the web. Customize your newsletter to get articles on your favorite sports and teams. And the best part? It's free!