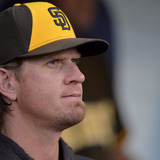 Former MLB pitchers Dan Haren and Jered Weaver had some fun roasting themselves via Twitter on Wednesday.The Athletic reporter Pedro Moura tweeted that Dodgers pitcher plans to pitch out of the stretch this season rather than use a windup when nobody is on base. Naturally, that led to a hilarious joke from Haren. Then Jered Weaver chimed in: When a fan commented that they remembered...
PHOENIX (AP) The Arizona Diamondbacks have named former starter Dan Haren as pitching strategist. Haren will work with the front office, major league staff and analytics, according to a release from the team on Tuesday. The 36-year-old Haren was a three-time All-Star and played 13 seasons with eight teams. He went 153-131 with a 3.75 ERA in 391 career games. Haren pitched for...
Curt Schilling, as he is frequently wont to do, subversively inserted himself and his controversial opinions into the political fray by taking to Twitter to applaud a shirt that supported the lynching of journalists. Ok, so much awesome here… pic.twitter.com/qx5rbW2cop — Curt Schilling (@gehrig38) November 7, 2016 Not surprisingly, the backlash was immediate. Schilling ultimately...
The list of athletes who are simultaneously good at their sport and social media is a short one. I don't know much about the other sports, but in baseball, it's pretty much limited to Brandon McCarthy, Brett Anderson, Glen Perkins and the recently-retired Dan Haren. In Haren's case, it starts with the handle, @ithrow88, a reference to the 13-year veteran's diminished late-career...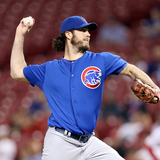 Dan Haren retired from Major League Baseball at the end of the 2015 season, and now he's using his Twitter account to share some great insights into his career. Haren decided he was bored on his exercise bike on Monday and took to Twitter to share some stories you can't get anywhere else. Just a few of the highlights: I went into almost every start the last few years thinking...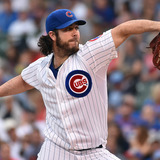 After three All-Star appearances, 153 victories, and stints with eight different teams over a 13-year career, the time has finally come for veteran righty Dan Haren to hang up his cleats. The 35-year-old Haren officially announced his retirement with a fitting goodbye on Twitter after his Cubs were eliminated in the NLCS by the New York Mets on Wednesday. Thank you baseball....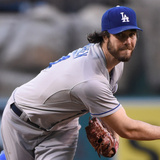 By Steve DelVecchio Dan Haren was traded from the Los Angeles Dodgers to the Miami Marlins last month, and there has been some speculation that the 34-year-old right-hander would rather retire than pitch in Miami. Haren even openly admitted that he would like to remain in southern California, and the Marlins have been trying to accommodate him. Judging by a tweet Haren sent early...
This will be the first in a series of articles detailing the Marlins' offseason acquisitions: The first reaction once it came out that the Miami Marlins gave up Andrew Heaney (and other prospects) for Dee Gordon, Dan Haren. Andrew Heaney seemed to be the perfect compliment to Jose Fernandez while Dee Gordon seemed to coming off a fluky year that seems hard pressed to be repeated...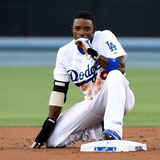 The Los Angeles Dodgers surely are a busy bunch during MLB's winter meetings. Fresh off acquiring shortstop Jimmy Rollins from the Philadelphia Phillies, Los Angeles has sent second baseman Dee Gordon and starter Dan Haren to the Miami Marlins. The Marlins will send former first-round pick and top prospect Andrew Heaney to the Dodgers in the deal. Also joining Heaney in Dodger blue...
Do we care about Dan Haren any longer? He hasn't officially picked up his 2015 team option yet, and he has until a few days after the World Series to do so. Most assume he willl, because, hey, $10 million to pitch close to home. Yes, please? Anyway, we're operating under the assumption that he'll be back, and doctors are operating on his shoulder: RHP Dan Haren underwent arthroscopic...
MORE STORIES >>
Nationals News

Delivered to your inbox

You'll also receive Yardbarker's daily Top 10, featuring the best sports stories from around the web. Customize your newsletter to get articles on your favorite sports and teams. And the best part? It's free!