We've updated our Privacy Policy.
By continuing to use this site, you are agreeing to the new Privacy Policy.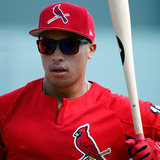 St. Louis Cardinals second baseman Kolten Wong was confronted with the possibility of losing some of his at-bats due to ongoing struggles at the plate, and he was not very receptive to the idea.Cardinals manager Mike Matheny floated the idea of a platoon at second base involving Wong and the likes of Jedd Gyorko and Greg Garcia, with Wong hitting just .182 during spring training...
ST. LOUIS -- The St. Louis Cardinals have placed third baseman Matt Carpenter on the paternity list and recalled infielder Greg Garcia from Triple-A Memphis.Carpenter, the leadoff man, is first on the team with nine homers and 32 RBIs and is batting .250 with a .378 on-base percentage.The 26-year-old Garcia was on the opening day roster and appeared in 10 games before being optioned...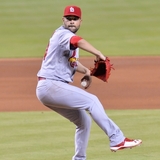 Heartburn? Maybe diarrhea? Maybe. Very few ailments could come upon Cardinals NLDS GM2 starter Jaime Garcia that would be more appropriate to St. Louis fans current mood than 'stomach virus'. Jaime Garcia was removed from the game in the 3rd inning with a stomach virus. — St. Louis Cardinals (@Cardinals) October 10, 2015 Lasting just 2 innings, Garcia surrendered 5 runs (all unearned...
LIKE WHAT YOU SEE?
GET THE DAILY NEWSLETTER:
Cardinals utility infielder Greg Garcia probably hasn't rooted for clear skies like this in a long, long time. Garcia and the Cardinals hope to get in the final game of their three-game series today at Cincinnati, but so far Mother Nature is not cooperating. The 12:35 p.m. ET start has been delayed, and for how long nobody knows at this point. The forecast calls for rain throughout...
To make room on the active roster for newcomer Brandon Moss, Matt Holliday has been put on the 15-day DL. Greg Garcia was also recalled to add depth as Dan Johnson's tenure with the Cardinals appears to be over. The veteran 1B was DFA to open up a spot on the St. Louis 40-man roster.
After plowing through South Beach, the St. Louis Cardinals came home to open up an extended homestand against the Chicago Cubs, their newest form of competition in the Central division. If you had told me Greg Garcia would play a hand in turning a 2-1 Chicago lead around into a 3-2 Birds walkoff win, I would have laughed at you and then bought you a Pete Kozma jersey at Sports Authority...
St. Louis, Mo., June 4, 2015 – The St. Louis Cardinals announced today that infielder Greg Garcia has been named the organization's May Player of the Month and right-handed pitcher Luis Perdomo has been named the May Pitcher of the Month. Garcia, 25, is at Triple-A Memphis where he has appeared in 50 games for [...]
ROOKIES GARCIA, PHAM & TUIVAILALA PROMOTED FROM MEMPHIS (AAA)              ST. LOUIS, Mo., September 8, 2014 – The St. Louis Cardinals announced today that they that they have added three additional players to their active roster with rookie infielder Greg Garcia, outfielder Tommy Pham and right-handed pitcher Sam Tuivailala (pronounced TOO-ee-vah-lah-la) being promoted from...
Then you missed a walk-off hit by pitch from Greg Garcia in the 12th inning. Just like we expected. Right? After tonight the Cardinals will have played a fraction over 25% of the 2014 baseball season and I believe we're further away from knowing what this team is than we were at the start of the season when literally anything was possible. And not by a little – by a lot. They're...
So you heard the big news today. Kolten Wong and Sugar Shane Robinson were optioned to Memphis while Randal Grichuk and Greg Garcia were called up. Maybe you're just not that into the Cardinals farm system. Maybe you don't care about players until they show up in the bigs. Maybe you thought Jhonny Peralta needed come company on the all miss-spelled first names list. Whatever your...
MORE STORIES >>
MLB News

Delivered to your inbox

You'll also receive Yardbarker's daily Top 10, featuring the best sports stories from around the web. Customize your newsletter to get articles on your favorite sports and teams. And the best part? It's free!