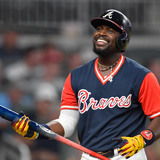 Brandon Phillips is heading to Anaheim.Phillips accepted a trade to the Angels on Thursday night, The Athletic's Ken Rosenthal first reported. The teams had until the end of the day to make a deal and beat the waiver trade deadline and did so. Atlanta even held Phillips out of the lineup Thursday in case of a trade.MLB.com's Mark Bowman says the Braves are receiving minor league...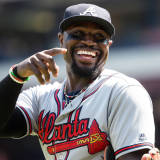 The Angels are doing what they can to solidify their team in pursuit of a playoff spot.Not only did the Angels acquire Justin Upton in a trade with the Detroit Tigers on Thursday, but they are also trying to acquire Brandon Phillips from the Atlanta Braves. Phillips was scratched for the Braves' game against the Cubs Thursday, likely because of his involvement in trade talks. The...
The Angels promoted former 1st round pick Kaleb Cowart today after thriving in Triple-A Salt Lake, batting .323 with a .395 on-base percentage, .491 slugging percentage, six homers, 13 doubles and 45 RBIs in 62 games in the PCL, striking out 64 times and walking 29 times in 220 at-bats. He also played some left field, shortstop and first base while with the Bees.  Cowart reverted...
Kaleb Cowart, what is their to say about him other than… "Ugh." Once the crown jewel of the Angels system, Cowart instead appears to have followed in the grand tradition of Angels third base prospects that went bust in a big way. He's still young enough that some hope remains, but how much? Kaleb CowartIn 10 words or less: Ashes, ashes, we all fall down. Position: 3B  Born: 6/2...
The MWAH prospect countdown finally crosses the finish line with the top prospect in the entire system and only Angel prospect to crack into any of the Top 100 prospect lists. Kaleb Cowart Position: 3B  Highest Level: High-A Bats:Switch Throws: Right  Height: 6'3" Weight: 195 lbs. Age: 20  Born: 6/2/92 2012 Season Stats Low-A: 290 PA, .293 AVG, .348 OBP, .479 SLG...
Prospect Profile - Kaleb Cowart (3B) Bats: Both Throws: Right Height: 6'2"195 lbs. DOB: 6/2/92 (Cedar Rapids/Inland Empire): .276/.358/.452 with 16 HRs and 14 SBs Kaleb Cowart's first full professional season with Angels, split between two levels (Cedar Rapids, IE 66ers), was a good one. The Halos 3B prospect showed signs of having solid power down the road clubbing 31...
The January 28th, 2013 edition of daily news for the Los Angeles Angels of Anaheim including Angels own the best outfield, Cron and Cowart amongst top prospects and much more... The Story: The Angels rank as having the best outfield in the majors. The Monkey Says: Let me just start by saying that I'm proud of Joe for not being a Braves homer and ranking them first. I do think...
Our AngelsWin.com minor league photographer Jeremy Long was recently credentialed by MLB.com with a photographer's pass and captured some amazing shots of  three of our top ten prospects heading into 2013 in Travis Witherspoon, Randal Grichuk & Kaleb Cowart. See the slideshow under my reports!  In talking to a scout recently and Jeremy who has seen these three guys this season...
Interview Conducted By David Saltzer - AngelsWin.com Senior Writer   For most of the last decade, the Angels have been without a "traditional" player at 3B--the prototypical type that hits for power, average and plays great defense. But, all of that may be changing with one of the rising stars in the Angels organization. Kaleb Cowart shows has the skills and talents...
Kaleb Cowart, 3B, Los Angeles Angels Current Level: A2012 Top 15 Prospects Ranking: 2nd Current Value: Rising The Angels' first round pick from 2010, Cowart is enjoying his first year in full-season ball. He's currently hitting .294 with 24 extra base hits in 57 games. The third baseman started the year with average numbers in April but he heated up in May with 16 extra base hits...
MORE STORIES >>
Angels News

Delivered to your inbox

You'll also receive Yardbarker's daily Top 10, featuring the best sports stories from around the web. Customize your newsletter to get articles on your favorite sports and teams. And the best part? It's free!