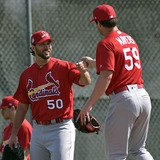 Ryan Sherriff is a 26-year-old lefty in St. Louis Cardinals camp. He's not only a longshot to make the Cardinals, but is a longshot to ever pitch in the majors. Still, Sherriff and Adam Wainwright combined for what will be one of Spring Training's nicest stories.Wainwright had spotted Sherriff walking 10-15 minutes to the team's facility to his condo. He'd also seen Sherriff walking...
By Steve DelVecchio Jackie Robinson West Little League was stripped of its US championship on Wednesday after a lengthy investigation revealed that the team used players from ineligible districts. According to former MLB pitcher Mark Mulder, this was nothing new for the Chicago-based team. Mulder, who grew up in South Holland, Ill., played against Jackie Robinson West in Little...
Former Oakland A's all-star pitcher Mark Mulder on Wednesday watched "Moneyball" the movie for the first time, and he decided to add some amazing insight via Twitter. Mulder, who went 81-42 over five seasons with the A's, has expressed some skepticism over the movie in the past. Apparently Tim Hudson's wife couldn't believe that he […]
Twitter can be an amazing thing at times. Tonight was one of those times. Former Oakland Athletics pitcher Mark Mulder live tweeted his thoughts on the movie Moneyball while watching it for the first time.  And reading his timeline was the highlight of the day on social media. In true Mulder form, the current MLB analyst called out the movie for some of the inaccuracies that were...
It is fair to say that the Los Angeles Angels need pitching help. It is also fair to say that the pitching market is very thin at the moment and you have to get whatever you can out there. Mark Mulder is attempting a comeback and it might payoff for the Angels (USA Today) With that being said, the Angels have reached an agreement on a minor league contract with left-handed pitcher...
Contrary to the portrayal in the movie "Moneyball," one former A's player says he wasn't aware of the revolutionary movement taking place in the team's front office at the time. "There was no talk of 'Moneyball' when I was there," says ex-A's pitcher Mark Mulder. "You never heard anything like that." Mulder, a current ESPN broadcaster, made his comments while watching his former...
MORE STORIES >>
MLB News

Delivered to your inbox

You'll also receive Yardbarker's daily Top 10, featuring the best sports stories from around the web. Customize your newsletter to get articles on your favorite sports and teams. And the best part? It's free!