When the Los Angeles Dodgers reacquired Matt Kemp in a trade with the Atlanta Braves this past winter, it was widely...
Kemp lost 40 pounds in the offseason and has been the surprise of the Dodgers' spring training, possibly earning him a spot as a starter.
With their abundance of depth over recent seasons, the Los Angeles Dodgers have been afforded the luxury of utilizing...
Dave Roberts wouldn't bite when asked if Matt Kemp had the club made, but his words of praise matched his actions of the lineup when asked if Kemp has shown he's more than a platoon player.
The Matt Kemp rehabilitation tour of 2018 continues with a gif of him at the Dodgers facility with Chan Ho Park with Kemp enthusiastically re-enacting Park's fight with one Tim Belcher. M-V-P M-V-P M-V-P Bonus clip of Andrew Toles clowning on him. Gotta keep up with these youngsta's! @andrew_toles steady roasting! #Dodgers #BackstageDodgers A post …
The Los Angeles Dodgers did something last season they hadn't in nearly three decades, as they defeated the Chicago...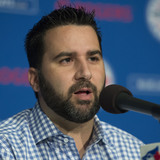 Current Braves and former Blue Jays GM Alex Anthopoulos joined MLB.com's Mark Feinsand for a wide-ranging podcast chat. It's a great listen in full for fans of either of those organizations or anyone interested in learning more about Anthopoulos's path in the game.Anthopoulos opened up on some key elements of his time in Toronto now that a few years have passed. He served as GM there...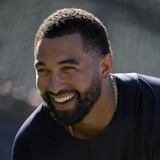 The Los Angeles Dodgers were not originally expected to keep Matt Kemp after they reacquired him as part of a salary dump earlier in the offseason, but perhaps the veteran outfielder's new commitment to fitness has led to a change of heart.Dodgers manager Dave Roberts said Tuesday that he expects to see improvements in Kemp's defense in 2018 because he's in better shape. How much...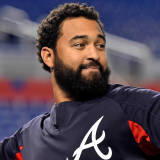 When the Dodgers recently pulled off a big-contract swap with the Braves that improved the team's luxury tax accounting, they ended up with former star outfielder Matt Kemp. It remains difficult to see Kemp ending up on the Dodgers' Opening Day roster, but the team is also finding little interest in the veteran from other organizations, according to Jon Heyman of Fan Rag.Indeed,...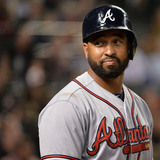 Old friend alert!MLB's Winter Meetings have come and gone, but obviously the offseason is far from over. We've seen middle relievers signing left and right, plus a couple of minor trades here and there. But on Saturday, the Los Angeles Dodgers and Atlanta Braves got together.The the Dodgers shed some salary and brought back a familiar face in the process. A two-time All-Star with...
MORE STORIES >>
Dodgers News

Delivered to your inbox

You'll also receive Yardbarker's daily Top 10, featuring the best sports stories from around the web. Customize your newsletter to get articles on your favorite sports and teams. And the best part? It's free!