We've updated our Privacy Policy.
By continuing to use this site, you are agreeing to the new Privacy Policy.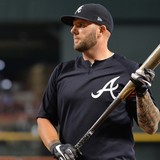 The Nationals are in "serious discussions" with first baseman Matt Adams about a deal that would bring him to D.C., according to Ken Rosenthal of The Athletic (via Twitter). ESPN.com's Jerry Crasnick had tweeted earlier today that the sides had ongoing interest, as had been reported previously.Adams is exactly the sort of lefty platoon bat the Nationals have needed since bidding...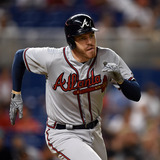 Freddie Freeman has been on the disabled list since mid-May and apparently his time on the shelf has triggered something of a reawakening in him.The Atlanta Braves slugger told reporters on Wednesday that he plans to play third base for the team upon his return from injury."[My] mindset is to return as a third baseman," said Freeman, per ESPN. "I mentioned it and said I'd be willing...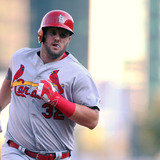 Matt Adams will enter the 2017 season visibly trimmer and slimmer than what he used to be in years past.The St. Louis Cardinals first baseman has shed nearly 30 pounds thanks to a fitness regiment of strength training, cardio work, speed and agility drills, plus an intense nutritional routine, according to a recent article in Men's Fitness.Adams has also been working with Pilates4Pros...
LIKE WHAT YOU SEE?
GET THE DAILY NEWSLETTER: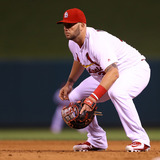 Matt Adams appears to have even more motivation than usual entering next season. The St. Louis Cardinals first baseman has lost 25 pounds this offseason by using a new training regime. Brian Stull, who saw Adams at the NHL Winter Classic between the Blues and Blackhawks on Monday, shared some details about Adams' training for St. Louis Baseball Weekly. According to Stull, Adams...
We may be witnessing a true changing of the guard this offseason in St. Louis. According to a report by Jerry Crasnick of ESPN on Thursday, the Cardinals are "in listening mode" on Matt Adams, who is a candidate to be dealt with Matt Carpenter set to be St. Louis' everyday first baseman in 2017. The #STLCards are in listening mode on Matt Adams, sources say. He's a change of...
The Cardinals did not sign free agent right-handed slugger Mark Reynolds to be a platoon partner for lefty Matt Adams. Let's make that clear. The job is Adams' unless he shows some significant regression this season. However, there were plenty of reasons that a bat like the one Reynolds possesses was needed on a team that was so power-starved last season. While Reynolds may not be...
Matt Adams struggled to perform against left handed pitchers this year. He  hit just .190 with 23 hits against left handed pitchers compared to his .318 average with 129 hits this year against righties. The Cardinals were on the search for a compliment for Adams against right handers.  With the tragic death of outfielder Oscar Taveras the Cardinals now are in need of an outfielder...
Big City.  Big Country.  Big Mayo. There's a reason we call Matt Adams Big Fill-In-The-Blank on this blog.  There are so many nicknames floating around for him, all based on the idea that he's a big guy.  On a weekend where we lost a pop culture legend, though, it seems appropriate to reach back into Casey Kasem's heyday to pull out another nom de plume. The Big Bopper. If you assigned...
About one thing we can agree. St. Louis Cardinals first baseman Matt Adams' three-run home run off Milwaukee's Matt Garza on Wednesday afternoon was not only a much-needed tonic to his club's listless offense, the blast was also the longest shot at Busch Stadium this season. Getting into actual home run lengths, however, is murky territory. Adams' blast was called 439 feet by the...
When it comes to foul balls they are fair game as long as a fan does not have to reach beyond the wall to go after one. That's not to say that a player can't go after one that is hit in the stands, and they often do. So when Cardinals first basemen Matt Adams went after a ball in the first row we shouldn't be surprised. His reaction when a fan made the catch instead of him was a...
MORE STORIES >>
Nationals News

Delivered to your inbox

You'll also receive Yardbarker's daily Top 10, featuring the best sports stories from around the web. Customize your newsletter to get articles on your favorite sports and teams. And the best part? It's free!