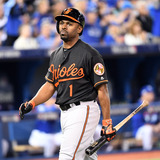 The Los Angeles Angels are hurting in their outfield and decided to sign Michael Bourn to a minor league contract.The Angels signed Bourn on Friday and sent him to Triple-A Salt Lake. Bourn signed with the Orioles to a minor-league deal earlier this year but exercised an opt-out clause and was released by Baltimore last week.Bourn was once upon a time considered by some to be a good...
A football player getting injured catching a football is nothing really out of the ordinary. A baseball player getting injured catching a football is definitely something out of the ordinary. According to Roch Kubatko of MASN Sports, two-time All-Star outfielder Michael Bourn, currently a member of the Baltimore Orioles organization, broke the ring finger on his right hand catching...
The Toronto Blue Jays have released veteran outfielder Michael Bourn, just two weeks after signing him to a minor-league deal.The former two-time All-Star was cut after playing in nine games for Toronto's Class-A team, the Dunedin Blue Jays. Bourn was playing relatively well with the Jays, posting a slash line of .257/.366/.371 in 41 plate appearances. He will likely seek a better...
LIKE WHAT YOU SEE?
GET THE DAILY NEWSLETTER: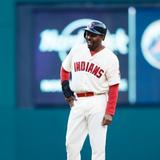 Over the next 30 days, I'll look at 30 players—one from each team—that I believe should be traded, but more along the lines of a "what if" scenario. Some will seem obvious, just as others will seem nonsensical. Some may also seem desperate, but it's important to understand that this list is entirely subjective and made up solely of notable names. A player can be deemed movable for...
By Jason Rowan Cleveland Indians manager Terry Francona was in a pretty precarious position during Tuesday's tilt against the Chicago Cubs at Wrigley Field when he found himself relieving himself in the bathroom when he heard that center fielder Michael Bourn was being ejected from the game. In fact, Francona freely admitted he suffered a bit of a bathroom mishap as the need to...
Is 2015 finally the season where Cleveland gets a healthy Michael Bourn? During the first half of his four year contract that he signed prior to the 2013 season, Bourn has been nothing short of disappointing. The upside of the former All-Star probably still remains, as Bourn has sporadically shown flashes of his former brilliance. Injuries, however, have led to inconsistent performances...
Current Cleveland center fielder Michael Bourn is born in Houston, Texas. Bourn will enter his tenth Major League season in 2015 and his third with the Indians. He was drafted in the fourth round of the 2003 amateur draft by the Philadelphia Phillies and spent his first two seasons with the team in 2006 and 2007. Following the 2007 season, he was dealt back to his hometown team,...
Today continues DTTWLN's three week examination of the Indians 2014 season and where it fell short of the playoff expectations established last winter. The staff will examine where the season went wrong and the challenges the front office faces to make the Indians contenders in 2015.   At the end of the 2012 season, Michael Bourn was a prime target as a free agent after having a...
Michael Bourn has admitted the Cleveland Indians need to find a solution to their misfiring offense if they are going to maintain their march for a place in the play-offs. With the regular season reaching its climax, the Indians know that time is running out for them to ensure they repeat last year's feat of making the postseason. With the division and Wild Card places still up for...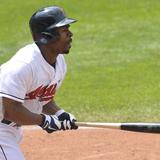 Baseball fans in Houston and Atlanta know full well that Michael Bourn can be a difference-maker. They know about his blazing speed and havoc he can wreak for a pitcher on the base paths. Fans in Cleveland, sadly, have yet to experience what Bourn is fully capable of. In the first season and three quarters of a guaranteed four-year deal (a fifth year kicks in on a vesting option...
MORE STORIES >>
MLB News

Delivered to your inbox

You'll also receive Yardbarker's daily Top 10, featuring the best sports stories from around the web. Customize your newsletter to get articles on your favorite sports and teams. And the best part? It's free!