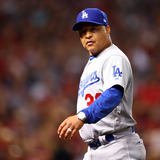 Dave Roberts is playing things pretty close to the vest when it comes to his rotation for the NLCS.Roberts met with the media on Wednesday as his Los Angeles Dodgers await the winner of the Nationals-Cubs series. Roberts shared that Clayton Kershaw will start Game 1 of the NLCS as expected, but he didn't allow anything beyond that. Kershaw pitched in Game 1 of the NLDS against Arizona...
Robbie Ray just couldn't get through it.Saturday night, the Arizona Diamondbacks got what they needed—an early start. Paul Goldschmidt got to Rich Hill immediately, sending a no-doubt two-run shot into the night. It was 2-0 and Robbie Ray was on the mound. Things were looking promising.And then it started to slowly crumble. Ultimately, Robbie Ray's wildness got the better of him...
Yesterday's start didn't work out particularly well for Rich Hill. In his first appearance since bringing a perfect game into the ninth inning and then losing a no-hitter (and the game) in the 10th, the Dodgers left-hander conceded a single to the first Diamondbacks hitter he faced on Tuesday. He also conceded hits to the third, fourth, fifth, sixth, and seventh batters he faced...
The Dodgers and Rich Hill announced their agreement at a ballroom podium in a sprawling Marriott hotel property in National Harbor, Maryland, in December. Hill fought back emotion through the press conference after signing a three-year, $48 million agreement at the winter meetings. "I told myself I wasn't going to do this… There's a lot of emotion up here," said Hill to reporters...
(USAToday Sports)Left-handed starter Rich Hill—who had a magical run with the Red Sox last September—signed a free agent deal Friday with the Oakland Athletics. The 35-year old inked a one-year, $6 million deal to pitch at The Concrete Bunker On the Bay.  Hill re-invented himself as a starter and—after starting the year in the Nationals organization—hooked up for his second stint...
The Oakland Athletics have signed left handed starting pitcher Rich Hill for one year and $6 million. Although Hill is 35 years-old, he was a coveted pitcher on the free agent market. The was another team that offered Hill more money, but the A's guaranteed the lefty a starting sport in their rotation. Last season, Hill was impressive for the Red Sox in a small sample size. In four...
When Dave Cameron wrote up the Athletics' signing of Rich Hill yesterday, he titled it "A's Sign Rich Hill, Because Of Course They Do." He focused more on the fact that Hill was a resurgent pitcher that represented a low-risk, high-reward, low-money signing — a bit like Scott Kazmir before the 2014 season. That makes a lot of sense, given Oakland's budget constraints and past practices...
Rich HillThe Red Sox sent left-handed pitcher Rich Hill (a native of Milton, Massachusetts) to the Los Angeles Angels Of Anaheim, Orange County, California, United States Of America, Western Hemisphere, Earth, Solar System, Milky Way, Universe.  Hill pitched in 40 games—32 2/3 innings in parts of three seasons—for The Carmine Hose. He compiled a 2-0 record with a 1.14 ERA for Boston...
Rich HillRich Hill—the lefty reliever who pitched for the Red Sox between 2010 and 2012—is putting life and baseball in a new perspective. He's just returning to camp (via a minor league invite) after dealing with serious family matters for the last couple of months. On December 26th, his wife gave birth to a son who suffered from multiple medical issues from the start. This morning...
MORE STORIES >>
Nationals News

Delivered to your inbox

You'll also receive Yardbarker's daily Top 10, featuring the best sports stories from around the web. Customize your newsletter to get articles on your favorite sports and teams. And the best part? It's free!