We've updated our Privacy Policy.
By continuing to use this site, you are agreeing to the new Privacy Policy.
After a few years of inconsistent performance, Yasiel Puig was very good in the second half of 2017. Thanks to some improved plate discipline and the ability to do very well hitting the ball hard in the air, there's still a chance for much more in 2018.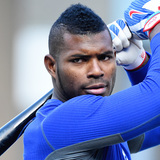 Spring training often features interesting injury reports, with MLB players being scratched for obscure reasons.That was certainly the case for Friday's spring training game between the Dodgers and White Sox, which Yasiel Puig missed for an unorthodox reason.Puig was scratched from the game due to a hip injury, which apparently was caused by the new shoes he was wearing. For the...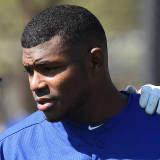 It's understandable if MLB players aren't quite in the best shape yet in the month of February, but Los Angeles Dodgers outfielder Yasiel Puig brought that to a whole new level this week.Puig was scratched from the team's spring opener against the Chicago White Sox on Friday, and manager Dave Roberts revealed that it was because of a hip injury caused by Puig's new shoes, per Andy...
LIKE WHAT YOU SEE?
GET THE DAILY NEWSLETTER: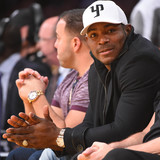 Wasserman Media Group announced on Wednesday that they have dropped Yasiel Puig as a client.According to SB Nation's Chris Cotillo, Puig demonstrated "behavior the agency could not accept." Cotillo further reports that the issue should not lead to action from the Los Angeles Dodgers. Puig, 27, batted .263 with 28 home runs last season for an .833 OPS. He starred in the postseason...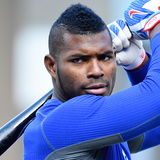 The Wasserman agency announced Wednesday that it has "terminated" its relationship with Yasiel Puig. The news, obviously, comes as a surprise given that Puig is a fairly high-profile client that stands to receive a raise on his $7.5MM salary next winter, via arbitration, before reaching free agency as a 28-year-old upon conclusion of the 2019 season. J.P. Hoornstra of the Southern...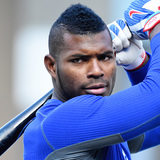 Dodgers slugger Yasiel Puig recently brought 11 young children from Cedars-Sinai Hospital to Dodger Stadium for a great cause.Puig hosted Puig's Pizza and Shave Party, and invited the kids battling cancer to help shave his head, so he could help show his support and stand behind them. This great event was part of the Dodgers Love L.A. Community Tour. Props to Puig and his camp for...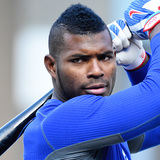 Yasiel Puig welcomed 11 childhood cancer patients from Cedars-Sinai Hospital to Dodger Stadium this week to take part in Puig's Pizza and Shave Party. And the kids got the chance to shave the Dodgers slugger's head as part of the festivities.And making the event even more heartwarming? Puig seemed to be having as much fun as the children. The event was part of a week-long Dodgers...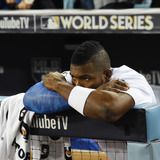 Yasiel Puig and the Los Angeles Dodgers were hoping to add a little jewelry to their collection on Wednesday night, but things ultimately went a very different direction.Not only did Puig and the Dodgers lose Game 7 of the World Series to the Houston Astros, but during that crushing loss, Puig had some of his own jewelry stolen right out of his home.TMZ Sports reports that a burglar...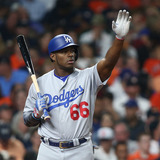 Yasiel Puig and the Los Angeles Dodgers are staring down elimination in the World Series in Tuesday night's Game 6, but the superstar Dodgers slugger nevertheless took a moment to pay his respects in tribute to a lifelong fan who perished in the Las Vegas massacre earlier this month.TMZ Sports reports that Puig learned that Laura Shipp — a 50-year-old single mother who was among...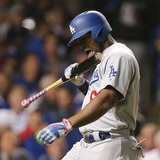 Now that he is officially taking his bat-licking antics to the World Series, Yasiel Puig is providing some funny insights into his rationale for doing so.After his Los Angeles Dodgers clinched the National League pennant with a victory over the Chicago Cubs in NLCS Game 5 on Thursday, Puig had this to say about why he licks his bat, per James Fegan of The Athletic: The Cuban outfielder...
MORE STORIES >>
Dodgers News

Delivered to your inbox

You'll also receive Yardbarker's daily Top 10, featuring the best sports stories from around the web. Customize your newsletter to get articles on your favorite sports and teams. And the best part? It's free!