We've updated our Privacy Policy.
By continuing to use this site, you are agreeing to the new Privacy Policy.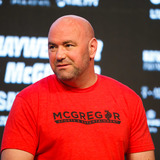 Sorry, fight fans. But if you want to see Demetrious Johnson fight TJ Dillashaw, you'll have to do so on the UFC video game. That's because UFC president Dana White says the super-fight isn't happening."UFC President Dana White said in a Thursday text message to the Los Angeles Times that a bout between flyweight champion Demetrious Johnson and bantamweight champion T.J. Dillashaw...
UFC president Dana White is interested in promoting boxer Anthony Joshua, and is bidding to offer the unbeaten heavyweight champ a $500 million multi-fight deal, according to a report.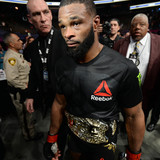 If Floyd Mayweather does decide to dip his toe in the MMA world, he's got a pretty good teacher. Welterweight (and current champion) Tyron Woodley is going to be his coach, but that's not all. It's already set up.But how did this come about?"I saw him at the Jordan party during (NBA) All-Star weekend. We started chatting about training MMA and we decided let's connect, let's hook...
LIKE WHAT YOU SEE?
GET THE DAILY NEWSLETTER: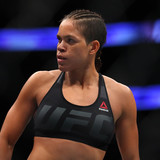 UFC women's bantamweight champion, Amanda Nunes, has her next title defense set. Of course, this comes on the heels of UFC President Dana White saying Nunes/Cyborg has to happen."(Cyborg)'s a beast. The fight to make is her and Nunes. That's the fight that needs to happen. Nunes wants the fight, she wants the fight, I want the fight, I'm sure the fans want to see it, too, so we'll...
There's no shortage of storylines when it comes to Conor McGregor, is there? In this particular case, the story at hand simply adds another wrinkle. A couple of weeks ago, McGregor said he would fight for the UFC again. But he also mentioned that he volunteered to step in to face Frankie Edgar at UFC 222."I put my name forward to step in at UFC 222 to face Frankie Edgar when Max...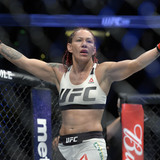 The longtime rivalry between Cris Cyborg and Ronda Rousey might very well make it to the WWE ring here soon.While the two never took on one another in the UFC Octagon, Cyborg is out here telling Rousey that she'll take on the WWE's newest sensation in a wrestling match.There's one problem with this. Cyborg also told TMZ Sports that she doubts Rousey would accept a fight between the...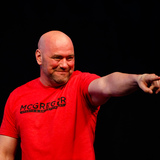 Anyone who has watched the hit show "Pawn Stars" knows full well that there's some random stuff featured on the the History channel broadcasts.We can add these samurai swords that UFC President Dana White decided to buy for his weapons room.Legimaitely, White has a weapons room, people. To make matters even more interesting, the swords have actually been used in combat by real samurais...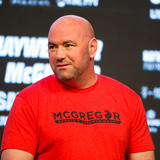 Ronda Rousey was one of the biggest draws for the UFC at the height of her mixed martial arts career, but she officially began a new chapter on Sunday. While UFC president Dana White must be disappointed to lose Rousey, he says he is excited for the former bantamweight champion.In a text message to Adam Hill of the Las Vegas Review Journal, White said Rousey has always been enamored...
Conor McGregor seems to be goading Floyd Mayweather amid rumors of the boxer potentially heading to the UFC.ESPN shared a photo on Twitter Thursday of a young Mayweather and photoshopped UFC gloves onto his fists. Their tweet seemed like a trial balloon to see what the fan reaction would be. They also found out what McGregor's reaction would be. The "virgin ears" tweet came a day...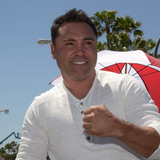 Oscar De La Hoya is "very disappointed" by the personal attack he received from Dana White last week.De La Hoya and White have been at odds for several months over conflicting business interests. De La Hoya is a boxing promoter and was working to organize a fight between Canelo Alvarez and Gennady Golovkin — a blockbuster match to fans within the boxing world. All the while there...
MORE STORIES >>
MMA News

Delivered to your inbox

You'll also receive Yardbarker's daily Top 10, featuring the best sports stories from around the web. Customize your newsletter to get articles on your favorite sports and teams. And the best part? It's free!