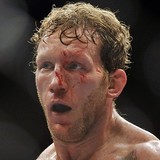 Late Monday night, a lightweight affair between former top contender Gray Maynard (pictured) and Fabricio Camoes was added to the UFC 176 roster. UFC officials confirmed the matchup via Twitter. The August 2 event takes place inside Staples Center in Los Angeles, California. Maynard will be looking to collect a much needed win after dropping three of his last four scraps, including...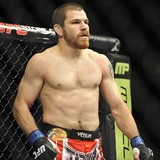 It's been six years in the making since Nate Diaz and Gray Maynard first met during the fifth season of The Ultimate Fighter, but their trilogy of bouts officially came to a close at the TUF 18 finale with the door slamming shut on the rivalry. The first meeting, while not on their official records, ended with Diaz getting the win by guillotine choke before Maynard evened things...
Nate Diaz and Gray Maynard are two of the most distinguished alumni of The Ultimate Fighter . Both men, ironically both contestants of Season 5, have had long and successful careers and earned lightweight title shots. Their paths have also crossed twice before in the Octagon, once on the show and once in official competition, each winning once. At the TUF 18 Finale, they'll pair...
UFC "I've got some new tools, and some new approaches, so it's just — I've been away from home for a long time. That's how I feel." - Gray Maynard
Gray Maynard (Pictured) has entered two UFC title fights and didn't leave the Octagon with the hardware on either occasion. The lightweight is now trying to claw his way back up the totem pole, but redemption isn't his primary motivation, obtaining financial security for his expanding family is. "My girl is pregnant and that changes your outlook in life," Maynard revealed. "I don...
More than six months ago, Gray Maynard went soul searching. This Friday night in Atlantic City, he intends to make the type of statement that will shake up the ultra-competitive UFC lightweight division. After spending 2011 battling injuries and inner camp turmoil while suffering two missed attempts at the lightweight crown, Maynard decided it was time to switch things up. He set...
Who's got long, curly, brown hair, but intends to have it braided for his next fight? That guy (Above: Clay Guida)! According to John Fosco, Guida's manager, Gray Maynard's representatives filed a request with the New Jersey State Athletic Control Board a month ago stating Guida's hairdo could cause "interference" in their shootout. Instead of requesting a hearing to protest the...
"UFC on FX: Maynard vs. Guida" takes place June 22nd inside Revel in Atlantic City, New Jersey. However, you already knew that. But, do you know which four fights will air live during the FX broadcast? Well, you do now. A critical lightweight scrap with former top contender Gray Maynard (Pictured) and Clay Guida headlines the festivities. A lightweight shootout between Sam Stout...
MORE STORIES >>
MMA News

Delivered to your inbox

You'll also receive Yardbarker's daily Top 10, featuring the best sports stories from around the web. Customize your newsletter to get articles on your favorite sports and teams. And the best part? It's free!