We've updated our Privacy Policy.
By continuing to use this site, you are agreeing to the new Privacy Policy.
Bantamweight champion TJ Dillashaw showed off another vintage striking display tonight at UFC On FOX 16 to defeat Renan Barao in their long awaited rematch. Round One: The main event of the evening is underway with a touch of the gloves. Barao with a body kick. Another one from Barao. Front kick now. Barao tries to flurry and Dillashaw moves away. Dillashaw with lots of movement...
After being removed from his bantamweight title rematch with T.J. Dillashaw at UFC 177 due to severe weight cutting issues weigh-in day, former bantamweight champion Renan Barao lost his shot at reclaiming the gold Dillashaw had ripped from him early on in the year. Barao's first step at getting back into the mix will come at the final UFC event of the year, UFC Fight Night 58, where...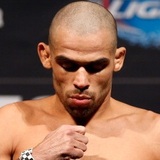 And here we thought Henry Cejudo's last-second scratch from UFC 177 would be the only major news coming out of Sacramento today. Just minutes before tipping the scale for his rematch against bantamweight champion TJ Dillashaw, Renan Barao (pictured) was forced to withdraw from Saturday's fight after passing out while cutting weight. Joe Soto, who was slated to meet Anthony Birchak...
LIKE WHAT YOU SEE?
GET THE DAILY NEWSLETTER:
TJ Dillashaw holding up the Bantamweight championship belt after earning it in a fifth round TKO victory over Renan Barao. This Saturday, August 30, 2014, TJ Dillashaw is set to do battle, in a rematch with Renan Barao for the bantamweight title at UFC 177 in Sacramento, CA. This fight will be Dillashaw's first defense of the title he stripped from Barao only a few months earlier...
This Saturday night (August 30, 2014) UFC bantamweight champion T.J. Dillashaw will take on Renan Barao in the main event of UC 177 from the Sleep Train Arena in Sacramento, California. Dillashaw ripped the belt from formerly dominant champion Barao in the main event of May 24's UFC 173, and it wasn't even a close fight. Barao was thought to be challenging for the top spot on the...
T.J. Dillashaw shocked everyone but himself (and Dwayne Wolff) when he took the title from Renan Barao earlier this year in Vegas. Next Saturday night, they'll run it back on Dillashaw's stomping grounds with "The Baron" coming into the cage off a loss for the first time since, well, the 2nd fight of his career all the way back in 2005. This episode of Countdown takes a look at the...
On the night of the fight, many people were calling this possibly the greatest performance in the octagon. These things are always subjective but this was one of those special moments. T.J. Dillashaw dominated Renan Barao with his movement, timing, game plan and self-confidence. It was like watching someone combine the speed and grace of Syrio Forel with the power of the Hound. It...
Renan Barao was a whopping 8-1 odds-on favorite to plaster T.J. Dillashaw (pictured) and retain his bantamweight title at UFC 173. Yeah, about that… Dillashaw took command early and never let his foot off the gas. He floored Barao in the first round with a right hand, but couldn't finish things off until the fifth stanza. In between those periods, Dillashaw constantly beat Barao...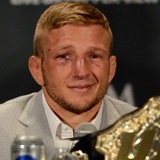 A new star was crowned in Vegas tonight, and his name is T.J. Dillshaw. To say Dillashaw was coming into this fight with the odds stacked against him would be an understatement. At one point he was listed as a +800 underdog against UFC bantamweight champion Renan Barao, and rightfully so. Barao came into this fight with a 33-fight unbeaten streak dating back to 2005. Dillshaw didn...
Jaws dropped around the world tonight in the main event of UFC 173 as TJ Dillashaw became the new UFC bantamweight champion of the world with a remarkable performance against Renan Barao that was capped off by a TKO finish in the final round. Round One: Dillashaw with a leg kick to start. Barao tries a push kick. Dillashaw with an uppercut that just misses. Dillashaw moving quickly...
MORE STORIES >>
MMA News

Delivered to your inbox

You'll also receive Yardbarker's daily Top 10, featuring the best sports stories from around the web. Customize your newsletter to get articles on your favorite sports and teams. And the best part? It's free!