2016-17 NBA Awards: The Ricky Davis Award for most irrationally confident shooter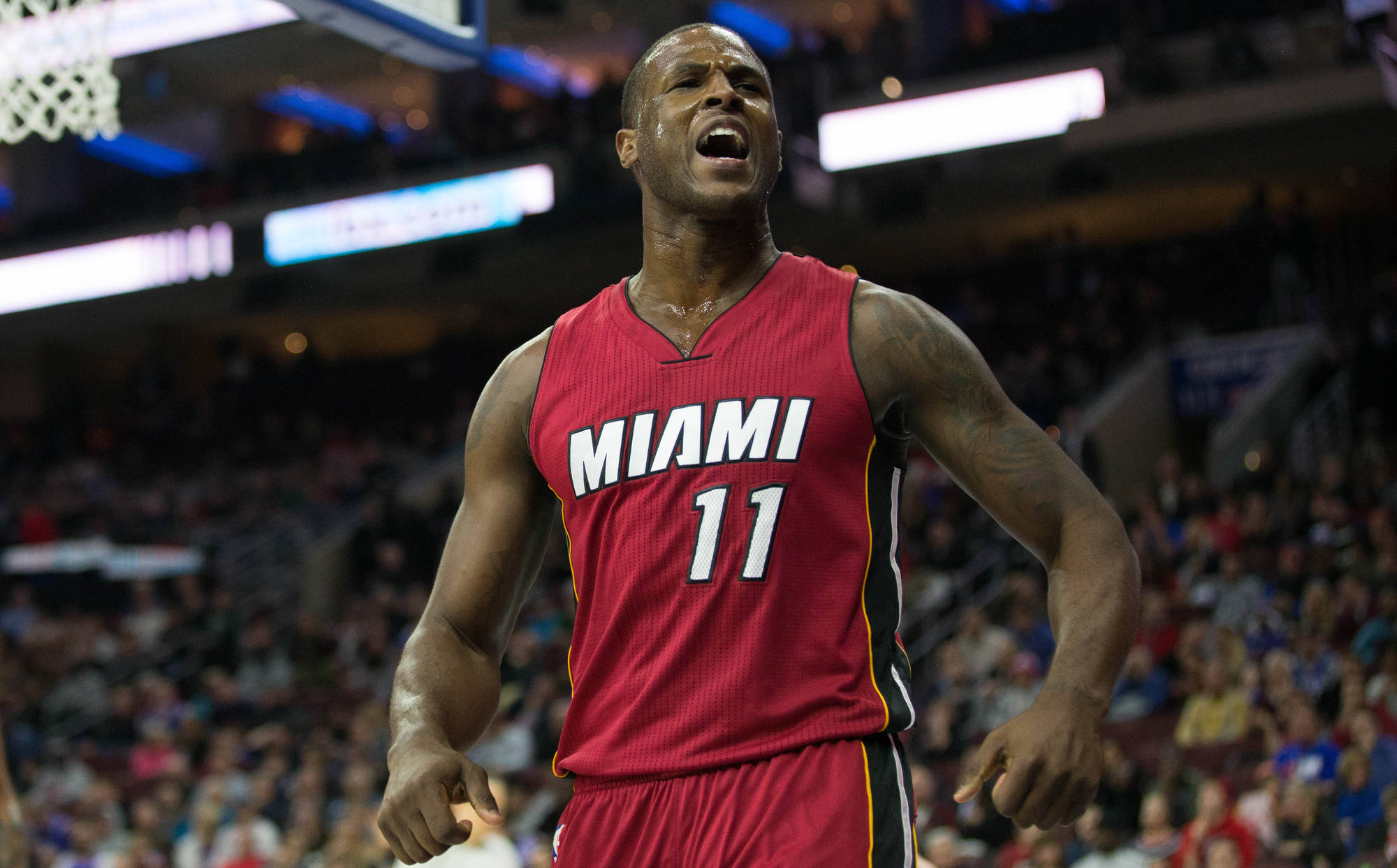 Miami Heat guard Dion Waiters averaged a career-high 14.4 shots per game in 2016-17.
Bill Streicher/USA TODAY Sports
Monday night, the first televised NBA Awards show takes place. Finally, some two months after the end of the 2016-17 NBA season, we'll find out who takes home MVP, Rookie of the Year, Executive of the Year, Sixth Man, Coach of the Year, Defensive Player of the Year and more. However, the annual honors bestowed on players, coaches and executives alike leave something to be desired.

If you're going to have an awards show, you may as well go all out with the type of awards fans really care about. Luckily for you, we at Yardbarker are here to help. In addition to the annual awards the league hands out, we've added a few of our own.

Today, we lead with the coveted Ricky Davis Award for the most irrationally confident shooter in the NBA. For those of you who may not remember Davis, he was, without question, one of the most entertaining players the NBA has ever seen. A natural-born scorer, Davis never met a shot he didn't like, and if anyone embodied the famous Wayne Gretzky quote of "you miss 100 percent of the shots you don't take," it was Davis. 
Oh yes, he also once did this in an attempt to notch a triple-double:
During his dozen years in the league spanning six different franchises, Davis averaged 13.5 points per game on 44.6 percent from the field, topping out at 20.6 ppg in 2002-03 with the Cleveland Cavaliers, and if he was in the game, he was shooting the ball despite the fact he was not actually that great of shooter. It was glorious, and any player should be honored to be mentioned with such a fun-loving, care-free gunner.
So, without further ado, here are the nominees: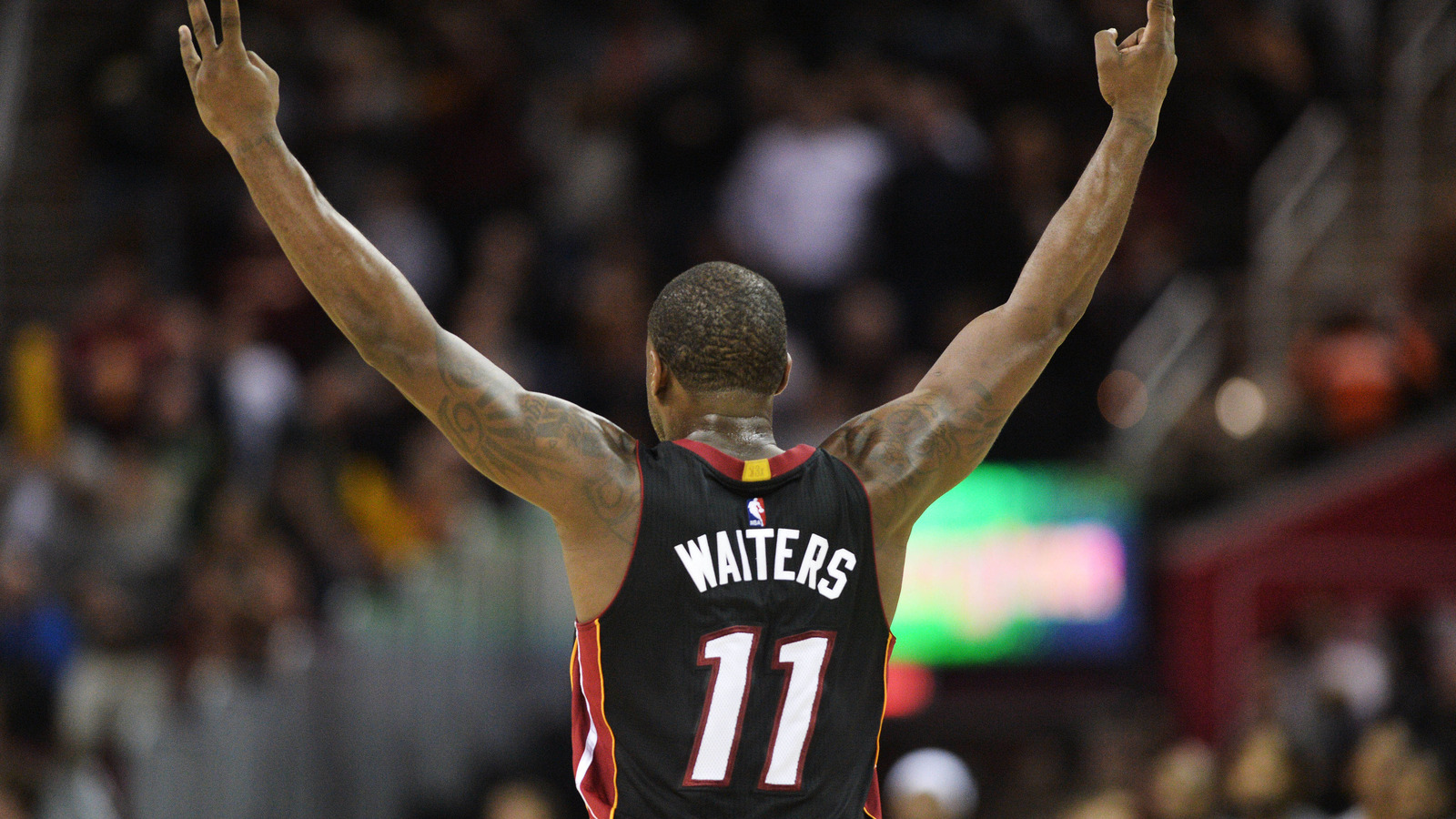 Miami Heat guard Dion Waiters had some memorable offensive explosions this season.
Ken Blaze/USA TODAY Sports
Alex Wong: Dion Waiters. With all due respect to Ricky Davis, this award should have been renamed to the Dion Waiters Award after that late January evening when Waiters hit a game-winning three to take down the Golden State Warriors.
In his first season with Miami, Waiters finally evolved into the kind of heat check scorer we always wanted him to become. Waiters is a free agent, but here's hoping that he stays in Miami, just for the possibility that in 20 years Heat fans will remember the D-Wait era more than the D-Wade era. I know I'm getting a little carried away with myself, but who doesn't want Dion Waiters to succeed?
The Los Angeles traded D'Angelo Russell to the Brooklyn Nets.
Kelvin Kuo/USA TODAY Sports
Joe Boland: D'Angelo Russell. Russell was supposed to come into the league and get buckets. There's only one problem: He can't shoot. At all. Russell launched nearly 14 shots a game for the Lakers in his sophomore season and made just 40.5 percent of them. That is, in a word, bad. Yet he just kept shooting and shooting and shooting, regardless of the fact that he can't actually make shots, and he shot himself right on out of Los Angeles, with the Lakers shipping Russell off to the Nets this week. If that's not irrational confidence, I don't know what is.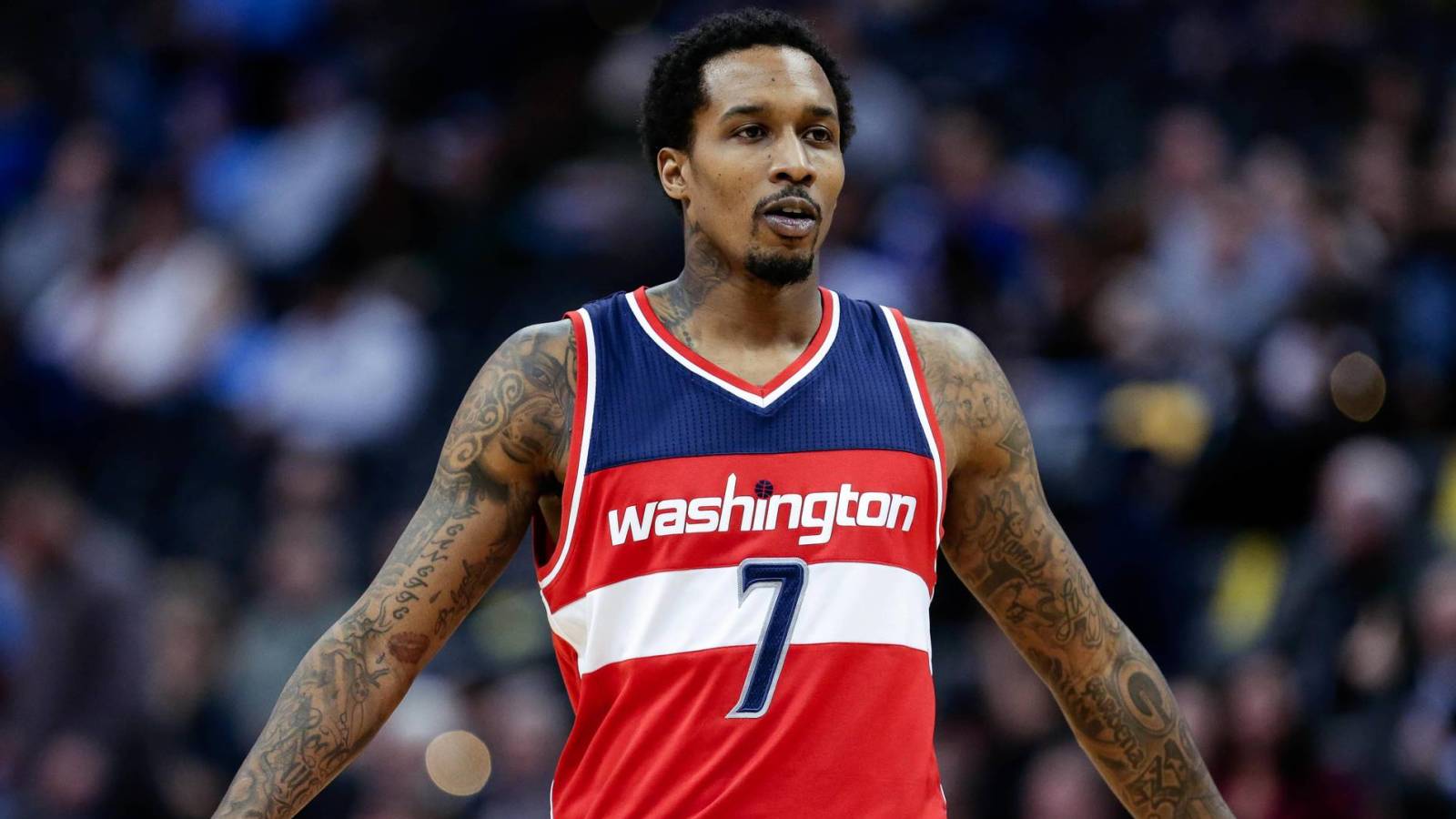 Washington Wizards guard Brandon Jennings has never shied away from putting up shots.
Isaiah J. Downing/USA TODAY Sports
Jason Clinkscales: Knicks and Wizards fans both discovered the pain of watching Brandon Jennings taking shots. He was a very good passer as a backup point guard, moving the ball well while Derrick Rose or John Wall took a breather. Yet, if you didn't spend at least three to five possessions praying that he wouldn't take a jumper, you were one of the lucky ones. 
His shooting was never world-beating, but it managed to get worse in D.C.: 27.4 percent in 23 games with the Wizards. That might help explain why Wall is hoping for some bench upgrades in the offseason.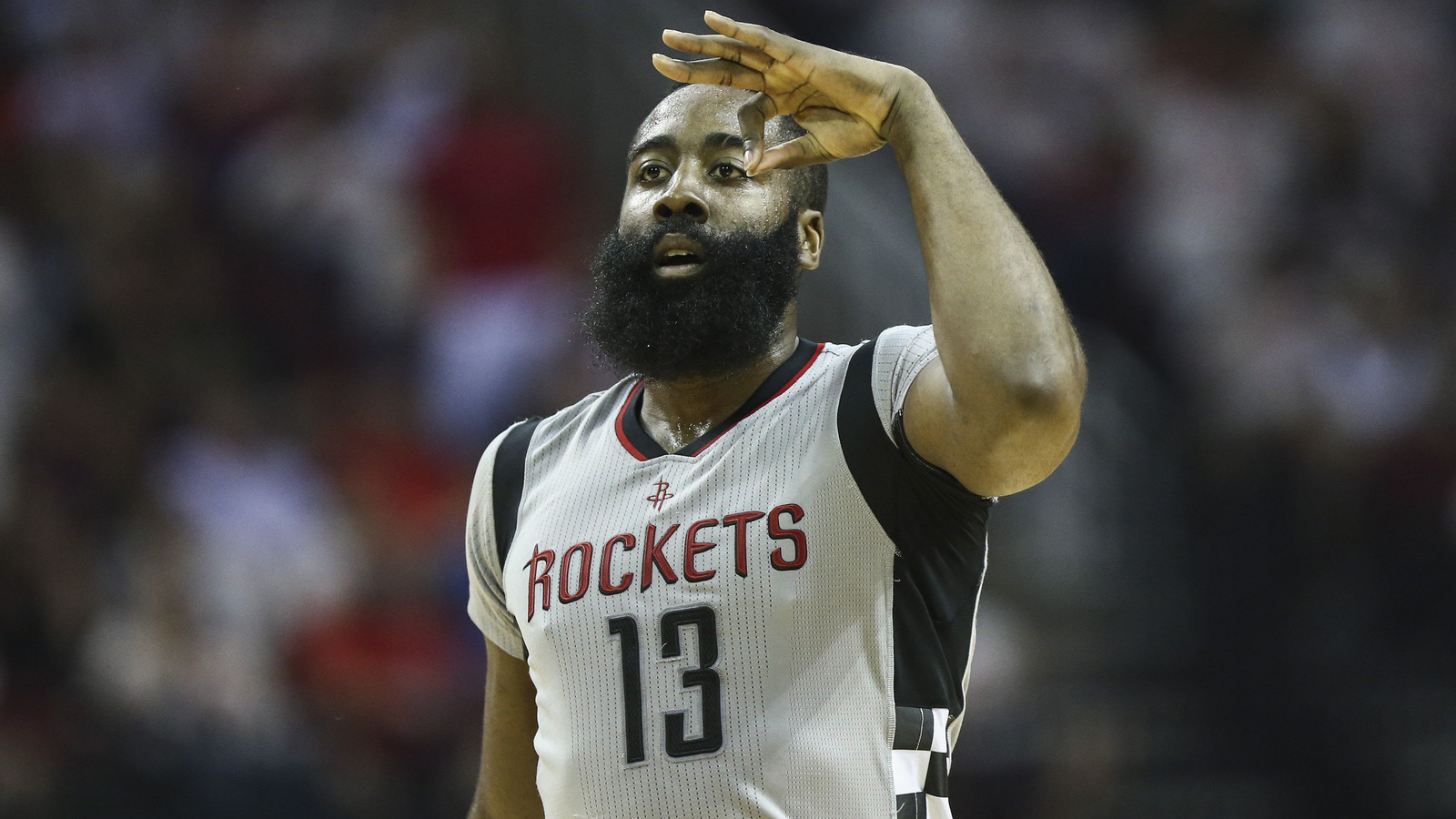 Houston Rockets guard James Harden is known to hoist a lot of shots.
Troy Taormina/USA TODAY Sports
Shiloh Carder: James Harden. He's great with the Eurostep and gets to the free throw line with the best of them, but dude shoots way too many threes. He trailed only Steph Curry in threes attempted during the season and had nearly 100 more three-point attempts than the guy in third place (Eric Gordon). The thing is, he only hit 34.7 percent of those threes while guys with that kind of volume are shooting a much higher percentage. 
It got worse in the playoffs when he shot 27.8 percent from behind the arc and shot more threes than anyone buy Curry and Kyrie Irving — and those two got all the way to the NBA Finals while Harden flamed out in the conference semifinals.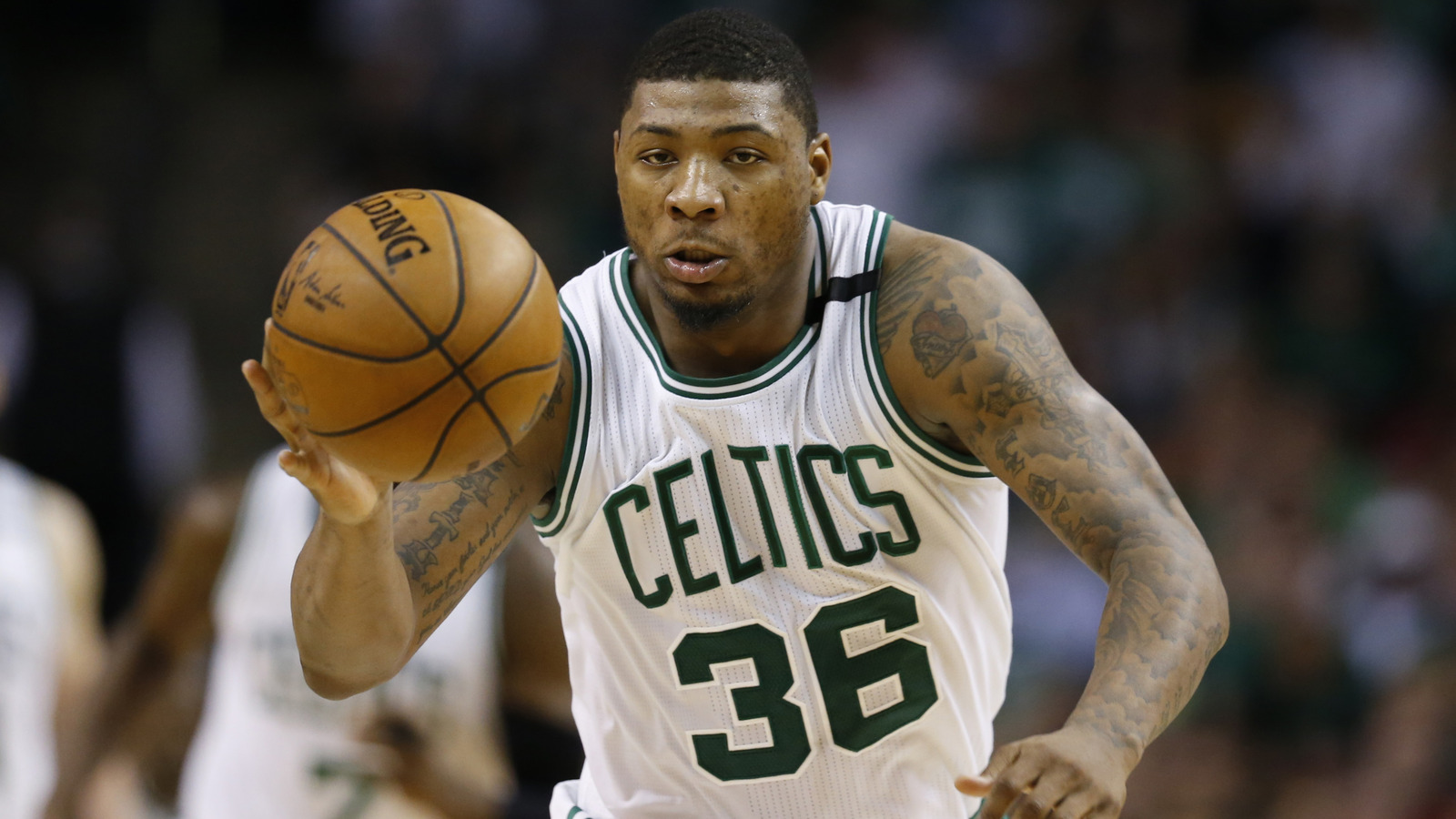 Boston Celtics point guard Marcus Smart is not exactly known as a great shooter.
Greg M. Cooper/USA TODAY Sports
Daniel Tran: Hey, Marcus Smart: Just because you can shoot it doesn't mean you should. Smart attempted 749 shots during the 2016-2017 season and only converted 35.9 percent of them. He also attempted 332 three-pointers and made 28.3 percent of them. Don't worry, Smart. Maybe you'll be a mediocre shooter some day.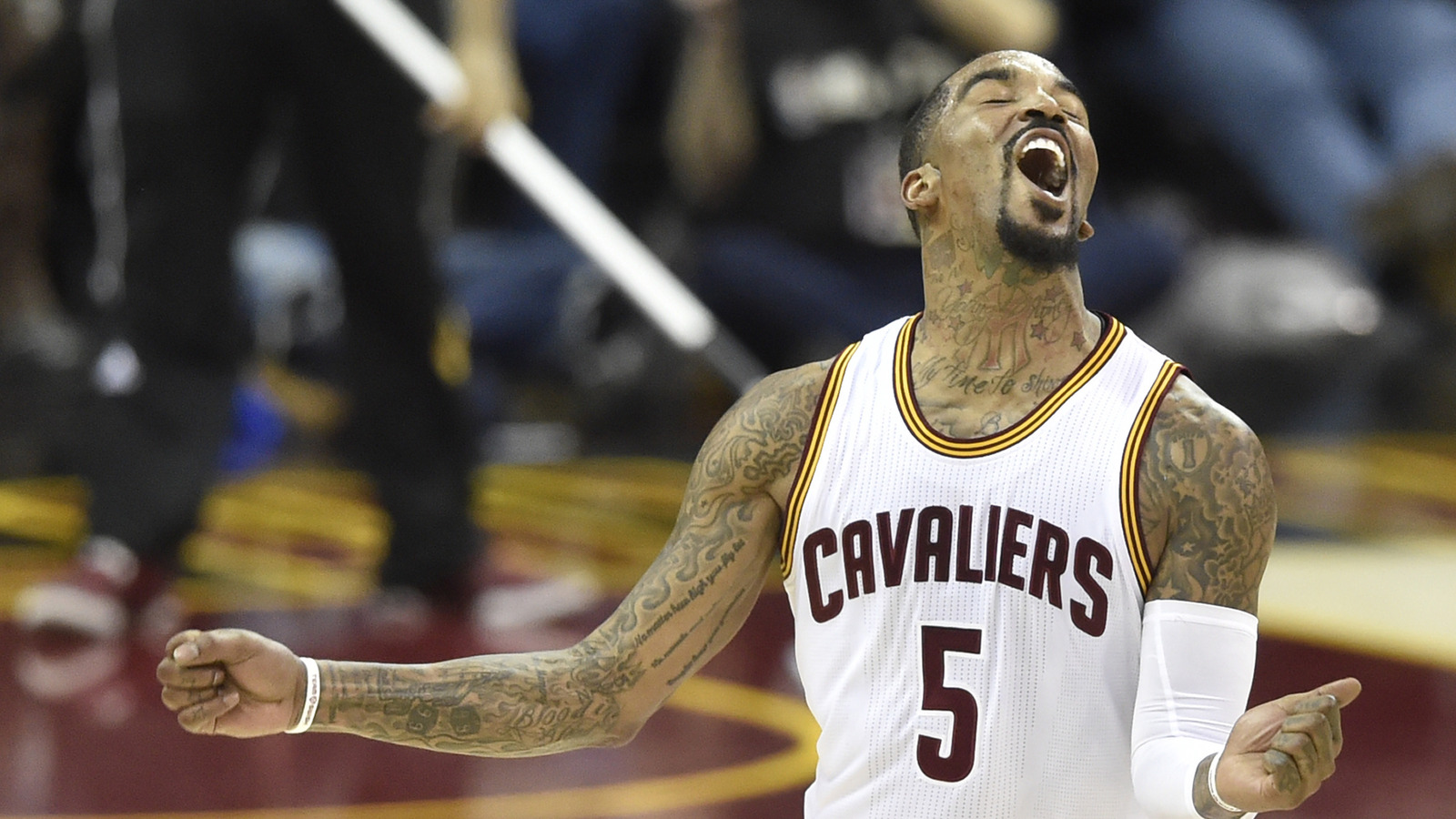 J.R. Smith tried to shoot the Cleveland Cavaliers back into the NBA Finals vs. the Golden State Warriors.
David Richard/USA TODAY Sports
Sean Keane: Despite being injured half the year, J.R. Smith almost came back to snatch this award after catching fire in Games 3-5 of the Finals. But he seemed shook by Rihanna's presence in Oakland, as if she made him only rationally confident in himself. 
This year, the Ricky Davis Award goes to a man who was second in the NBA in three-point attempts and 121st in three-point percentage, James Harden. Part of that was confidence, part of it was Houston's offense, part of it was Harden's reluctance to run past the three-point arc on offense or defense. And Ricky Davis would have LOVED how much Harden chased triple-doubles.
Honorable mention goes to Klay Thompson, who had Kevin Durant join his team and actually took MORE shots per game.
PLAYERS:
Dion Waiters
,
Brandon Jennings
,
D'Angelo Russell
,
Marcus Smart
,
James Harden
,
J.R. Smith
TEAMS:
Miami Heat
,
Washington Wizards
,
Brooklyn Nets
,
Boston Celtics
,
Houston Rockets
,
Cleveland Cavaliers
MORE FROM YARDBARKER:
QUIZ: Every player who's scored 50+ pts in a single game since Kobe's 81-pt game
On January 22, 2006, Kobe Bryant famously scored 81 points against the Toronto Raptors in the Staples Center. Since then, the NBA has seen 104 games in which a player has scored 50 or more points. How many of these players who pulled off this feat can you name?
CLUE: Date of game, team - number of points.
NOTE: An asterisk (*) denotes a playoff game. Updated as of 2/22/2018.
MORE FROM YARDBARKER
NBA News

Delivered to your inbox

You'll also receive Yardbarker's daily Top 10, featuring the best sports stories from around the web. Customize your newsletter to get articles on your favorite sports and teams. And the best part? It's free!