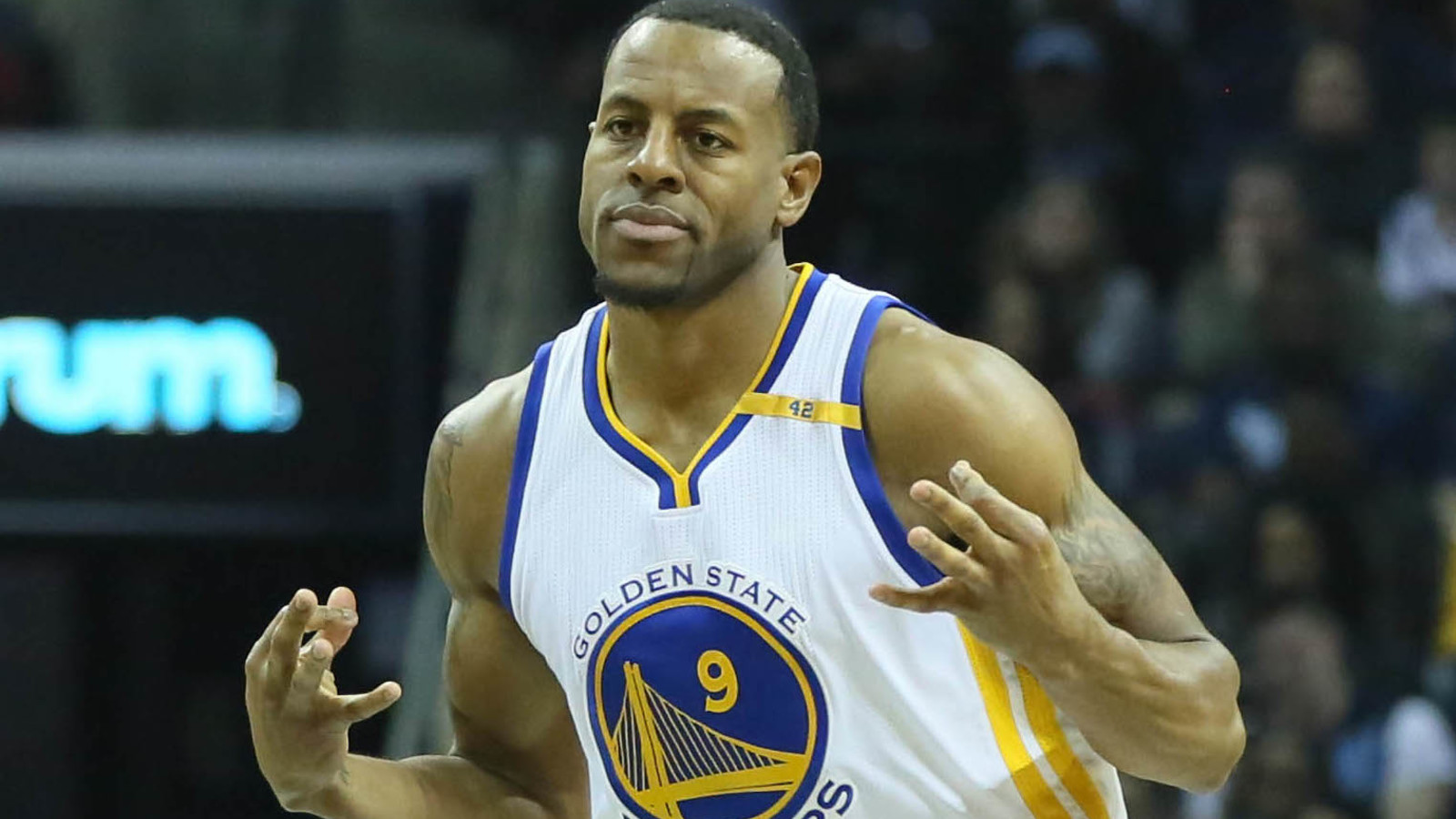 Andre Iguodala was almost lured away from the Warriors.
Nelson Chenault-USA TODAY Sports
Andre Iguodala was a lot closer than most realize to actually leaving the Golden State Warriors.
Iguodala was one of the Warriors' key free agents following their championship last season. The expectation was that he would return to the team. While that happened, it only came after Iguodala got very close to leaving the team.
ESPN's Chris Haynes published on Wednesday an awesome look into Iguodala's free agency process that's well worth your time if you're an NBA fan. According to Haynes, the Warriors' initial offer to Iguodala was for three years and $36 million, which led the forward to set up meetings with multiple teams. Their offer prior to the start of free agency was for three years at $42 million. That didn't dissuade Iguodala from exploring free agency.
Iguodala met with the Lakers, Spurs, Kings and then Rockets before talking with the Warriors. He liked what many of the teams had to say, but it was Houston's presentation that made the greatest impact. By the end of the meeting, Iguodala was ready to join the team.
Haynes's article even says Iguodala was ready to tell the Warriors goodbye when he met with them last in free agency. The most Golden State was offering was $45 million for three years, but Iguodala wanted to be paid $16 million a season.
A little after the meeting concluded, Iguodala's camp made one last phone call to Golden State asking for them to get to the reserve's desired price of $48 million. Team owner Joe Lacob finally approved it, and Iguodala got the $16 million a season he was seeking. If Lacob hadn't approved the increase, Iguodala would have been a Rocket.
They weren't lying back in June when they said Iguodala was seriously considering leaving the Warriors. He was very close to doing so.
MORE FROM YARDBARKER:
QUIZ: Name every player on the Golden State Warriors 2015 NBA Finals-winning team
13 players were on the roster of the Golden State Warriors' 2014-15 NBA championship-winning team. Can you name them all?
MORE FROM YARDBARKER
NBA News

Delivered to your inbox

You'll also receive Yardbarker's daily Top 10, featuring the best sports stories from around the web. Customize your newsletter to get articles on your favorite sports and teams. And the best part? It's free!