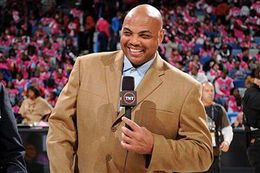 Dallas Mavericks owner Mark Cuban got himself some publicity last week by saying he'd consider drafting Baylor women's basketball star Brittney Griner in this year's NBA Draft. A few days later, UConn women's basketball coach Geno Auriemma strongly disagreed with Cuban's idea that the 6-8 post player could play professionally against men. During a conference call, Auriemma called the idea a "sham" and "absolutely ludicrous." To settle the dispute, Basketball Hall of Famer Charles Barkley gave his opinion on the topic. Barkley, a Wednesday guest on The Dan Patrick Show, made it very clear that he sides with Auriemma. Not only did Barkley say Griner couldn't play in the NBA but he said she couldn't play in the NBA Developmental League. "I agree with Geno," Barkley said. "If Cuban brought her in, yeah, they'd sell some tickets to the summer league, which I don't understand what type of losers would go to the summer league, anyway. I agree with Geno, 100 percent. A girl can't play against men. Listen, it's just a publicity stunt. Mark's one of my great friends, but a woman can't play against a man." Barkley said if Griner got an opportunity to play for an NBA D-League team her competition would go against her "aggressively because you're offended that she's trying to play against you, because it is kind of an insult to you." When Patrick tried to make the argument that possibly a smaller woman, like a guard, could compete in the NBA, Barkley quickly shot that idea down, too. "Dan, Dan, Dan, stop it," Barkley responded. "A woman can't play against a man. Come on, man. A little woman, a big woman, come on. A woman can't play in the NBA." Not sure if that settles it, but it's always entertaining to hear Barkley's opinion, especially knowing he's not going to sit on the fence. Follow Jon Machota on Twitter: @jonmachota

Read the rest of this story...
MORE FROM YARDBARKER
Mavericks News

Delivered to your inbox

You'll also receive Yardbarker's daily Top 10, featuring the best sports stories from around the web. Customize your newsletter to get articles on your favorite sports and teams. And the best part? It's free!