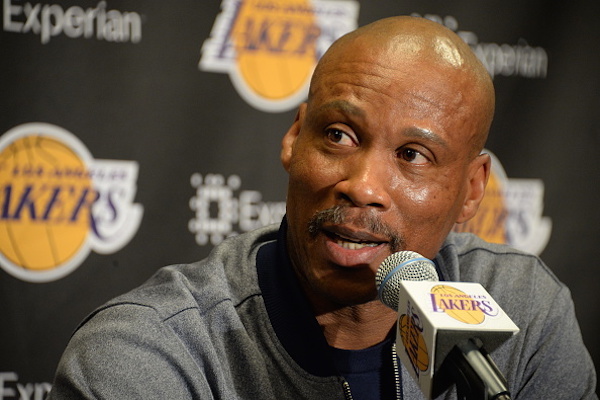 Despite the team suffering through a nightmarish season, Lakers head coach Byron Scott insists players tell him they'd still like to play for the team.
Andrew D. Bernstein/NBAE via Getty Images
By Steve DelVecchio
The Los Angeles Lakers are one of the worst teams in the NBA, and the fact that they have Kobe Bryant is no longer helping. Bryant will turn 37 this summer and cannot stay healthy. How is a 19-53 team with an aging superstar planning to attract free agents?
According to Lakers coach Byron Scott, the product sells itself. On Saturday, Scott told Mark Medina of the Los Angeles Daily News that the Lakers' history still has a great impact.
"You have a lot of free agents out there who would love to play for us. They've been making it pretty clear," Scott said. "You have guys during the games come by the bench saying, 'Hey Coach, I would love to be in L.A. next year.' That makes you feel good there are players out there that want to be here. I think a lot of it has to do with the fact that we're taking it in a different direction. They know this organization and the history of the organization is going to be back."
The Lakers currently have the fourth-worst record in the NBA, so they have a good shot at securing a high draft pick. Nick Young has done his best to recruit free agents already this season, but Kobe remains the wild card.
Kobe demands a lot of his teammates. When he was in his prime and the Lakers were in the championship hunt every year, that was seen as a positive. Now, you have to wonder if prospective free agents want to be told what to do by a guy who is breaking down and can't seem to stay on the court.
"Obviously the one or two big free agents you can get, you'll have to sprinkle in some other guys that fill the roster that help you win as well," Scott said. "If you can hit a couple of doubles, that wouldn't hurt. But if we can hit a couple of home runs in free agency and the draft, we'll be on our way again."
An ESPN writer recently blamed Kobe for the downfall of the Lakers, though at least one NBA star believes that is total BS. I suppose time will tell.
The allure of playing in Los Angeles at an arena that is loaded with celebrities on a nightly basis is always going to appeal to some players. Now that Kobe is getting older and is seemingly close to retirement, the Lakers are searching for their next superstar. Scott is right in the sense that there are players out there who would love to be that guy.
MORE FROM YARDBARKER
Lakers News

Delivered to your inbox

You'll also receive Yardbarker's daily Top 10, featuring the best sports stories from around the web. Customize your newsletter to get articles on your favorite sports and teams. And the best part? It's free!