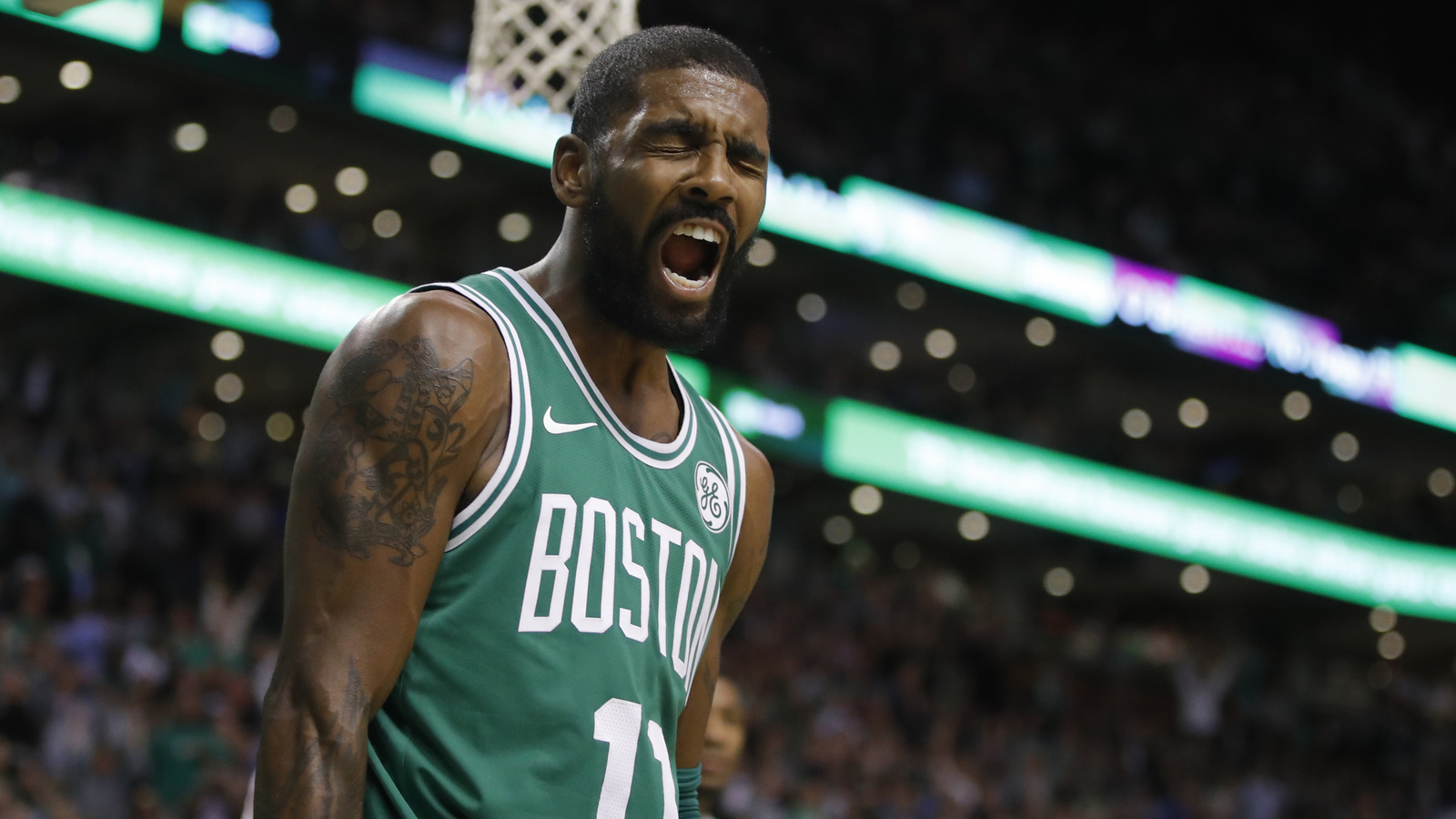 Nov 16, 2017; Boston, MA, USA; Boston Celtics guard Kyrie Irving (11) reacts after a play against the Golden State Warriors in the second half at TD Garden. 
David Butler II-USA TODAY Sports
Thanksgiving totally changes the typical NBA schedule since the league does the right thing by giving every team the night off on Thursday. That means more League Pass games on a less balanced slate, and a more fun week. There are some interesting East vs. West games, including Blazers/Wizards, Pistons/Thunder, Clippers/Knicks and Trail Blazers at 76ers, but the Game of the Week is Celtics at Heat as Boston will likely be looking to extend their remarkable winning streak. 
Monday
Cavs at Pistons, 7 p.m.: The Cavs are still in the process of finding themselves, but Detroit has started the season strong, kicking off what appear to be bounce-back seasons from Reggie Jackson and Andre Drummond. As was the case during their 2016 playoff series, the Pistons will need to find someone to slow down LeBron James. 
Clippers at Knicks, 7 p.m.: Kristaps Porzingis vs. Blake Griffin makes this a must-watch game as the two succeed in such dramatically different ways. On top of that matchup, Patrick Beverley is looking to be back, so the Clippers should be more balanced. 
Wizards at Bucks, 8 p.m.: If John Wall plays, this could be one of the more fun games of the week. Washington still needs to figure out how to defend elite forwards and there are not many better than Giannis.
Thunder at Pelicans, 8 p.m.: The single biggest test of Billy Donovan's resolve to keep his starting five the same, as they will have to put someone on Anthony Davis, assuming he has returned from his orbital bone contusion. If not, DeMarcus Cousins and Steven Adams battling will be a blast.
Wednesday
Trail Blazers at 76ers, 7 p.m.: This will actually be Joel Embiid's second game against Jusuf Nurkic but the first was when the Bosnian big man was a backup in Denver. Here, the two centers will go at it from the opening tip and that should challenge both of them. It will also be fascinating to see how Terry Stotts chooses to defend Ben Simmons. 
Celtics at Heat, 7:30 p.m. (Game of the Week): If they defeat the Mavericks on Monday, Boston will carry a 16-game win streak to Miami, who is looking closer to right after getting a few players back from injury. Al Horford's comfort stretching the floor will challenge Hassan Whiteside's preference to hang back but Whiteside will push Boston's defensive rebounding.
Nuggets at Rockets, 8 p.m.: Denver has not scored as prolifically as last year but this could still be a game with a serious point total. Chris Paul is still making his way back to 100% but this will be a nice test for sophomore guard Jamal Murray on both ends of the floor.
Friday
Raptors at Pacers, 8 p.m.: Indiana has outperformed expectations early this season and will have a chance to boost their profile with a win over the Raptors. To do so, they will need to defend Kyle Lowry and DeMar DeRozan, with some of that responsibility falling on former Raptor Cory Joseph.
Heat at Timberwolves, 8 p.m.: Hassan Whiteside and Karl-Anthony Towns will make life difficult on one another but the more interesting element to watch is how Miami defends Jimmy Butler with their army of perimeter players. If the Heat want to make a playoff push, they will need to keep slowing down elite wings.
Pistons at Thunder, 8 p.m.: Another interesting East vs. West game includes former teammates Russell Westbrook and Reggie Jackson going at it on the perimeter. Tobias Harris has done well so far but will have his hands full on both ends of the floor against a loaded Thunder team.
Saturday
Magic at 76ers, 7 p.m.: Philadelphia has produced some of the league's most fun games over the past few weeks and Orlando should round back into form after getting both Elfrid Payton and DJ Augustin back from injury. Presumably Aaron Gordon will guard Ben Simmons, which will be fascinating.
Trail Blazers at Wizards, 7 p.m.: Damian Lillard and CJ McCollum vs. John Wall and Bradley Beal. Enough said.
Celtics at Pacers, 8 p.m.: If Boston's run makes it to the weekend, this becomes a very big game. Myles Turner is back from missing time due to a concussion and will have to be everywhere when the Celtics run high pick-and-roll with Kyrie Irving and Al Horford.
Pelicans at Warriors, 8:30 p.m.: The Warriors have played entertaining games against Anthony Davis and DeMarcus Cousins teams in the past but now they are together in New Orleans. Similarly, Jrue Holiday defended Stephen Curry well when they were younger but Curry has dropped some big games against the Pelicans in the recent past.
Sunday
Heat at Bulls, 3:30 p.m.: Lauri Markkanen has looked good to start his rookie year and Kris Dunn is defending well after returning from injury. 
Suns at Timberwolves, 3:30 p.m.: Because one of these games, which start at the same time, has to end up being fun, right? Also, the Suns have looked much better since adding Greg Monroe to their big man rotation
NBA News

Delivered to your inbox

You'll also receive Yardbarker's daily Top 10, featuring the best sports stories from around the web. Customize your newsletter to get articles on your favorite sports and teams. And the best part? It's free!
PLAYERS:
LeBron James
,
Kristaps Porzingis
,
Jusuf Nurkic
,
Terry Stotts
,
Chris Paul
,
Jamal Murray
,
Kyle Lowry
,
Elfrid Payton
,
D.J. Augustin
,
Aaron Gordon
TEAMS:
Cleveland Cavaliers
,
New York Knicks
,
Portland Trail Blazers
,
Houston Rockets
,
Denver Nuggets
,
Toronto Raptors
,
Orlando Magic
MORE FROM YARDBARKER
NBA News

Delivered to your inbox

You'll also receive Yardbarker's daily Top 10, featuring the best sports stories from around the web. Customize your newsletter to get articles on your favorite sports and teams. And the best part? It's free!