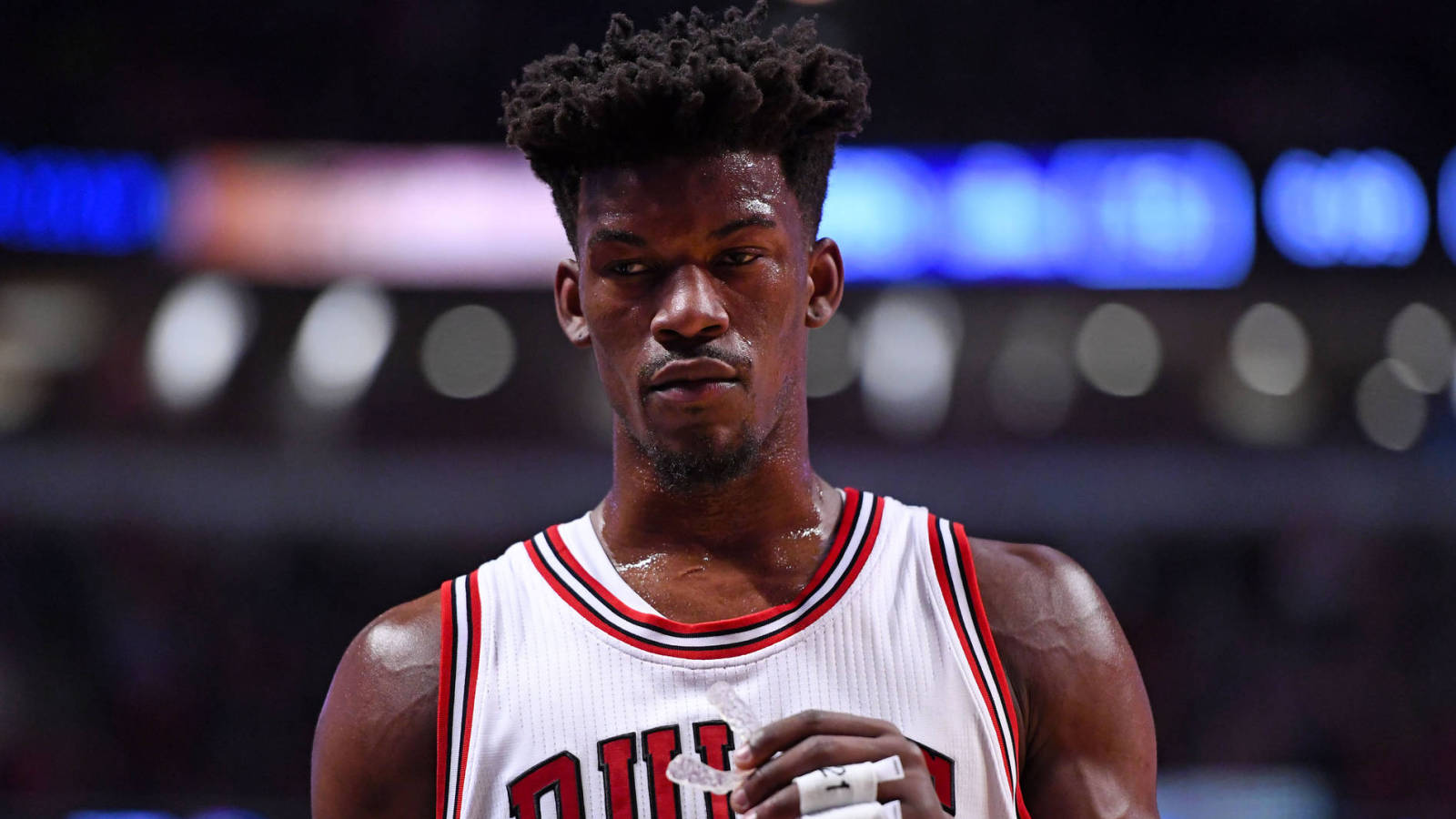 Several teams are reportedly interested in trading for Jimmy Butler.
Mike DiNovo-USA TODAY Sports
Jimmy Butler is a valuable player in the NBA whom the Chicago Bulls might be willing to move, so there's no surprise that they have received plenty of interest in him.
According to separate reports published on Monday, both the Cleveland Cavaliers and Minnesota Timberwolves have pursued a trade for Butler.
ESPN's Marc Stein says the Cavs are working on a deal to acquire Butler:
The Cavaliers, per league sources, have been working today on assembling multi-team trade scenarios to try to acquire Chicago's Jimmy Butler

— Marc Stein (@ESPNSteinLine) June 19, 2017
The Phoenix Suns could be a third team involved in a multi-team trade for Butler.
Meanwhile, The Vertical's Adrian Wojnarowski says the Timberwolves have the interest and assets to make a deal for Butler, even though Chicago has a high price for him.
Sources: Chicago's price for Jimmy Butler remains elevated, but Minnesota has assets and interest. Sides made preliminary contact this week.

— Adrian Wojnarowski (@WojVerticalNBA) June 19, 2017
Butler is under contract for two more seasons at a reasonable price (under $20 million) and has a player option three seasons from now. There have been a lot of questions about whether or not he wants to remain with the Bulls.
If the Cavs or Timberwolves — or another team — is willing to part with a lot to get him, it might make sense for the middling Bulls to trade him.
QUIZ: Every player who's scored 50+ pts in a single game since Kobe's 81-pt game
On January 22, 2006, Kobe Bryant famously scored 81 points against the Toronto Raptors in the Staples Center. Since then, the NBA has seen 104 games in which a player has scored 50 or more points. How many of these players who pulled off this feat can you name?
CLUE: Date of game, team - number of points.
NOTE: An asterisk (*) denotes a playoff game. Updated as of 2/22/2018.
MORE FROM YARDBARKER
NBA News

Delivered to your inbox

You'll also receive Yardbarker's daily Top 10, featuring the best sports stories from around the web. Customize your newsletter to get articles on your favorite sports and teams. And the best part? It's free!