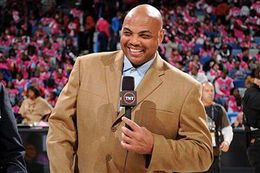 Sir Charles Barkley asked one to many questions to Spurs coach Gregg Popovich last night and Big Poppa cut him off.  Charles is only suppose to have 2 questions per interview, and he went for three and Pop had no time for him.  Check out the video below. What a beast Pop is.  He caught some flack before this game for not bringing Tim Duncan, Manu Ginobili, Tony Parker, or Danny Green with the team to play against the Miami Heat.  Who cares, he's the coach of the team, and there's a reason they go deep in the playoffs every year.  He's got no time for listening to NBA officials, and damn sure doesn't have time to listen to fat boy Barkley ask dumb questions all night.  Oh yea, and they only lost to the Heat by 5 points at home without their 4 best players.  Let that sink in. Check out our Home Page for more stories and follow us on Twitter and Facebook

Read the rest of this story...
MORE FROM YARDBARKER
NBA News

Delivered to your inbox

You'll also receive Yardbarker's daily Top 10, featuring the best sports stories from around the web. Customize your newsletter to get articles on your favorite sports and teams. And the best part? It's free!