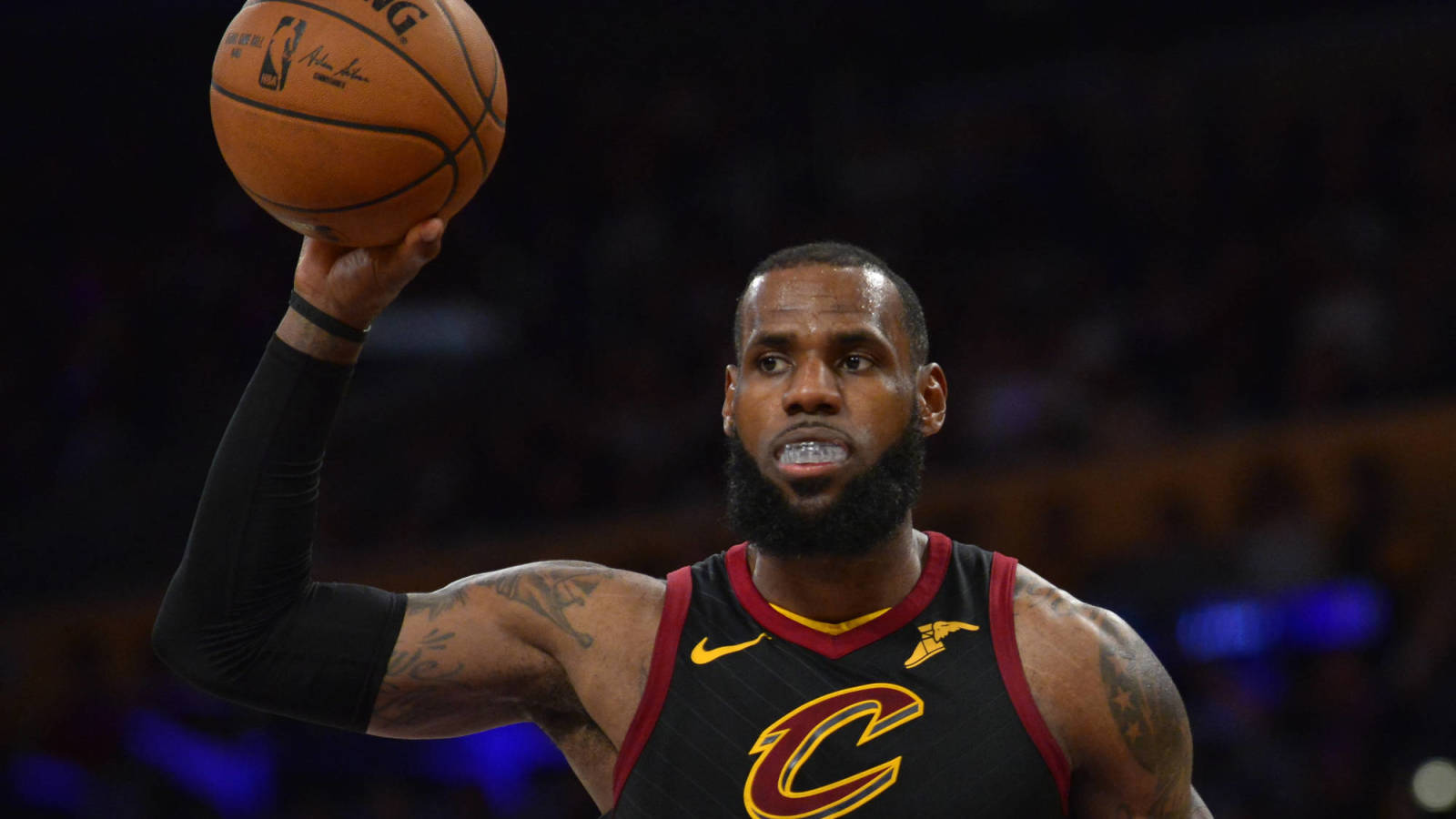 Gary A. Vasquez-USA TODAY Sports
LeBron James and the San Antonio Spurs have circled each other for years, but have just never gotten the timing quite right.
James has been realistically available only twice in his career. He would have been interested in 2010, but the Spurs didn't have the financial flexibility to chase him seriously. They quietly could have created that space in 2014. Tim Duncan had a player option and could have left some money on the table, Patty Mills and Boris Diaw could have been let go in free agency, and the Tiago Splitter trade they made a year later would likely have been available elsewhere if the Spurs had wanted it, but James never would have considered the Spurs immediately after losing to them in the 2014 Finals.
So the two sides have been forced to settle for occasional public displays of affection, glowing praise from James about the Spurs machine that is echoed and amplified when Gregg Popovich calls James a real world superhero. Now, James is set to become available for the third time in his career, and once again, the timing doesn't seem right.
The pre-2018 Spurs could get into a room with any free agent they wanted. Winning 50 games or more for 18 straight seasons will do that. The Spurs have been, for the past two decades, the only guaranteed winner in the entire NBA. Joining the Spurs means playing into May at the very least.
But the current Spurs are suddenly 10th in the Western Conference. With a brutal slate the rest of the way, there is a very real chance that they miss the playoffs entirely. If they make it, they are headed for a first-round war with the Warriors or Rockets. The odds of a deep playoff run are slim, and even if one comes, LaMarcus Aldridge will turn 33 in July and Kawhi Leonard has only one more year on his contract. There is practically no certainty in San Antonio, the one NBA team in which uncertainty has never existed.
But there's no certainty in James either. He has never stuck to the script in free agency. His 2010 free agency was dominated by Knicks rumors for two full seasons before the Bulls became the favorites when the process started. He wound up with the Heat, a team nobody expected him to leave in 2014, but he did to rejoin a Cleveland Cavaliers team that never made the playoffs without him.
That history renders any report on James' current leanings—including the most recent from Kevin O'Connor of The Ringer that suggests that San Antonio is out of the running—unreliable at best. James is as meticulous as basketball players get in crafting both his on-court partnerships and his off-court narrative. Leaving Cleveland for the big-market Lakers is callous. Leaving for San Antonio is a commitment to winning. Betting on youngsters in Philadelphia is a gamble. Betting on the Spurs historically pays out.
These are things that James will consider in making his choice. But before that happens, the Spurs will have to clear the financial decks to make that happen. Their cap situation is uncertain and un-helped by short-term propositions that clogged what could have been a clean cap sheet this summer. Work needs to be done to get the Spurs into position to add James as a free agent.
Kawhi Leonard and LaMarcus Aldridge are effectively untouchable. They are the core that exists to attract James. Because of his salary and upside, DeJounte Murray is staying as well. Manu Ginóbili is under contract and won't ever play for another team. Tony Parker expires but will be back for the minimum if the Spurs choose to use cap space. Those five players will combine for approximately $50 million in salary all told. The cap is going to sit at around $103 million. As a 10-year veteran, James' max will be approximately $35 million. That means that between those five players and James, the Spurs only have another $18 million in extra salary they can keep, or more accurately, have to keep.
All things considered, the Spurs have two active contracts they would like to dump and two potential contracts they'd like to dump. Pau Gasol and Patty Mills are on the roster for more money than they deserve. Danny Green and Rudy Gay have player options that the Spurs would need declined. Green is no issue. If he picks up his option, there would be no shortage of teams willing to take him on for one year at $10 million. His salary is not cumbersome.
But Gasol at $16 million, Mills at $11.6 million and Gay likely picking up his option $8.8 million present far more challenging circumstances. Trade options for Gasol are virtually non-existent. Mills and Gay are movable at a price. It's just a matter of determining what that price is.
The pair combine for over $20 million next season. Only a few teams are likely to have that kind of money, but working to their favor is the fact that one of them is San Antonio's preferred dumping ground: Mike Budenholzer's Atlanta Hawks. Budholzer is a former Spurs assistant who took on Splitter's deal the last time San Antonio needed money . General Manager Travis Schlenk seems dedicated enough to tanking to use his cap space on other teams' mistakes rather than veteran free agents.
A theoretical deal is easy enough to form. Last season, the Brooklyn Nets agreed to take on two years and $30 million of DeMarre Carroll's salary from the Toronto Raptors in exchange for a first-round pick. Mills has three years and $37 million left on his deal to go along with Gay's one year and $8.8 million. That's more money, but Mills has more utility particularly to the Hawks, who have a coach who knows how to use him. The Hawks would also have more clarity on the exact number the Spurs would be picking at, whereas the Nets took a leap of faith on Toronto's pick that now looks to have been incorrect.
If the Spurs are picking in the teens, that pick along with multiple seconds or stashed European prospects might be enough to get a deal done. If not, a smaller deal in which Mills and the pick are sent alone gets the Spurs close to enough to use the stretch provision on Gasol. That would lower his 2018 cap number from $16 million to $6.4 million. Combine that with Gay's deal and it fits beneath the $18 million umbrella left with San Antonio's core with enough breathing room to keep young prospect Derrick White, their pick last season.
The core of it is this: the Spurs would have to move two out of the three players between Gasol, Mills and Gay through some combination of a trade and the stretch provision. That gets them into the stratosphere of max space. But it may also compromise the ideals that make San Antonio so desirable to a player like James in the first place.
Gasol and Mills were given those contracts for a reason, and it wasn't on-court performance. The Spurs were smart enough to know those deals were overpays, but they made them anyway. They did this because San Antonio does not gut their team for individual players. They take care of their own. Pursuing James may be what Popovich wants, but it is diametrically opposed to how he has always acted.
That is something that James would notice. He admires the Spurs' philosophy, not their logo. For the first time, the 2018 Spurs appear to have lost their magic touch. They are not creating NBA talents out of thin air as they used to. Joining a decimated Spurs roster doesn't have the same appeal it did the last time James was a free agent, when Popovich could have played Zach Braff at shooting guard without harming his offense. How interested would any free agent be in joining the Spurs if they weren't actually the Spurs anymore?
And yet, these are statements about a team that has had its best player for nine games. If Kawhi Leonard returns on Thursday, leads the Spurs to the second round and gives one of the West's juggernauts all it can handle, this is a different conversation. Leonard is the exact teammate James doesn't have right now: a defensive answer to Kevin Durant, a spacer who can create his own offense without needing the ball to do it, a theoretical sidekick who wouldn't grow resentful while playing second fiddle.
Of course, Leonard would have to prove that is the case. Amidst growing rumors of his dissatisfaction, the Spurs may have to spend their summer appealing to their own free agent rather than courting another. James would not consider the Spurs without a firm commitment from Leonard, and Leonard's presence dictates the desirability of the rest of the roster.
If last season's MVP candidate plays the rest of the season, the rest of the roster can fall into their expected roles. The team plays better as a whole. They look competitive in the playoffs. And hopefully, Leonard signs a contract extension this summer.
That is the path to LeBron for the Spurs. It's just one that grows increasingly bleaker by the day. Popovich will always have James' attention. He'll need something more to get his signature.
NBA News

Delivered to your inbox

You'll also receive Yardbarker's daily Top 10, featuring the best sports stories from around the web. Customize your newsletter to get articles on your favorite sports and teams. And the best part? It's free!
MORE FROM YARDBARKER
NBA News

Delivered to your inbox

You'll also receive Yardbarker's daily Top 10, featuring the best sports stories from around the web. Customize your newsletter to get articles on your favorite sports and teams. And the best part? It's free!