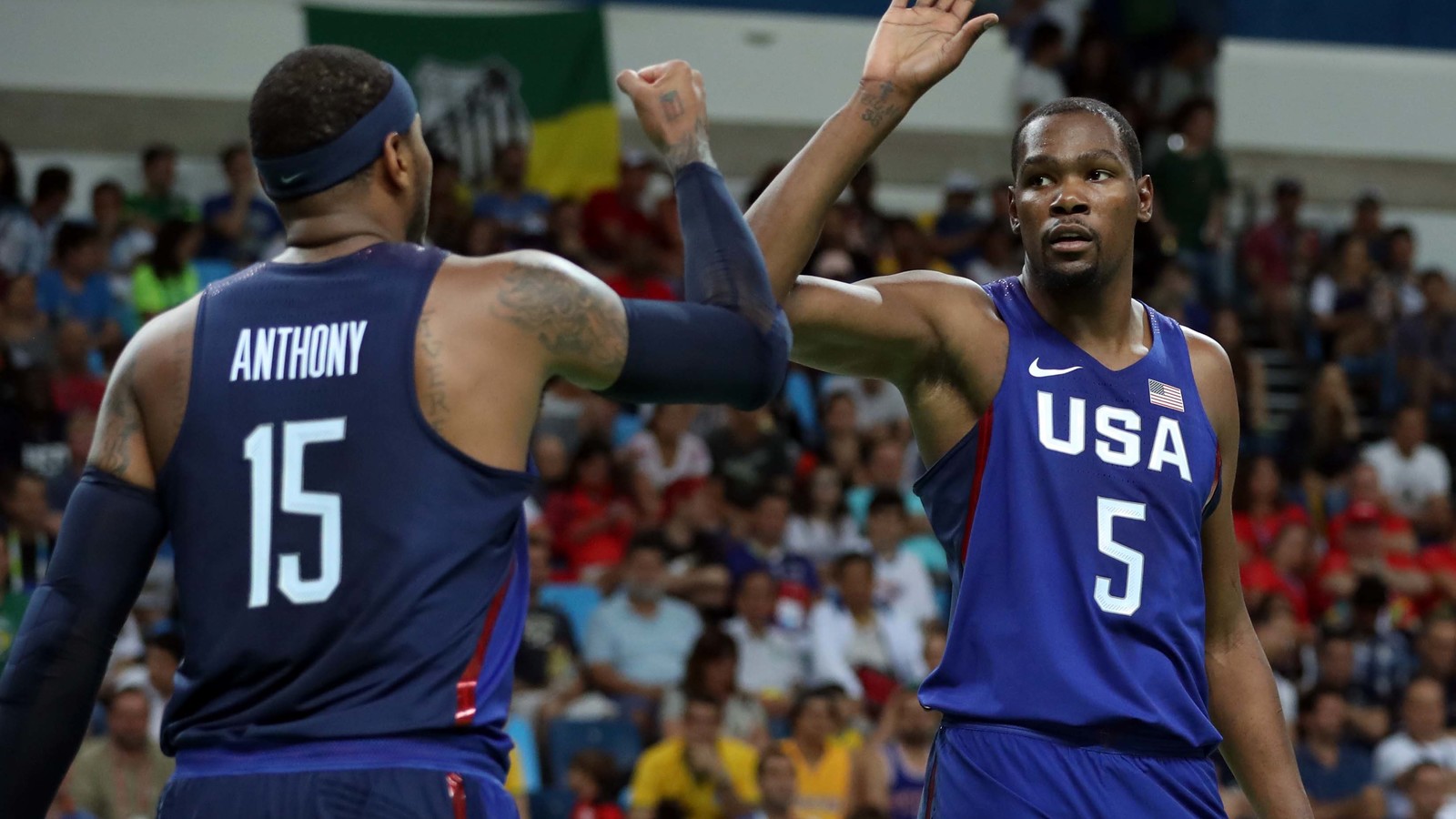 Kevin Durant went to bat for Carmelo Anthony.
Jason Getz-USA TODAY Sports
Carmelo Anthony can count on pal Kevin Durant's support when it comes to ESPN's now-controversial ranking of where the New York Knicks star evidently sits in the pecking order of NBA players.
Anthony came in as the 64th best player in the league, a precipitous drop from the 31st spot last year. While player ranking lists and the likes welcome debate, the notion that Los Angeles Lakers rookie Lonzo Ball ranks ahead of Anthony at 63 without playing an NBA regular-season game is arguably curious.
And now, the Golden State Warriors superstar has expressed his thoughts on the perceived absurdity of it all.
An Instagram post from Chris Brickley, who trains Anthony, provided the forum for Durant to blast ESPN over his friend's ranking.
Located down in the comment section of Brickley's post was the following message from Durant:
"Death to espn, lol," Durant quipped.
Anthony had previously expressed his disgust with his ranking in an Instagram post of his own.
"Can't Make Sense Out Of Non Sense! AS LONG AS I KNOW IM NICE, (EXPLETIVE) IT IM MY OWN FAN "A certain darkness is needed to see the stars."@Espn Don't be so Blatant with the disrespect," Anthony wrote, closing with the hashtags #GoneToFar #LineEmUp"
It merits mentioning that this isn't the first time in the recent past that Durant has put ESPN on blast. The Warriors superstar harshly criticized the network a few weeks ago over a fantasy football segment that sparked controversy. And Durant wasn't about to let his pal Anthony take any flack from ESPN, either
MORE FROM YARDBARKER:
QUIZ: Every NBA player to average 25+ points per game in a season since 2001-02
NBA players have averaged over 25 points per game a total of 104 times since the 2001-02 season. How many of them can you name?
Clue: Year/Points per game
MORE FROM YARDBARKER
NBA News

Delivered to your inbox

You'll also receive Yardbarker's daily Top 10, featuring the best sports stories from around the web. Customize your newsletter to get articles on your favorite sports and teams. And the best part? It's free!