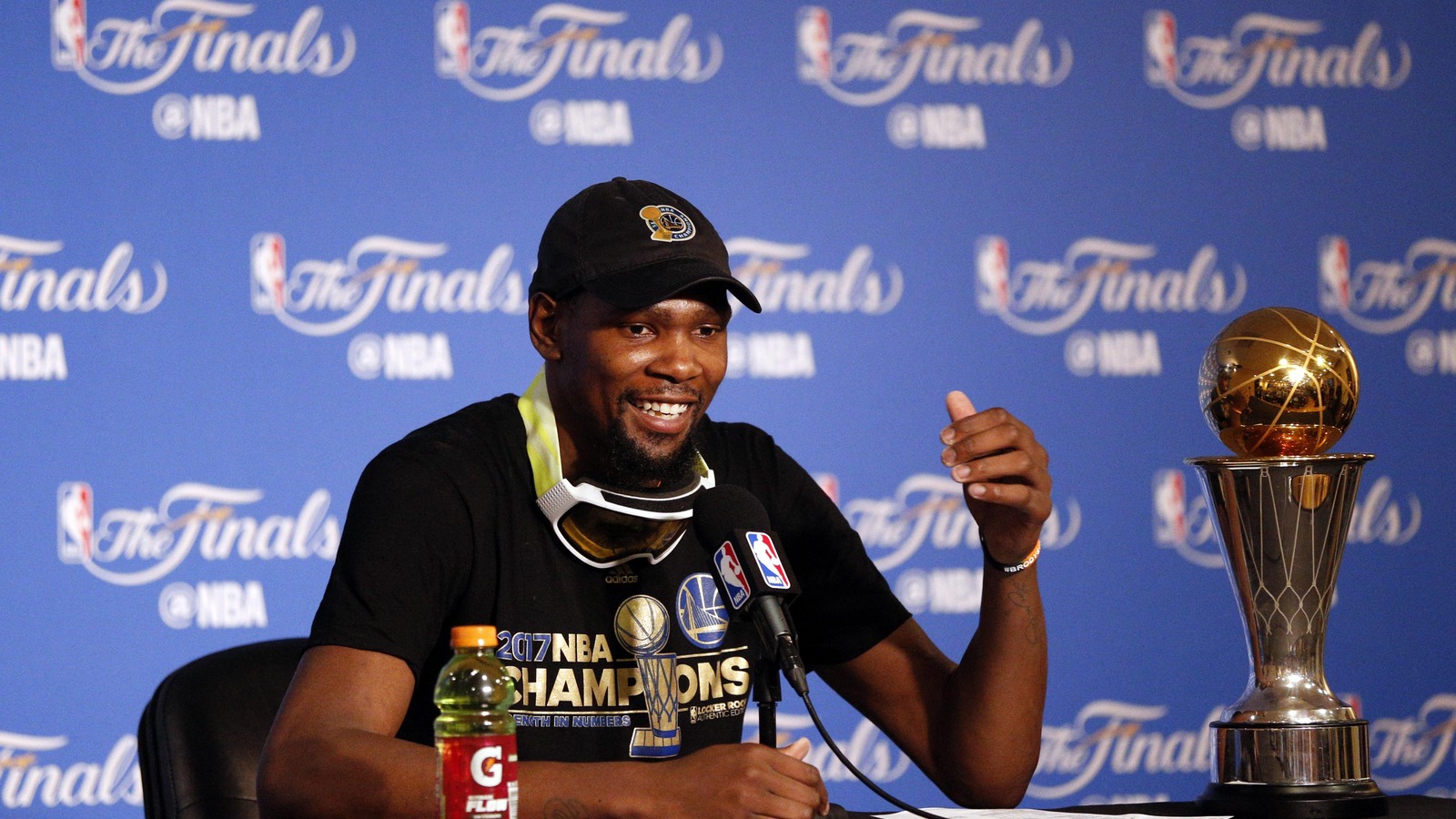 Kevin Durant has been engaging naysayers and critics on Twitter.
Cary Edmondson-USA TODAY Sports
Kevin Durant is finally in a position to let his championship ring and NBA Finals MVP trophy do the talking for him, but the Golden State Warriors star must find it entertaining to engage his critics on social media.
Over the past several days, Durant has responded to dozens of trolls on Twitter. After staying off social media during much of the postseason, the first thing Durant did was respond to a DJ who said K.D. is not going to see any of his teammates again until training camp.
That was only the beginning. Durant has fired back at numerous haters since then, and he seemed to be particularly bored on Sunday evening.
warriors didn't win it last year

— Kevin Durant (@KDTrey5) June 19, 2017
so I can't even use twitter anymore? Where do I go to get validated?

— Kevin Durant (@KDTrey5) June 19, 2017
no brother, u got it wrong. I want people to love the way I play basketball.

— Kevin Durant (@KDTrey5) June 19, 2017
u can't guard me 1 on 1 though

— Kevin Durant (@KDTrey5) June 19, 2017
so you're callin me a legend? Thank u

— Kevin Durant (@KDTrey5) June 19, 2017
There's much, much more on Durant's Twitter timeline, including one lengthy argument with a woman who claims to know someone Durant slept with and tried to say the star forward has some strange fetishes.
You can understand why Durant is annoyed when even accounts like this one are taking shots at him, but he's just giving trolls a thrill by responding to them. If that's his idea of a good time, more power to him.
MORE FROM YARDBARKER
Warriors News

Delivered to your inbox

You'll also receive Yardbarker's daily Top 10, featuring the best sports stories from around the web. Customize your newsletter to get articles on your favorite sports and teams. And the best part? It's free!