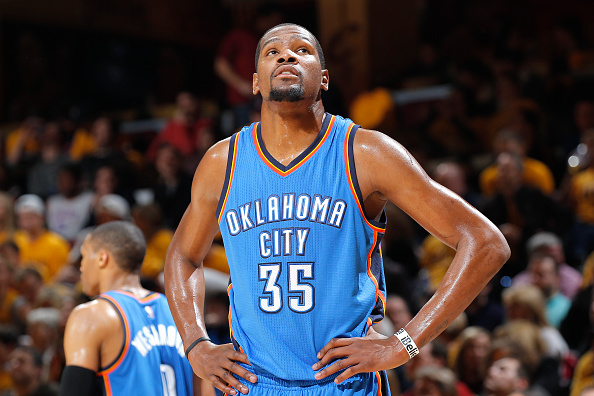 Kevin Durant unloaded on the media during All-Star weekend.
Rocky Widner/Getty Images
By Matt Birch
Oklahoma City Thunder forward Kevin Durant seems to be growing more skeptical of the media with each passing year.
The six-time All-Star and reigning league MVP has taken a more blunt approach when speaking to reporters about issues he's passionate about during the current season. In October, Durant ripped max contracts and said the league's top players are underpaid. And on Friday, he said the media has too much power in deciding NBA awards.
But it didn't stop there. Durant was asked about Thunder head coach Scott Brooks' job security in a media session on Saturday, and that seemed to set him off.
"You guys really don't know (expletive)," Durant told reporters, via Darnell Mayberry of The Oklahoman.
Durant then explained what his relationship with the media entails, and what stories he'd like reporters to focus on.
"To be honest, man, I'm only here talking to y'all because I have to," he said. "So I really don't care. Y'all not my friends. You're going to write what you want to write. You're going to love us one day and hate us the next. That's a part of it. So I just learn how to deal with y'all."
Durant also said he's learning to be himself and is not worrying about what anyone else says. That much is clear, as he's certainly much more outspoken now compared to when he first came into the league.
It's safe to say that Durant now has no filter when it comes to speaking to the media, and that's how things are likely going to be from here on out.
MORE FROM YARDBARKER
Thunder News

Delivered to your inbox

You'll also receive Yardbarker's daily Top 10, featuring the best sports stories from around the web. Customize your newsletter to get articles on your favorite sports and teams. And the best part? It's free!