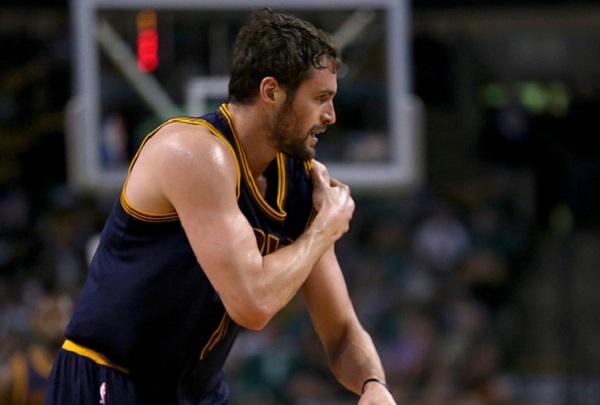 Kevin Love is out 4-6 months after undergoing shoulder surgery.
Jim Rogash/Getty Images Sport
By Larry Brown
Kevin Love is out 4-6 months after undergoing shoulder surgery, the Cleveland Cavaliers announced Wednesday.
Love was injured during Game 4 of the Cavs' first-round playoff series with the Boston Celtics after he got tangled with Kelly Olynyk, who yanked on his arm (video here). Olynyk dislocated Love's arm on the play, causing the Cavs forward to leave the game. Love later called the play "bush league" by Olynyk.
Love suffered damage to multiple parts of his shoulder as a result. For the medically-inclined crowd, the team phrased the injury as "an acute anterior inferior glenohumeral dislocation with the corresponding ligament/labrum tearing and humeral head bone bruising."
Not only does this severely affect the Cavaliers' championship hopes, but it also puts a big question mark on Love's status as a free agent. Love has an option in his contract for next season at just over $16 million. He could decline the option, become a free agent, and sign a long-term deal with an interested team. He will still receive max contract offers if he does become a free agent, but he might not be ready for the start of training camp.
MORE FROM YARDBARKER
NBA News

Delivered to your inbox

You'll also receive Yardbarker's daily Top 10, featuring the best sports stories from around the web. Customize your newsletter to get articles on your favorite sports and teams. And the best part? It's free!