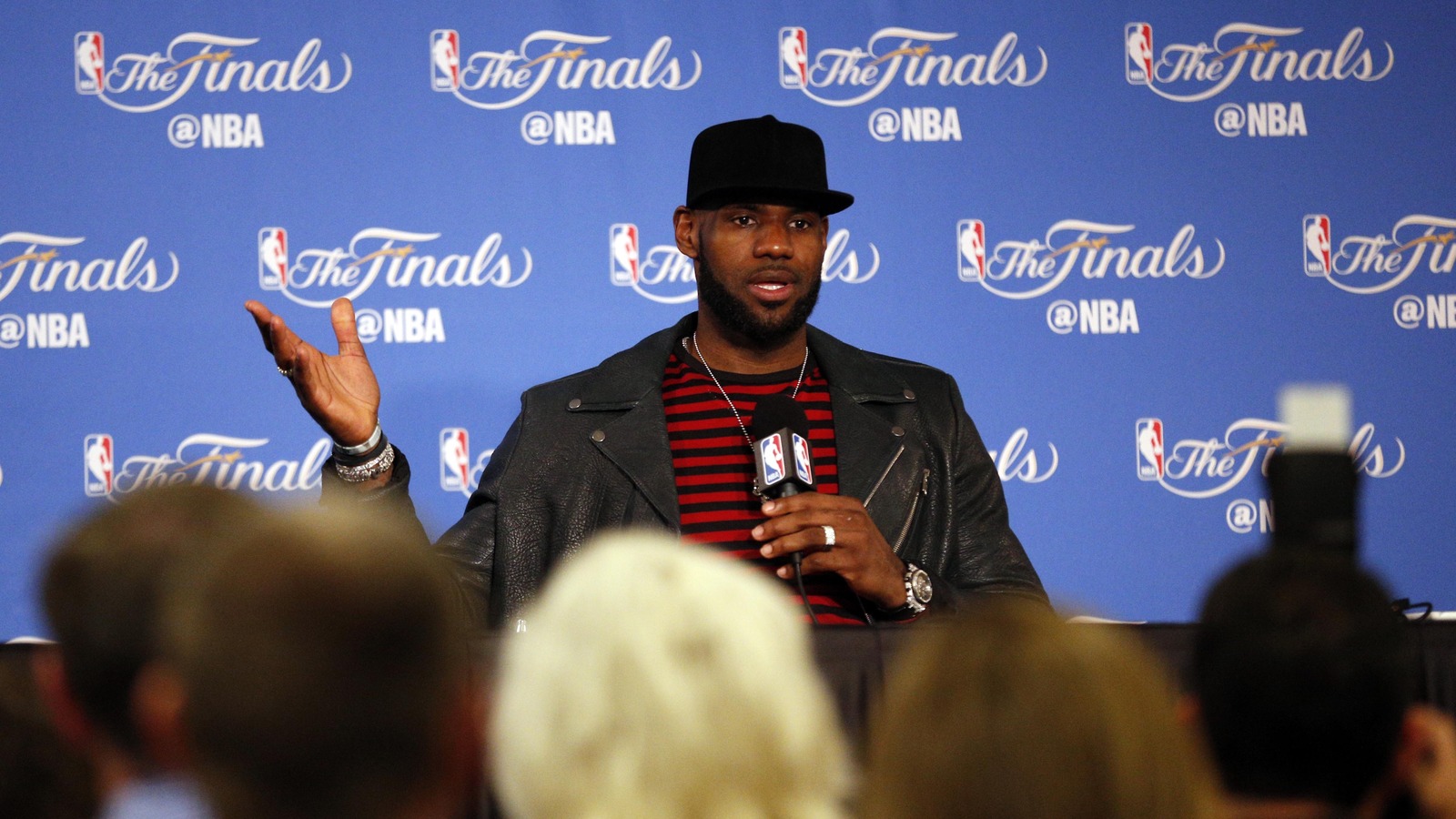 Cavaliers forward LeBron James at a press conference after game five of the 2017 NBA Finals against the Golden State Warriors at Oracle Arena. 
Cary Edmondson-USA TODAY Sports
LeBron James has won three championships in his career. The first two came when he starred alongside Dwyane Wade and Chris Bosh. The most recent was last year, when he was teammates with Kevin Love and Kyrie Irving. But apparently we can't call those "super-teams."
After the Golden State Warriors closed out the Cleveland Cavaliers in the NBA Finals Monday night, James was asked if he still believes superstar players joining forces is a good thing for the league. He basically said he wouldn't know.
"I don't believe I've played for a super-team," LeBron said. "I don't believe in that. I don't believe we're a super-team here."
The definition of a super-team is a bit loose, but typically people have referred to teams with three core star players as super-teams. That was certainly the case when LeBron was with the Heat, and it was definitely the intention when the Cavs traded for Love, whether it worked out that way or not.
In some ways, the 2016-2017 Warriors might as well be considered a super-super-team. They have two league MVPs in Kevin Durant and Stephen Curry along with two other top talents in Draymond Green and Klay Thompson. With LeBron having nearly been swept by Golden State, it makes sense that he doesn't consider his Cavs team to be a super-team given the context.
All that said, there's no way LeBron would be opposed to Cleveland bringing in another star player this offseason. As we saw with a tweet Durant sent years ago, it's easy to feel bitter toward loaded teams when you're on the other side.
MORE FROM YARDBARKER:
QUIZ: Name LeBron James' teammates on his Miami Heat championship squads
Can you name the 18 players who won NBA championships with LeBron James on the 2011-12 or 2012-13 (or both) Miami Heat teams?
MORE FROM YARDBARKER
Cavaliers News

Delivered to your inbox

You'll also receive Yardbarker's daily Top 10, featuring the best sports stories from around the web. Customize your newsletter to get articles on your favorite sports and teams. And the best part? It's free!