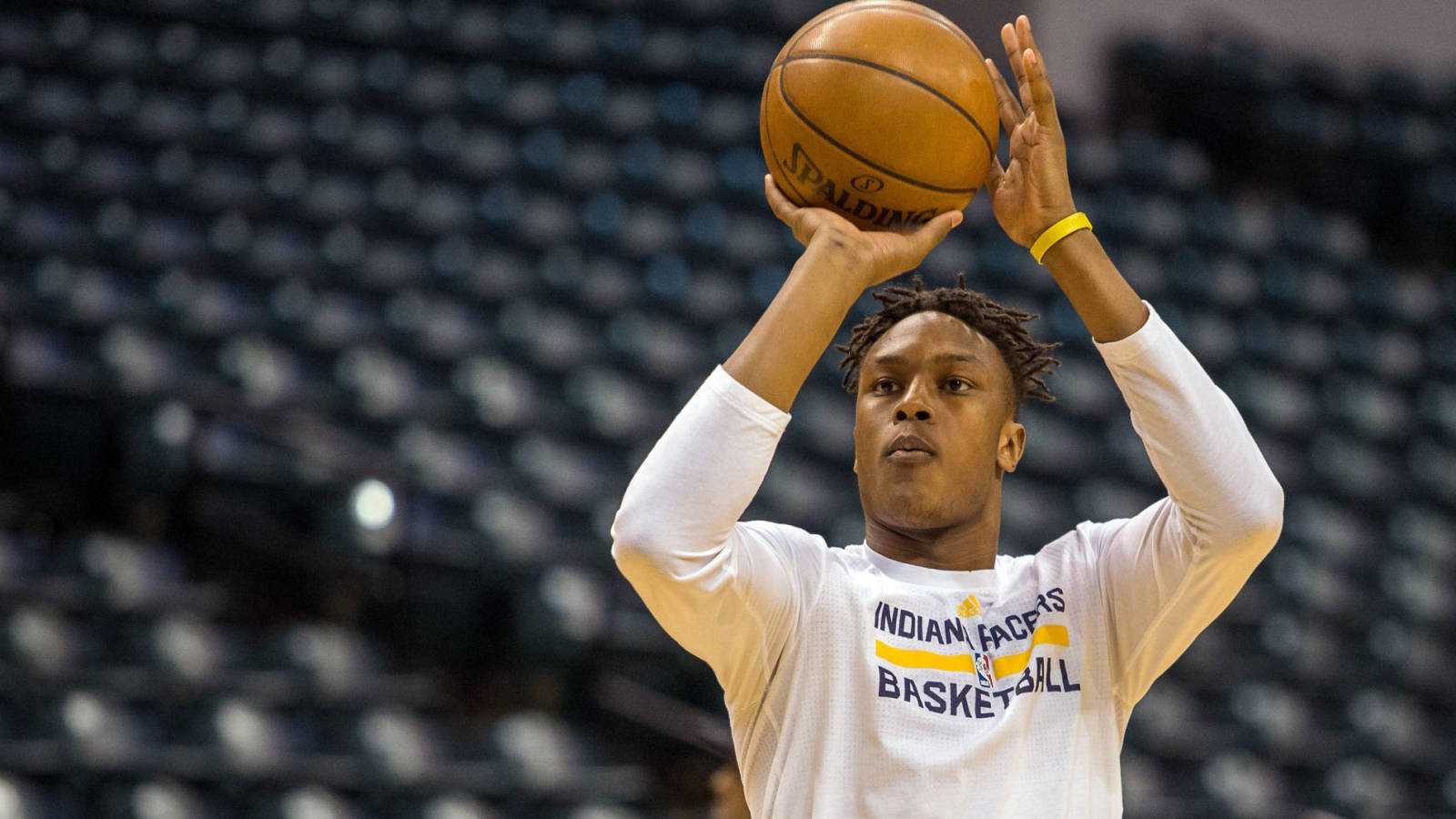 Could Pacers center Myles Turner be the NBA's most improved player during the 2017-18 season?
Trevor Ruszkowski-USA TODAY Sports
Not all heroes wear capes, and in the NBA, not all players will become superstars.
For role players across the league, there's always a possibility of making major improvements when given an expanded role. The Most Improved Player award gives players like this a great opportunity to be recognized for a significant uptick in production.
The award began in 1985 and has since had winners with a lot of similar qualities. On average, Most Improved Players are 23.4 years old and have 3.7 years of NBA experience. Over half of them were in their third or fourth years in the league. Additionally, just 16 percent of players have won with more than five years of experience. Meanwhile, only two second-year players have won since 2000, and one-fourth of winners were over the age of 25.
Common benchmarks and factors in the award's history include becoming a starter for the first time, becoming a first-time All-Star, and averaging near or more than 20 points per game.
Given its history, who's in line to take home the award next season?
Myles Turner, Indiana Pacers (3rd year, 21 years old)
Turner is arguably the best candidate to take a major step forward this season. With Paul George out of the picture, Turner is now the face of the Pacers franchise. And, he will more than likely get an opportunity to be the team's No. 1 option on offense.
As a sophomore, the former Texas Longhorn averaged 14.5 points with a well-balanced arsenal. He converted on 69.8 percent of his shots within five feet of the basket, good for the fourth-highest rate in the league. He also flashed plenty of shooting touch from mid-range. Then there was the addition of 40 three-pointers, putting him in the same group of "unicorn" modern big-men along with Kristaps Porziņģis, Nikola Jokić and others.
Turner is still so young and can continue to blossom with an expanded role this season. If he can reach 20 points per game and make his first All-Star game, expect him to be named Most Improved as well.
Tim Hardaway Jr, New York Knicks (5th year, 25 years old)
Remember, the Knicks got a lot of slack for giving Hardaway $72 million this summer. However, don't sleep on his ability to break out this season. He'll finally have the chance to be a starter, similar to a lot of MIP winners in the past (including CJ McCollum in 2015).
In his final 11 games as a starter with Atlanta last year, Hardaway averaged over 18 points, three assists and three rebounds per game. He fell off in the playoffs, but shouldn't have much trouble bouncing back.
If the Knicks were to trade Carmelo Anthony before the deadline, it would only give Hardaway more opportunities. Still, he'll have to become more efficient defensively and improve on his 35 percent three-point rate in order to take home the award.
Buddy Hield, Sacramento Kings (2nd year, 23 years old)
A change of scenery did wonders for Hield as a rookie. And, he may continue to reap the benefits this season. His minutes per game went up from 20 to 29. Not only did his numbers go up, but his efficiency did as well.
| | | | | | | | | |
| --- | --- | --- | --- | --- | --- | --- | --- | --- |
| Team | Games | Minutes | FG% | FGA | 3P% | eFG% | RPG | PPG |
| New Orleans Pelicans | 57 | 20.4 | 39.3 | 8.3 | 36.9 | 48.7 | 2.9 | 8.6 |
| Sacramento Kings | 25 | 29.1 | 48 | 11.8 | 42.8 | 57.9 | 4.1 | 15.1 |
As a sophomore, Hield is arguably the best wing player on the Kings. Plus, he should see even more looks offensively than he did at the end of last season. New additions George Hill and De'Aaron Fox should be good facilitators to set up Hield for easy baskets, especially if coach Dave Joerger plays all three at the same time.
Hield improved drastically each year he spent at Oklahoma. Given his work ethic and situation, expect much of the same out of his pro career.
D'Angelo Russell, Brooklyn Nets (3rd year, 21 years old)
Getting out of Los Angeles could be exactly what Russell needs to jump-start his career. He never had the full trust of the Lakers coaching staff. He was even getting a lot of minutes at shooting guard towards the end of the year. What gives?
Now he has a fresh start in Brooklyn, where he'll immediately take the keys to the offense. Russell failed to improve on his stats in his second season. In his defense, he still hasn't averaged more than 30 minutes per game yet. And, his situation was far from ideal. As long as Jeremy Lin doesn't take too much playing time away from him, Russell should see an increase this season.
Some around the NBA have given up on the 2015 No. 2 overall pick already, citing an apparent lack of maturity and efficiency on the court. Don't sleep on Russell quite yet, though. Especially after a change of scenery.
Jusuf Nurkić, Portland Trailblazers (4th year, 23 years old)
Barring another injury, Nurkić will have a chance to play a full season and continue to build chemistry within Portland's stellar backcourt in 2017-18. His production nearly doubled in every major stat category when given a chance to start with the Blazers in the second half of last year, which was a refreshing change after being buried in Denver's deep rotation through his first two pro seasons.
Nurkić averaged over 15 points and 10 rebounds in only 20 games with Portland last year. If he can bump that up to 20 points and double-digit boards for a full season, he'll vault into the MIP conversation with ease.
Other notable candidates: Devin Booker, Kyrie Irving, Kristaps Porziņģis, Brandon Ingram, Dennis Schröder, Aaron Gordon, Justise Winslow, Jaylen Brown, Kris Dunn, Zach LaVine, Jamal Murray.
NBA News

Delivered to your inbox

You'll also receive Yardbarker's daily Top 10, featuring the best sports stories from around the web. Customize your newsletter to get articles on your favorite sports and teams. And the best part? It's free!
MORE FROM YARDBARKER
NBA News

Delivered to your inbox

You'll also receive Yardbarker's daily Top 10, featuring the best sports stories from around the web. Customize your newsletter to get articles on your favorite sports and teams. And the best part? It's free!