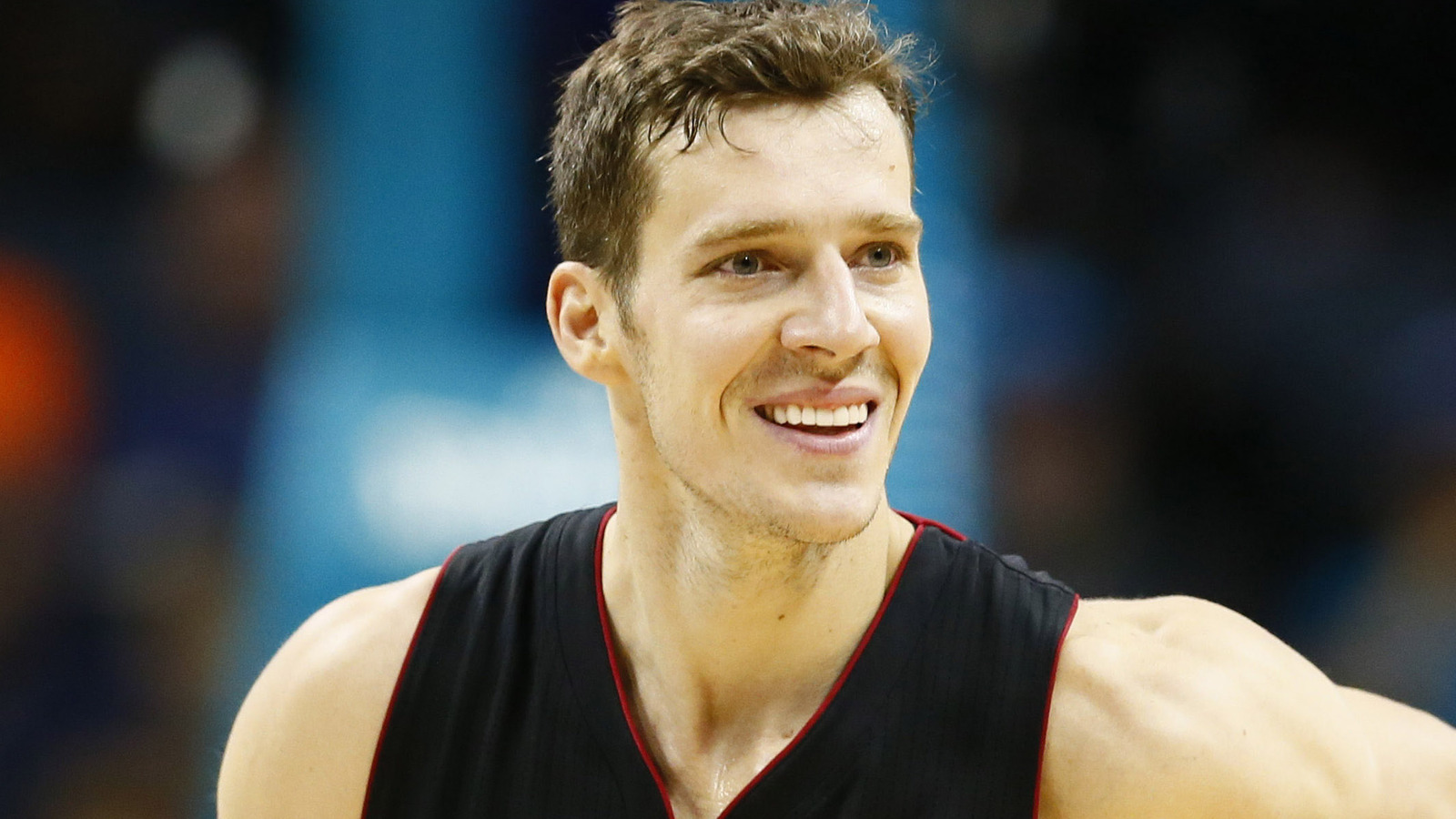 Miami Heat guard Goran Dragic is as solid as they come.
Jeremy Brevard/USA TODAY Sports
Throughout the offseason, we'll be counting down the Top 50 players in the NBA from 50 to 1. Who will just miss the cut? Which names do you expect to see? Regardless, you'll be able to find them all right here.
Why He's Great: Last year, I said that Goran Dragić was still an All-NBA-caliber player when given the keys to his own offense. Well…
2013-14 Goran Dragić: 20.3 PPG, 50.5% FG, 40.8% 3FG, 5.9 APG
2016-17 Goran Dragić: 20.3 PPG, 47.5 FG%, 40.5% 3FG, 5.8 APG
He was the same exact player! Slightly less efficient, but hey, it was his age-31 season; what do you expect? He made the All-NBA team in 2014. And were it not for a crowded field, he'd have been a candidate this season. Let Dragić control his own offense, and he remains an excellent point guard. Miami's organizational M.O. has always been to grab talent first and let the rest work itself out. It almost wasted Dragić and only maximized him by letting Dwyane Wade walk. The lesson here is to be thoughtful about whom you trade for. The Heat got lucky with Dragić. The team might not be so lucky the next time around.
Why He's Below No. 35 (Andre Drummond): Because Goran Dragić is old. How much can we really expect from a guard in his age-32 season on a team without another true superstar? Andre Drummond is about to play his age-24 season. He still theoretically has room to grow. It'd be irresponsible to pick a 32-year-old over a 24-year-old when they're relatively close in talent.
Dragić is also pretty one-dimensional. He doesn't do much on defense beyond getting into the right spots. He was never a good athlete, and aging hasn't helped. And he probably needs to play next to another perimeter stopper who can handle both backcourt positions. How many of those guys truly exist? Having Dragić can be a liability. From a lineup perspective, there's no question about what to do with Drummond. He plays center. The rest of the lineup doesn't change because of it.
And finally, it's not good that Dragić struggled so much in an off-ball role playing next to Dwyane Wade. It'd be one thing if only his volume lowered, but he shot only 31.2 percent from three-point range in 2015-16. Dragić clearly needs some sort of rhythm to play his best basketball. Remember that we're not talking about a top-30 NBA player here. Theoretically he's not supposed to be anyone's best player (and he isn't Miami's, he just happens to be paired with a star who doesn't need the ball much). The best players can fit into any system, not just one tailored to them.
MORE FROM YARDBARKER:
QUIZ: Name the major NBA award winners from 2012-16
How many of the six major award winners (MVP, Rookie of the Year, Coach, Sixth Man, Defensive Player of the Year and Most Improved) from the last five seasons can you name in five minutes?
CLUE: YEAR / AWARD / TEAM
(ROY=Rookie of the Year, DPOY=Defensive Player of the Year, COY=Coach of the Year, MIP=Most Improved)
MORE FROM YARDBARKER
Heat News

Delivered to your inbox

You'll also receive Yardbarker's daily Top 10, featuring the best sports stories from around the web. Customize your newsletter to get articles on your favorite sports and teams. And the best part? It's free!