Originally posted on
isportsweb.com
| By Jeff Jarboe | Last updated 6/20/15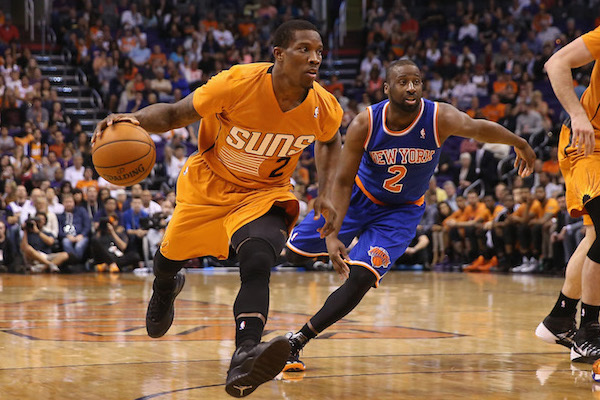 Phoenix Suns point guard Eric Bledsoe could be on the move.
Christian Petersen/Getty Images
Should Phil Jackson try to trade the fourth overall pick for Eric Bledsoe and the Suns 13th pick?
This past week in a mailbag conversation with fans, ESPN's Chad Ford said that a trade for Eric Bledsoe and the Phoenix Suns' 13th overall draft choice is, "the sort of deal the Knicks would look at," and definitely could be an option for New York.
Rumors have been surfacing that Phoenix is favoring Brandon Knight over Bledsoe, and while the truth of these rumors remains to be seen, Ford's comments have made the basketball world wonder if Phil Jackson should try to make this deal happen.
New York is in possession of the fourth overall pick in this year's draft, and as Chad Ford reported this past week, the team will consider trading the pick if Jahlil Okafor, Karl-Anthony Towns and D'Angelo Russell are all off the board.
While there looks to be a number of other franchise-type players available, including Emmanuel Mudiay, Justise Winslow and Kristaps Porzingis, if Okafor, Towns and Russell are all gone, New York should do everything in their power to trade their pick for Eric Bledsoe.
Bledsoe may not have the consistent three-point shooting ability that point guards in the triangle offense often have, but since entering the league in 2010 he has greatly improved his jump shot and has established himself as one of the league's best young point guards.
The 25-year-old Bledsoe is one of the NBA's better two-way players at the point guard position, possessing the ability to make plays on defense and push the fast break resulting in easy buckets on the other end. He plays with an attacking mind-set, always looking to drive and collapse the defense, creating open shots for his teammates.
Bledsoe's attack-first mind-set has led him to be turnover prone in the past, which is something he will have to work on. However, a large reason as to why Bledsoe committed so many turnovers in Phoenix was because the team lacked additional playmakers on the roster. As a result, Bledsoe would find himself in situations where he would try to make too much happen on his own, and it would result in turning the ball over.
Turnover issues aside, Bledsoe's skill set and overall potential are undeniable. He is only 25 years old and is on the cusp of becoming one of the NBA's top point guards. Pairing him with Carmelo Anthony and a top big man via free agency (Lopez, Monroe, Jordan, etc.) would immediately turn the Knicks franchise around.
Also, it's noteworthy that if this trade were to happen it would likely be a two-for-one scenario. Meaning that New York would give up their one draft pick (4th overall) in exchange for Bledsoe and the Suns' first-round draft pick (13th overall). The trade would give the Knicks an all-star potential point guard in Bledsoe and allow them to use the 13th overall pick on a young big man or wing prospect like Trey Lyles or Kelly Oubre Jr.
Don't get me wrong, the New York Knicks are still a long way away from being a playoff team and a championship contender. However, trading for Eric Bledsoe would bring this team one giant step closer to that goal. Bledsoe is a capable playmaking point guard who can help carry some of the load that has been weighing Carmelo Anthony down. Worst-case scenario, the team can move on from Melo in two or three years and build around Bledsoe — who will still only be in his late 20s — and whoever they draft with the 13th overall pick.
MORE FROM YARDBARKER
NBA News

Delivered to your inbox

You'll also receive Yardbarker's daily Top 10, featuring the best sports stories from around the web. Customize your newsletter to get articles on your favorite sports and teams. And the best part? It's free!