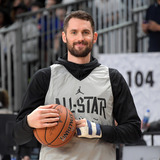 Injured Cavaliers big man Kevin Love is back on the court rehabbing from a broken left hand he suffered in late January, Joe Vardon of Cleveland.com writes. A team source tells Vardon that there is no anticipated change from the original eight-week timetable for Love's recovery, putting his return on track for the end of March.While the team may not see a change, Love hopes he can...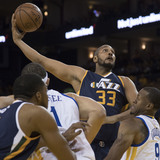 With the trade deadline gone, now is the time when teams scour the market for veteran help to aid a playoff run. Two players who are currently receiving interest from contending teams are Andrew Bogut and Boris Diaw.According to ESPN's Tim MacMahon (via Twitter), Diaw, who is currently with the French team Paris-Levallois, has "touched base" with several playoff teams. The 35-year...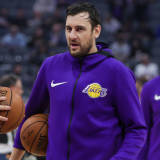 Veteran big man Andrew Bogut is expected to sign with a new team after the trade deadline, Marc Stein of the New York Times tweets. The 33-year-old is being courted by a number of playoff teams already.Last seen with the Lakers prior to his release in early January, Bogut is a physical low-post presence that teams hope can still contribute, at least defensively, to a winner.With...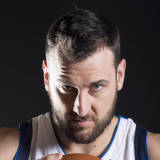 Andrew Bogut is expected to sign with a new team next month, according to a report.The New York Times' Marc Stein reports that multiple teams are interested in Bogut. The center is expected to sign with a new team after the trade deadline passes on Feb. 8. Bogut, 33, was released by the Lakers earlier this month and cleared waivers about 10 days ago. He was hardly seeing any minutes...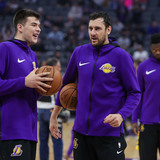 On Saturday, the Los Angeles Lakers would waive Andrew Bogut. His 13th season in the league, however, has certainly been his least productive. But there's one team out there that isn't ruling the possibility of a reunion. The Milwaukee Bucks, who would draft Bogut first overall in 2005, have interest.In his first seven seasons in the league, he would average 12.7 points, 9.3 rebounds...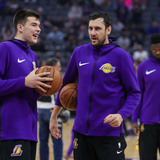 At least two teams have reached out to Andrew Bogut's camp this week to express interest in the veteran center, reports Gery Woelfel of The Racine Journal Times. According to Woelfel, the Bucks weren't one of those two clubs, but Milwaukee also has interest in Bogut, and the front office has "thoroughly" discussed the pros and cons of signing him.Waived over the weekend by the Lakers...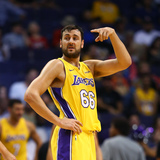 Despite a relative lack size in their frontcourt this season, the Cleveland Cavaliers do not plan to bring back a familiar (and available) seven-footer.ESPN's Dave McMenamin reported Saturday that the Cavs have no interest in a reunion with Andrew Bogut, who was officially released by the Los Angeles Lakers this weekend. McMenamin notes that Cleveland's roster is already full. The...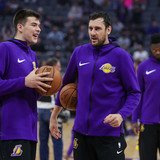 For the second consecutive season, Andrew Bogut is going to be given the chance to go from the wilderness to a championship contender.Yahoo Sports's Shams Charania reported Saturday that the Los Angeles Lakers will release Bogut, freeing him up to go to a better team. Bogut has been a fringe contributor to the Lakers, starting just five games and averaging only nine minutes per contest...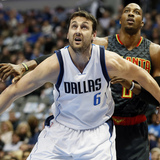 It wasn't too long ago that Andrew Bogut was a defensive stalwart for an NBA champion Golden State Warriors team. The former No. 1 overall pick starred in Golden State for four seasons — helping the previously dormant organization reach the pinnacle.After being shipped off to Dallas last summer in order to make room for Kevin Durant, Bogut ultimately landed with the Cleveland Cavaliers...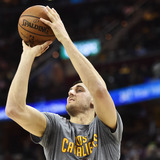 Andrew Bogut finally got into his first action with the Cleveland Cavaliers Monday night, but his night was cut short when he suffered an injury.Here's the play in which Bogut was injured. It's not yet known exactly what Bogut's injury was, but he was clutching his left ankle/lower leg area immediately after he hit the ground. He was then helped off the court and shuttled into the...
MORE STORIES >>
Lakers News

Delivered to your inbox

You'll also receive Yardbarker's daily Top 10, featuring the best sports stories from around the web. Customize your newsletter to get articles on your favorite sports and teams. And the best part? It's free!