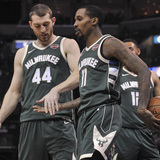 Brandon Jennings, who signed with Milwaukee on a 10-day contract over the weekend, was just two rebounds away from notching a triple-double in his first game back with the Bucks. The point guard started the season playing for Shanxi Zhongyu of the Chinese Basketball Association and he credits his international experience as part of the reason he was able to make an immediate impact...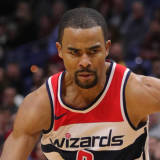 Only nine players signed 10-day contracts prior to the All-Star break this season, but 10-day deals have dominated the NBA's transaction wire in recent weeks. Currently, 13 of the league's 30 teams are carrying at least one player on a 10-day contract, giving them the opportunity to take a look at that player without being committed to him for the rest of the season.Ten-day contracts...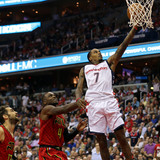 'Bucks in 6' lives on. Milwaukee has signed former point guard Brandon Jennings to a 10-day contract."G-League Wisconsin Herd guard Brandon Jennings is signing a 10-day contract with his original NBA team in the Milwaukee Bucks, a source told ESPN's The Undefeated."With a full roster, this move means they have to make some room. That shouldn't be too difficult, however. There's a...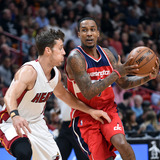 Brandon Jennings is one step closer to returning to the NBA, as the former top-10 draft pick is reportedly signing with an NBA G League team.Basketball reporter Adam Johnson noted on Tuesday that Jennings has signed a contract to play in the G League, and Marc Stein of the New York Times later added that the point guard has been claimed by the Wisconsin Herd, who had the top overall...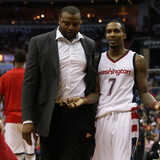 Veteran NBA guard Brandon Jennings has signed a G League contract, league sources tells Adam Johnson of 2 Ways & 10 Days (Twitter link).Having signed a G League deal, Jennings will be available on waivers, with the Wisconsin Herd – Milwaukee's affiliate – currently holding the No. 1 priority, Johnson notes (via Twitter). If no G League teams places a claim for Jennings, he would...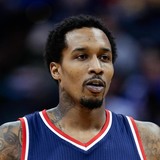 Brandon Jennings has spent the 2017/18 season in China, but with the CBA regular season over, the veteran guard hopes to get an opportunity to return to the NBA. Speaking to Alberto De Roa of HoopsHype, Jennings says he's currently working out in Los Angeles to stay in shape in case a team calls.As recently as the 2015/16 season, Jennings was earning more than $8MM in the NBA, but...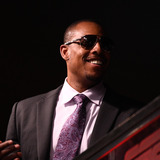 Even in retirement, Paul Pierce remains The Truth.Marc J. Spears of ESPN reported on Friday that guard Brandon Jennings has agreed to a one-year, $1.5 million deal to play overseas with the China Shanxi.In the wake of the news, Jordan Heck of Sporting News recalled Jennings' feud with Pierce last season, mentioning the 10-time All-Star in a tweet. For his part, Pierce obliged to...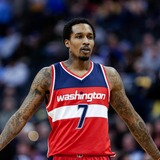 Almost all of the biggest NBA trade rumors we have heard in the past week involve the prospect of superstar players joining forces, and one veteran is warning teams that trying to become the Golden State Warriors won't work for everyone.While the idea of guys like LeBron James, Paul George and Jimmy Butler forming super-teams sounds enticing, Washington Wizards point guard Brandon...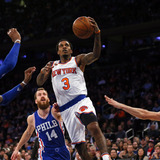 Brandon Jennings is reportedly headed to Charlotte. Detroit Pistons head coach Stan Van Gundy broke the news to reporters this morning after speaking with Jennings' agent. Jennings was waived by the New York Knicks this morning after a disappointing season coming off the bench. Currently averaging 12.5 points and 7.2 assists per 36 minutes on 38 percent shooting from the field, Jennings...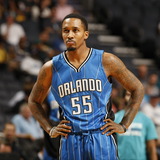 The New York Knicks are continuing what has been a very active summer for the fledgling franchise. After adding Derrick Rose, Joakim Noah and Courtney Lee to the mix, New York has reportedly signed former lottery pick Brandon Jennings. The Knicks are about to strike a deal with Brandon Jennings, according to league sources — Marc Stein (@ESPNSteinLine) July 4, 2016 Jennings...
MORE STORIES >>
Bucks News

Delivered to your inbox

You'll also receive Yardbarker's daily Top 10, featuring the best sports stories from around the web. Customize your newsletter to get articles on your favorite sports and teams. And the best part? It's free!