We've updated our Privacy Policy.
By continuing to use this site, you are agreeing to the new Privacy Policy.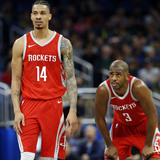 The Houston Rockets are still winning, but it didn't come without drama Sunday night. Against the Minnesota Timberwolves, Gerald Green would shove Minnesota big man Gorgui Dieng out of bounds. But not before Dieng decided to shove Chris Paul first. The result, unsurprisingly of course, would be a suspension. But CP-3 doesn't care about Green's fine. In fact, he says he'll pay it...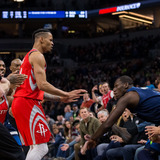 This weekend in the NBA featured a number of heated altercations and tense moments, with a major skirmish erupting in Sunday's Rockets-Timberwolves game.The incident in question began in the fourth quarter, when Chris Paul moved over to doubleteam Gorgui Dieng, who was working in the post. Paul tried to strip Dieng, but ended up fouling him in the process. CP3 continued to fight...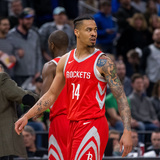 A skirmish broke out in the fourth quarter of Sunday's Timberwolves-Rockets game, resulting in a player getting ejected from the Western Conference matchup.It happened when Gorgui Dieng was being guarded by Chris Paul in the post, with CP3 picking up a foul for attempting to jar the ball loose from his counterpart. Paul didn't stop after the whistle, though, and continued to try...
LIKE WHAT YOU SEE?
GET THE DAILY NEWSLETTER: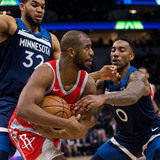 Houston Rockets star Chris Paul is looking to (literally) pay it forward after one of his teammates came to his defense during a game on Sunday.In the fourth quarter of Houston's 129-120 win over the Minnesota Timberwolves, Wolves big man Gorgui Dieng took exception to Paul swiping at the ball after a whistle and shoved him to the ground. Rockets swingman Gerald Green responded by...
The Houston Rockets have been the best team in basketball this season, no one will argue against that. With the MVP front-runner in James Harden and a rejuvenated Chris Paul, the Rockets have blown past the competition this year. Despite all of the good things Houston was showing, there were still doubts about their championship credentials. The Golden State Warriors will eventually...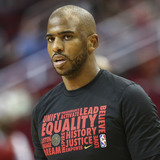 Diddy might fail in his effort to join Colin Kaepernick in purchasing the Carolina Panthers, but in no way does that mean the hip-hop legend is failing in life itself.With a net worth north of $800 million and a booming clothing line to call his own, Diddy is doing well for himself.Just ask the NBA's Isaiah Thomas, Carmelo Anthony and Chris Paul, who have their children modeling...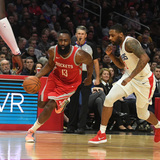 Wednesday night's Rockets vs Clippers game wasn't the high drama game fans were hoping for, but the game still ended on a hilarious note. Last time these two teams faced off it got ugly, as players from the Rockets tried to storm the Clippers' locker room. To make sure there were no incidents this time, the back entrance was hilariously blocked with caution tape. Chris Paul remained...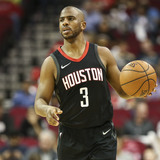 It's Go Texan Day, and one of Houston's newest and biggest superstars has gone all-out in the spirit of the local holiday.Rockets point guard Chris Paul was seen rocking a cowboy costume — hat and all — before Friday's game against the Timberwolves.The Rockets posted a photo of the awesome costume. A video of CP3 sporting it in the locker room has surfaced as well. He's a Texan now...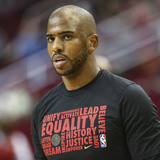 As the Houston Rockets prepare to take on the Minnesota Timberwolves Friday night at the Toyota Center, the legendary Chris Paul made his presence known in more ways than one. Here, we see Paul entering the arena in full cowboy gear. When we say full cowboy gear, we absolutely mean it. Down to the boots, Paul pulls this look off in the best possible way. As the Rockets' hashtag notes...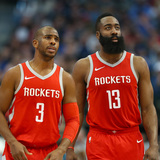 If you ask Chris Paul who's going to take NBA MVP honors this season, the answer is simple. It's his teammate, James Harden."Look at what (Harden) does for our team. All everybody does now is look at the numbers. Nothing against stats. … But nobody looks at how the game went. Watch the game, too. I'm here. I get to see what he's doing night in, night out."But the praise for Harden...
MORE STORIES >>
Rockets News

Delivered to your inbox

You'll also receive Yardbarker's daily Top 10, featuring the best sports stories from around the web. Customize your newsletter to get articles on your favorite sports and teams. And the best part? It's free!