Don't dismiss this possibility too quickly. I will start with Marcus Smart's present status. He had ulnar collateral ligament (UCL) surgery yesterday and was given a 6-8 week recovery period. Chris Paul, currently of the Houston Rockets, had similar surgery early in 2017 and was back in action exactly five weeks and two days later.On February 24, 2017, exactly 37 days after surgery...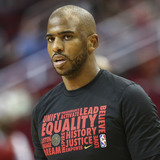 Diddy might fail in his effort to join Colin Kaepernick in purchasing the Carolina Panthers, but in no way does that mean the hip-hop legend is failing in life itself.With a net worth north of $800 million and a booming clothing line to call his own, Diddy is doing well for himself.Just ask the NBA's Isaiah Thomas, Carmelo Anthony and Chris Paul, who have their children modeling...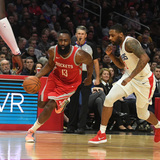 Wednesday night's Rockets vs Clippers game wasn't the high drama game fans were hoping for, but the game still ended on a hilarious note. Last time these two teams faced off it got ugly, as players from the Rockets tried to storm the Clippers' locker room. To make sure there were no incidents this time, the back entrance was hilariously blocked with caution tape. Chris Paul remained...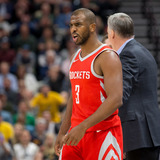 Rockets point guard Chris Paul tried to show some love for someone very close to one of his teammates during Monday's game against the Jazz, and he ended up with an extra turnover on the stat sheet as a result.Paul was dribbling the ball near midcourt in the final seconds of the game, attempting to potentially close out the contest, as his team had a 96-85 lead with under 15 seconds...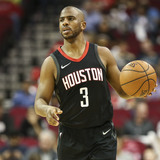 It's Go Texan Day, and one of Houston's newest and biggest superstars has gone all-out in the spirit of the local holiday.Rockets point guard Chris Paul was seen rocking a cowboy costume — hat and all — before Friday's game against the Timberwolves.The Rockets posted a photo of the awesome costume. A video of CP3 sporting it in the locker room has surfaced as well. He's a Texan now...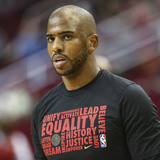 As the Houston Rockets prepare to take on the Minnesota Timberwolves Friday night at the Toyota Center, the legendary Chris Paul made his presence known in more ways than one. Here, we see Paul entering the arena in full cowboy gear. When we say full cowboy gear, we absolutely mean it. Down to the boots, Paul pulls this look off in the best possible way. As the Rockets' hashtag notes...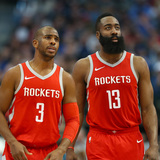 On Sunday night, the NBA All-Star game didn't disappoint. But James Harden and Team Curry would ultimately take the loss. However, that probably doesn't bother Harden as much as Chris Paul not being there does."What are we talking about? Obviously, everybody knows Chris Paul is with the Rockets. The Rockets have the No. 1 (record). How does that happen? It's frustrating. I know he...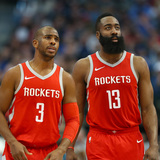 If you ask Chris Paul who's going to take NBA MVP honors this season, the answer is simple. It's his teammate, James Harden."Look at what (Harden) does for our team. All everybody does now is look at the numbers. Nothing against stats. … But nobody looks at how the game went. Watch the game, too. I'm here. I get to see what he's doing night in, night out."But the praise for Harden...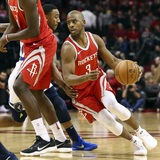 Just in case you couldn't tell based on his commercials, Chris Paul is a great actor.During the second quarter of Saturday's Houston Rockets-Golden State Warriors game on ABC, TV cameras caught CP3 doing a great fake laugh: It's unclear to whom that was directed. Paul was talking with one of the officials, but he was also looking in the direction of where some of the Warriors were...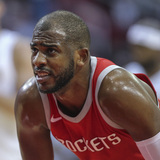 Being an NBA superstar has its perks. In addition to the fame that comes with the gig, fortunes are being made by the top players, like Chris Paul, who recently used his wealth to purchase a massive mansion in Spring, Texas, roughly 30 miles from the Toyota Center where the Houston Rockets play.Per TMZ Sports, this place has 14 bathrooms! Additionally, "the home has 9 bedrooms, a...
MORE STORIES >>
Rockets News

Delivered to your inbox

You'll also receive Yardbarker's daily Top 10, featuring the best sports stories from around the web. Customize your newsletter to get articles on your favorite sports and teams. And the best part? It's free!