We've updated our Privacy Policy.
By continuing to use this site, you are agreeing to the new Privacy Policy.
The Heat take on OKC tonight and as they make their push to move up in the seedings, there is a chance they may have a little help from DWade. After sitting out for the last week and bit (5 games) while dealing with a hamstring strain, Wade's status has finally been upgraded. After initially being reported "out" for tonight's game Wade has now been upgraded to "questionable". Barry...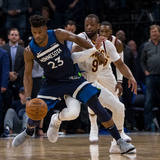 Dwyane Wade shaded Jimmy Butler with a funny Instagram comment posted on Saturday.Butler is recovering from surgery to repair a torn meniscus on his right knee that he underwent in late February. He received an initial 4-6 week timetable and is hoping to return for the Minnesota Timberwolves before the end of the regular season.On Saturday, Butler posted a photo on Instagram showing...
The mid-season trade that brought Dwyane Wade home to the Miami Heat has proven to have a positive effect on both Wade's performance as an individual as well as the play of the Heat as a team. The Heat are currently tied for the seventh seed in the Eastern conference with the Milwaukee Bucks, and have a 4-2 record since the All-Star break. Even though he has played just nine games...
LIKE WHAT YOU SEE?
GET THE DAILY NEWSLETTER: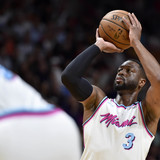 It's safe to say no one at Marjory Stoneman Douglas High School could have predicted what took place during what was a normal day on Wednesday.Heat veteran guard Dwyane Wade showed up to school, and not only that, he delivered a pretty powerful message to them, in order to raise their spirits a bit."I just want to come here today…I just wanted to come and say I'm inspired by all...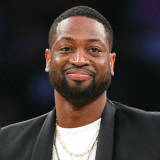 Dwyane Wade on Wednesday paid a visit to Marjory Stoneman Douglas High School in Parkland, Fla., leaving students, faculty and staff both surprised by and appreciative for his appearance. The NBA superstar, who recently returned to the Miami Heat, has been outspoken on the tragedy that occurred on the school grounds on Feb. 14, when a shooter gunned down 17 students and staff. Suffice...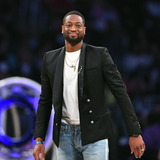 On Wednesday morning, Miami Heat superstar Dwyane Wade gave the students at Marjory Stoneman Douglas High School in Parkland a thrill with a surprise visit.The arrival of Wade was caught on camera, and it's clear his visit was a huge boost to morale for the young men and women at the school. The recent mass shooting at Stoneman Douglas has touched Wade deeply. One of the slain students...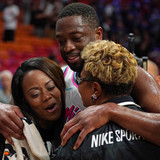 A powerful moment took place after Dwayne Wade daggered the Sixers with a game-winning jumper in the final seconds of Tuesday's contest.Wade turned back the clock and looked like the closer of old with the ball in his hands. He dribbled around, and eventually settled for a stepback fadeaway jumper — which he drained with roughly six seconds remaining. Wade's mother and sister had...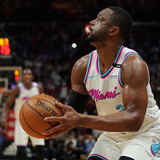 Dwyane Wade can still get it done.Wade sent the home fans happy on Tuesday night in Miami by draining a deep jumper to give the Heat a 102-101 lead over the Philadelphia 76ers with 5.9 seconds left. That was enough to give the Heat the game as JJ Redick missed a deep 3-pointer at the buzzer for Philly.Wade had a hot night shooting, going 10-for-16 with 27 points and three steals...
Dwyane Wade is less than a month into his reunion with the Miami Heat. His team is in the midst of battling for a playoff spot as the season draws to a conclusion. But this doesn't mean the future Hall of Famer isn't contemplating his future beyond this season.In fact, the 36-year-old guard is openly talking about the possibility of retiring following the season."I don't know. I...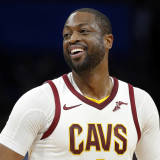 Dwyane Wade's homecoming to the Heat has the entire Miami area doing cartwheels, even the local police department.Shortly after news broke on Thursday that the three-time NBA champion was returning to the Heat via a trade with the Cleveland Cavaliers, the Miami PD posted this perfect missing person-themed tweet to welcome him back. Of course, they are far from the only ones happy...
MORE STORIES >>
Heat News

Delivered to your inbox

You'll also receive Yardbarker's daily Top 10, featuring the best sports stories from around the web. Customize your newsletter to get articles on your favorite sports and teams. And the best part? It's free!