By Vincent Frank The Golden State Warriors have reportedly found a landing spot for David Lee after promising to trade him following the team's championship season. According to ESPN's Marc Stein, the defending champs have sent Lee and his $15.5 million contract for this upcoming season to the Boston Celtics for Gerald Wallace. ESPN sources say that the Celtics have agreed to...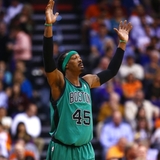 At 32-years old, Boston Celtics forward Gerald Wallace might not be able to contribute much on the court, but he's still able to provide necessary leadership off the floor. Following Sunday's loss at home to the Detroit Pistons, Wallace held an impromptu meeting with his younger teammates. Via Mike Petraglia of WEEI: "I think everybody understood by the way everybody felt," Wallace...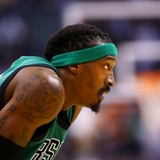 WEEI's Ben Rohrbach uncovered an interview Gerald Wallace did with Fox Alabama where he was asked to compare LeBron James, Kobe Bryant and Michael Jordan: Jordan never had an off night," Wallace told myfoxal.com. "He found many ways to contribute to the team, and I'd say Kobe [Bryant] is pretty much the same. You can put Lebron in that category. I think what separates LeBron from...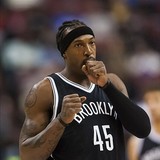 Gerald Wallace has been a valuable part of the Boston Celtics organization all season, regardless of what has been asked of him. He's been versatile, tough and effective. And though Wallace will have season-ending surgery on his torn right meniscus in the near future, the 31-year-old isn't done trying to help out the C's. For the time being, however, he won't be doing so on the court...
BOSTON - In a season of constant change for the Boston Celtics, things shook up again when Gerald Wallace was declared out for the season with a torn left meniscus. Despite surgery on the knee and left ankle keeping him off the court, Wallace won't be going anywhere. "I'll still give you a report," he told reporters when asked if he would still talk after games. "I'm very disappointed...
Gerald Wallace has caught some of the injury bug, and may miss some significant time.  Wallace, a 12-year veteran, could sit out the rest of the 2014 season with a torn meniscus, the team announced on Friday. Stevens said Wallace felt soreness in his knee, took an MRI and found unsettling results. Wallace also has bone spurs in ankle.  Boston has hit a brick wall as far as their...
Veteran forward Gerald Wallace has been very vocal throughout his first few months in Boston with the Celtics, rarely holding back in criticism when asked to evaluate the team. After Tuesday night's 129-98 loss to the Denver Nuggets, Wallace was back at it again. The Celtics were pummeled by Denver, as they let up 103 points in just the game's first three quarters. The Nuggets sunk...
Gerald Wallace is bad. He's not a good basketball player anymore, has one of the worst contracts in basketball (which may keep him in Boston until 2016), and he repeatedly throws his teammates under the bus. We saw it on numerous occasions during the team's 4-9 start, and now, as the Celtics begin slipping out of contention, we're seeing it again. Here's what Wallace had to say after...
If you can give Gerald Wallace one thing, the man tends to speak his mind.That was the case yesterday when Wallace talked about the current road trip the Celtics are looking at.Via the illustrious Jay King, MassLive.com:"Every road trip is a make or break. Especially the situation we're in," Gerald Wallace said Friday. "We've lost a couple of games in a row, lost (six out of seven...
Via CSNNE's Sherrod Blakely: The Celtics came into the season determined to avoid being a luxury tax payer this season, meaning any deal that would jeopardize that this season or even next season, isn't happening. That's why the rumors about Boston being involved with a deal to acquire Houston's Omer Asik is unlikely to happen unless the Celtics look to make other deals as well....
MORE STORIES >>
NBA News

Delivered to your inbox

You'll also receive Yardbarker's daily Top 10, featuring the best sports stories from around the web. Customize your newsletter to get articles on your favorite sports and teams. And the best part? It's free!