We've updated our Privacy Policy.
By continuing to use this site, you are agreeing to the new Privacy Policy.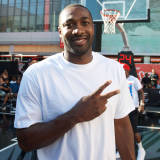 It's hard to picture a former NBA player and former-adult film start teaming up to talk about sports, and yet, that's exactly what will soon happen.Gilbert Arenas and Mia Khalifa are teaming up with Complex to host a daily sports talk show, "Out of Bounds." The show is being touted as "the world's most dangerous sports show," and will premiere on Oct. 16.Both Arenas and Khalifa seem...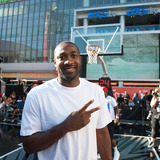 There was once a time when Mia Khalifa was known for blowing up the spots of athletes who tried to hook up with her, but the tables seem to have taken a dramatic turn on the adult film star in recent weeks.Last month, Oklahoma quarterback Baker Mayfield rejected Khalifa and blocked her on Twitter after she took a blatant pass at him. On Monday, former NBA star Gilbert Arenas got...
Gilbert Arenas has gone viral again for his social media antics, this time for sharing a tale of how he committed credit card fraud at a strip club. The former NBA All-Star shared on his Instagram account this week a post that details how he would profit at strip clubs. According to what Arenas wrote, his strategy was to have the strip club charge him $80,000 in dollar bills to...
LIKE WHAT YOU SEE?
GET THE DAILY NEWSLETTER:
Gilbert Arenas has developed an unsavory and unflattering reputation for posting controversial and insensitive comments on social media. But even by his lowly standards, the former NBA player went way too far on Wednesday with insulting and reprehensible posts about the devastating water crisis in Flint, Mich. Unedited screengrabs of the three posts in which Arenas insults the...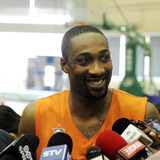 Gilbert Arenas has received a ton of backlash for the sexist comments he made about the WNBA earlier this week, but the former NBA star has no interest in backing down. Arenas made a brief appearance on the "TMZ Sports" show on FOX Sports 1 Thursday, and he was asked if he will apologize to the female basketball players he offended. "Which ones did I offend? Did I name any of them...
Former NBA player Gilbert Arenas took to social media and posted some disparaging comments about the WNBA, specifically concerning what he perceives as the lack of attractive women playing the pro game. The accompanying video in Arenas' Instagram post features risqué images of scantily clad women playing basketball, so here's his misogynistic message only. NOW this is what...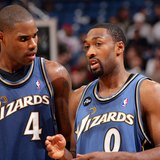 Many things come to mind when thinking about former Washington Wizards star Gilbert Arenas. "Great teammate" probably isn't the first one, but for former Wizards power forward Antawn Jamison, this is exactly what he thinks of when it comes to "Agent Zero.""[Arenas was] hands down the best teammate I ever had," Jamison told 106.7 The Fan's Sports Junkies on Wednesday. "He wanted to...
A former personal assistant to Gilbert Arenas has been found guilty of stealing more than $2 million from Arenas during a three-year span. John A. White, who served as Arenas's assistant from 2006-2012, was convicted on Wednesday of 11 counts of wire fraud and four counts of filing a false tax-related document. He is facing up to 20 years in federal person for each wire fraud count...
Gilbert Arenas managed to get his name back in the news this week after he posted an image of himself surrounded by an insane haul of country fair fare he won by dominating a carnival basketball game. The former NBA star claimed in the caption of the Instagram post that he was banned from the...Read More The post Gilbert Arenas wasn't banned from Orange County Fair after all appeared...
Gilbert Arenas hasn't played in an NBA game since 2012, but the three-time All-Star is still getting buckets. In fact, he managed to get himself banned for making too many at the Orange County Fair. As seen via an Instagram post, Arenas hauled in a bounty of stuffed animals for his children—which includes a three-foot Minion and a pair of pandas. We just got banned from all...
MORE STORIES >>
NBA News

Delivered to your inbox

You'll also receive Yardbarker's daily Top 10, featuring the best sports stories from around the web. Customize your newsletter to get articles on your favorite sports and teams. And the best part? It's free!