We've updated our Privacy Policy.
By continuing to use this site, you are agreeing to the new Privacy Policy.
Subscribe to the 76ers: https://www.youtube.com/user/philadel... For news, stories, highlights and more, go to our official website at http://www.nba.com/sixers/?tmd=1 Like us on Facebook: https://www.facebook.com/Sixers/ Follow us on Twitter: https://twitter.com/sixers?lang=en Follow us on Instagram: https://www.instagram.com/sixers/
Subscribe to the 76ers: https://www.youtube.com/user/philadel... For news, stories, highlights and more, go to our official website at http://www.nba.com/sixers/?tmd=1 Like us on Facebook: https://www.facebook.com/Sixers/ Follow us on Twitter: https://twitter.com/sixers?lang=en Follow us on Instagram: https://www.instagram.com/sixers/
Subscribe to the 76ers: https://www.youtube.com/user/philadel... For news, stories, highlights and more, go to our official website at http://www.nba.com/sixers/?tmd=1 Like us on Facebook: https://www.facebook.com/Sixers/ Follow us on Twitter: https://twitter.com/sixers?lang=en Follow us on Instagram: https://www.instagram.com/sixers/
LIKE WHAT YOU SEE?
GET THE DAILY NEWSLETTER:
Subscribe to the 76ers: https://www.youtube.com/user/philadel... For news, stories, highlights and more, go to our official website at http://www.nba.com/sixers/?tmd=1 Like us on Facebook: https://www.facebook.com/Sixers/ Follow us on Twitter: https://twitter.com/sixers?lang=en Follow us on Instagram: https://www.instagram.com/sixers/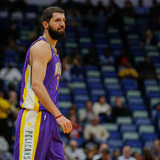 The Bulls suffered arguably their worst loss of the season on Thursday night, and a former member of the team elected to rub some salt in the wound after the game.Chicago had a three-point lead over Philadelphia with less than 12 seconds remaining in the Eastern Conference matchup, and the Bulls wisely elected to foul J.J. Redick, rather than giving up a three-pointer to potentially...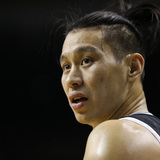 It didn't take Jeremy Lin, the only Chinese player currently in the NBA, long to weigh in about JJ Redick's poor choice of words about the league's New Year's greeting.Chinese media company Tencent produced a video that featured a number of NBA players, including Lin, Spencer Dinwiddie and D'Angelo Russell, in which they provided unscripted takes in wishing fans a happy Chinese New...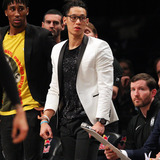 JJ Redick insists that he did not intentionally use a racial slur toward Chinese people when he took part in a recent video celebrating the Chinese New Year, and the first American-born Chinese player to ever play in the NBA believes him.Shortly after Redick issued an apology on Sunday, Jeremy Lin defended the 76ers guard on Twitter. The video in question featured several NBA players...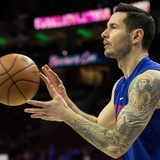 JJ Redick is issuing a mea culpa after uttering a perceived racial slur.In a post to his official Twitter page on Sunday, the Philadelphia 76ers guard apologized after he appeared to use a derogatory term for Chinese people in a Chinese New Year-themed video. In his statement, Redick said that he meant to say "NBA Chinese fans" but tried to change it mid-sentence to "NBA fans in...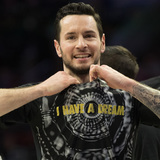 Here we are approaching the middle of February and Markelle Fultz still has yet to return to action following a swift exit at the beginning of the season. His shoulder is still not right, and Philadelphia 76ers general manager Bryan Colangelo said "there's a chance" Fultz will not play this season.Ever since he was forced out of the lineup due to his shoulder injury (and even before...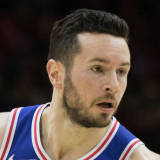 J.J. Redick has been hanging round with Kyrie Irving, and the topic of dinosaurs came up. Irving, who still claims the Earth is flat, must be rubbing off on Redick, because the Philadelphia 76ers guard admitted he doesn't know for sure if dinosaurs really existed here.The two discussed these issues on a recent edition of "The J.J. Redick Podcast." "The one thing I question in life...
MORE STORIES >>
76ers News

Delivered to your inbox

You'll also receive Yardbarker's daily Top 10, featuring the best sports stories from around the web. Customize your newsletter to get articles on your favorite sports and teams. And the best part? It's free!