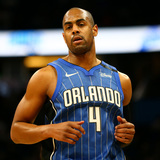 Due to an early trade deadline this season, the buyout market was active sooner than usual, with a handful of players released by their respective teams before the All-Star break. Greg Monroe, Joe Johnson, Marco Belinelli, and Brandan Wright are among the veterans who were bought out and quickly caught on with new teams earlier in February, and Ersan Ilyasova appears set to join...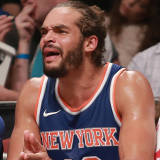 Several playoff-bound teams are keeping an eye on Joakim Noah's situation in New York and would consider signing him if he reaches free agency, sources tell Frank Isola of The New York Daily News. According to Isola, the Warriors, Timberwolves and Thunder are among the teams monitoring the Knicks center.As Isola notes, the Wolves represent an obvious fit for Noah since the team already...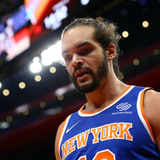 We have no idea if the New York Knicks are going to buy out the contract of veteran center Joakim Noah. What we do know is that he has played his final game as a member of the team.In order for Noah to be eligible for the playoffs, the Knicks would have to make a decision on a potential buyout by March 1.Now, according to this report from Frank Isola of the NY Daily News, the defending...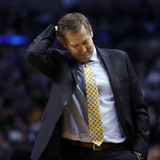 With the NBA schedule set to resume on Thursday, Joakim Noah hasn't rejoined the Knicks, and head coach Jeff Hornacek indicates there are no plans for the veteran center to return to the team anytime soon. Asked whether Noah will remain away from the club, Hornacek replied, "I think that is the plan," Newsday's Al Iannazzone writes."We've moved on," Hornacek said on Tuesday, per...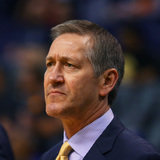 New York Knicks head coach Jeff Hornacek was not inclined to discuss at any length the alleged recent altercation between himself and Joakim Noah.Reports surfaced that a heated exchange between the center and Hornacek was the impetus to the team exiling Noah. Not only that, subsequent reporting indicated Hornacek allegedly shoved Noah during the altercation.Hornacek not surprisingly...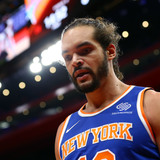 We're now unlikely to ever see Joakim Noah in a New York Knicks uniform again. Away from the team for the past month after getting into an argument with head coach Jeff Hornacek, the free agent bust will soon be looking for employment elsewhere. Whether that comes this season remains to be seen. But Hornacek made clear on Tuesday that the Knicks have indeed move on from him. This...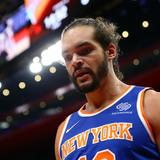 Joakim Noah remains persona non grata from the New York Knicks.General manager Scott Perry affirmed Friday that the Knicks have no intention of asking or welcoming the exiled Noah back into the fold after the trade deadline came and went without a deal."There's no new update — same place," Perry said, via Marc Berman of the New York Post. "We weren't able to get a trade done. He...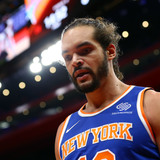 The Nuggets are a team to watch as today's trade deadline approaches, according to ESPN's Adrian Wojnarowski, who tweets that Denver is "active on several fronts." The club is trying to land Tyreke Evans and is looking to move players like Emmanuel Mudiay and Wilson Chandler. The Nuggets are also willing to use a draft pick to incentivize a team to take on Kenneth Faried, Woj adds...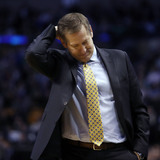 The New York Knicks announced on Friday that Joakim Noah will be away from the team indefinitely, and at this point it would not be a surprise if it remained that way for the rest of the season.Noah has not been with the Knicks since he had a dispute with head coach Jeff Hornacek on Jan. 25. According to a report from Stefan Bondy of the New York Daily News, the only way Noah would...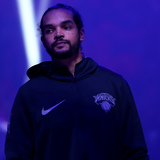 Unless the New York Knicks somehow find a way to unload Joakim Noah in a trade (yeah, that's not happening) the two sides have reportedly agreed to an indefinite leave of absence following a clash between the overpaid center and head coach Jeff Hornacek last week."The Knicks and Noah's representation discussed his status on Wednesday and agreed that Noah would stay away from the...
MORE STORIES >>
Knicks News

Delivered to your inbox

You'll also receive Yardbarker's daily Top 10, featuring the best sports stories from around the web. Customize your newsletter to get articles on your favorite sports and teams. And the best part? It's free!