We've updated our Privacy Policy.
By continuing to use this site, you are agreeing to the new Privacy Policy.
By Berry Tramel Columnist btramel@oklahoman.com The rim kept repelling shots Friday night. Paul George 3-pointers.
By Erik Horne Staff Writer ehorne@oklahoman.com Paul George admits it's a new feeling, a luxury he never had with the Pacers and may not get if he goes elsewhere in free agency. George's 3-of-16 night from the field Friday in a 105-99 win against Miami gets pushed under the rug of Chesapeake Energy Arena because of the play of Russell Westbrook.
At Their Best against the Best, Post All-Star success, 4th Best Record, Paul George Defense, & Steven Adams Most Improved.
LIKE WHAT YOU SEE?
GET THE DAILY NEWSLETTER: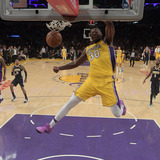 Julius Randle was "upset and angry" earlier this season when he didn't receive an extension offer from the Lakers, Ohm Youngmisuk of ESPN.com relays. The franchise wanted to keep its cap sheet clean, even if Randle was willing to give a hometown discount. While the team's rumored plan to pursue proven superstars this summer initially irked the big man, he's taking it much better...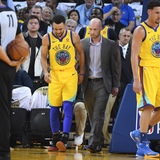 The Warriors will hold Stephen Curry out of action for another week while he recovers from a "tweaked" right ankle, the team announced in a tweet. Curry is making progress with his rehab, according to the Warriors, and will be re-evaluated March 20. That means he will miss at least four more games. Curry has been sidelined since Thursday when he hurt the ankle while being fouled...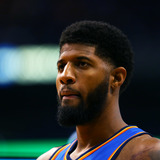 Paul George is going to be a free agent in July, and unlike LeBron James, his pursuit hasn't come with tea leaf reading and school tour tracking. The general consensus on George has been lazier than just about any major free agent in recent history. He is typically linked to one of three situations: His current team. His hometown team. LeBron James' team. That's it. That is the list...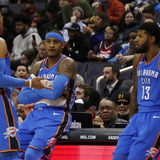 The Oklahoma City Thunder have struggled to find consistency this season with their revamped roster, and Paul George believes the NBA's officials have at least something to do with that.Following Monday's 112-105 win over the Orlando Magic, George once again expressed frustration over the way his team's games have been officiated this year. The way George sees it, he and teammates...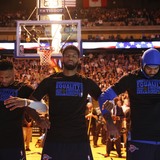 It would take a little while for Paul George, Russell Westbrook and Carmelo Anthony to click for the Thunder. But once things started going well, they were tough to slow down. Now suddenly without Andre Roberson, the Thunder are no longer the same. But this goes far beyond that.Paul George feels the Thunder's "Big 3" aren't getting the same calls as everyone else. He's tiring of...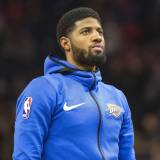 Paul George will be a free agent after the season, and he wants whatever team he signs with to be the final one he plays for.George said Saturday that he wants to build something long-term wherever he chooses to go in free agency and that he doesn't want to bounce from team to team during the latter half of his career."I'm not looking to bounce around and play for multiple teams...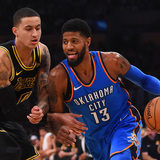 The Oklahoma City Thunder fans were not going to allow themselves to be outdone by their Los Angeles Lakers counterparts on the Paul George front.During OKC's 110-92 win over the Memphis Grizzlies on Sunday, their fans had the perfect response to chants that Lakers fans serenaded George with when the Thunder played them in LA on Thursday. Take a listen: When asked about the chants...
MORE STORIES >>
Thunder News

Delivered to your inbox

You'll also receive Yardbarker's daily Top 10, featuring the best sports stories from around the web. Customize your newsletter to get articles on your favorite sports and teams. And the best part? It's free!