We've updated our Privacy Policy.
By continuing to use this site, you are agreeing to the new Privacy Policy.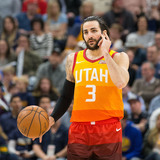 With the All-Star break over, teams in both conferences have a big couple months ahead. The fate of some of those clubs may come down to the performance of a single contributor. We'll take a look at four of those players (or coaches!) in each conference. Next up, the Western Conference.1. Ryan Anderson - Houston RocketsTwo summers ago, Anderson was a prized free agent addition for...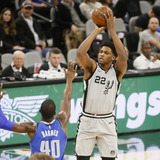 Rudy Gay is set to make his return from a heel injury for the San Antonio Spurs on Friday.The San Antonio Express-News' Jabari Young reported on Wednesday that he asked Gay whether he would be returning on Friday, and Gay said yes. Gay has not played since Dec. 28. The 31-year-old forward was averaging 11.5 points and 5.2 rebounds per game prior to getting hurt.The news about Gay...
Spurs forward Rudy Gay will be sidelined for at least the next two weeks with retrocalcaneal bursitis in his right heel, the team announced on its website.The injury forced Gay out of Thursday's game with the Knicks, and he had an MRI this morning that revealed the damage. The Spurs said Gay has begun a program of rest and rehabilitation, and his condition will be re-evaluated in...
LIKE WHAT YOU SEE?
GET THE DAILY NEWSLETTER: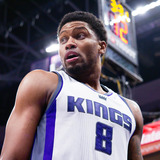 Rudy Gay took exception to a comment from Tony Allen about the nature of the "Grit and Grind" nickname for the Memphis Grizzlies.The Grizzlies have been known as a "Grit and Grind" team, which has described their style of play since Allen joined the squad in 2010-11. The name arose after Allen said they beat the Thunder in a 2011 game thanks to "all heart. Grit. Grind." Allen also...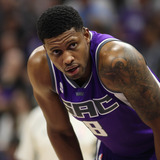 The Spurs have added offensive firepower to their team in the form of versatile forward Rudy Gay.San Antonio has been quiet this offseason as other teams in the NBA's Western Conference like the Rockets and Thunder have made big improvements to their rosters. Now, the Spurs have gotten in on the act as well with the addition of Gay. Gay likely could have received more money elsewhere...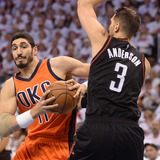 Oklahoma City center Enes Kanter has had himself a drama-filled offseason. But this hasn't stopped the veteran from taking to social media throughout the summer. His latest tweet might very well be a precursor of things to come. pic.twitter.com/PJFyboVP42— Enes Kanter (@Enes_Kanter) July 2, 2017 Oklahoma City has been linked to Sacramento Kings free agent forward Rudy Gay after acquiring...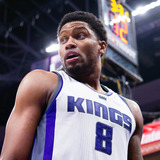 The Oklahoma City Thunder sent shockwaves throughout the NBA on Friday night, acquiring Paul George from the Indiana Pacers in what seems to be a lopsided trade.It's now become readily apparent that Oklahoma City is once again looking to make a play in the Western Conference one year after losing Kevin Durant to the Golden State Warriors in free agency.Now comes this report suggesting...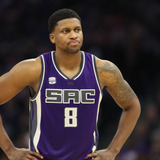 The Boston Celtics have big plans this offseason that have linked them to superstar players like Paul George, but they reportedly have a backup plan that could still help their team going forward.According to Steve Kyler of Basketball Insiders, the Celtics could end up targeting Rudy Gay in free agency if they end up missing out on the flashier names like George, Blake Griffin and...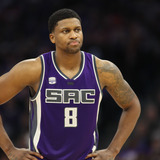 Sacramento Kings forward Rudy Gay will opt out of his contract and become a free agent this summer, according to Marc Spears of ESPN.Gay's marriage with Sacramento was an unhappy one — he reportedly requested a trade from the Kings last July, which never came to fruition in part because of a ruptured Achilles tendon. Gay played just 30 games this season, averaging 20 points and 6...
"It's been one of those situations where you wake up and you feel like the world is over some days and some days you're motivated, but for the most part I've been motivated and it's helped me. I feel like I'm way ahead of schedule." –Rudy Gay If you are looking for NBA Autographs, NBA Memorabilia, or NBA Trading Cards, HoopCats.com has it all! They also do giveaways on their Instagram...
MORE STORIES >>
Spurs News

Delivered to your inbox

You'll also receive Yardbarker's daily Top 10, featuring the best sports stories from around the web. Customize your newsletter to get articles on your favorite sports and teams. And the best part? It's free!