We've updated our Privacy Policy.
By continuing to use this site, you are agreeing to the new Privacy Policy.
By Erik Horne Staff Writer ehorne@oklahoman.com Paul George admits it's a new feeling, a luxury he never had with the Pacers and may not get if he goes elsewhere in free agency. George's 3-of-16 night from the field Friday in a 105-99 win against Miami gets pushed under the rug of Chesapeake Energy Arena because of the play of Russell Westbrook.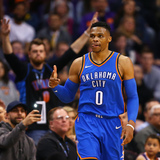 The Oklahoma City Thunder are struggling. But reigning MVP Russell Westbrook is doing all he can to keep them in it. Last night against the Phoenix Suns would be no exception."Russell Westbrook had 43 points, including the go-ahead 3-pointer with 56 seconds to play, and the Oklahoma City Thunder scored the final 10 points of the game to escape with a 124-116 victory over the Phoenix...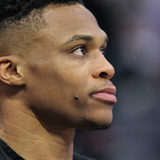 In 2018, an obsession with the NBA means a dissection of the sport, from cryptic or petty tweets to deep analytics. It's beautiful game to watch, and processing it from top to bottom is part of the deal. Processing anything means a search for definable truths. NBA fandom is a paradox in that we're drawn to its unpredictability, but we spend the 21 hours in between games calculating...
LIKE WHAT YOU SEE?
GET THE DAILY NEWSLETTER: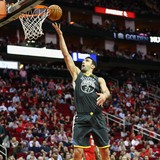 Zaza Pachulia's misdeeds are drawing near-universal rebuke around the NBA.In a win over the Oklahoma City Thunder on Friday night, the Golden State Warriors center again became the subject of controversy after he appeared to intentionally fall on the legs of Thunder superstar Russell Westbrook. (@AdamJosephSport) February 25, 2018 Reacting to a video of the play on Instagram, Boston...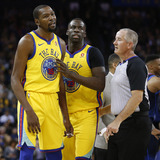 Draymond Green sometimes gets whistled for fouls based on his reputation, which we saw during Saturday's game against the Thunder.Green fouled Jerami Grant on a dunk attempt, and he then pumped his fist in an attempt to fire up the fans at Oracle Arena. An official then apparently believed that was worthy of a technical foul, which seemed a bit ridiculous. Check out Russell Westbrook...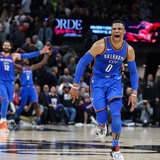 Even on a night when he wasn't at his best, Russell Westbrook still found a way to make a big impact.Westbrook drained a 3-pointer at the buzzer to beat the Sacramento Kings 110-107 on Thursday night: Westbrook didn't have his shot for most of the night until then. He still finished with a triple-double in Oklahoma City's win. And credit Thunder coach Billy Donovan for drawing up...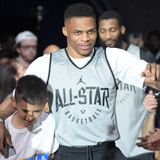 The NBA All-Star Game is taking place Sunday night. But since DeMarcus Cousins can't suit up, Team LeBron needs a new starter. Enter Russell Westbrook.That's certainly not a like-for-like swap from Team LeBron head coach Dwane Casey. But there's plenty to like about this starting five all the same. Westbrook joins LeBron (obviously), Kyrie Irving, Kevin Durant and Anthony Davis....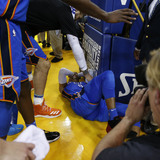 A scary moment took place late in the first half of Tuesday's Thunder-Warriors game.Russell Westbrook had the ball in the waning seconds of the second quarter, and he was determined to get to the basket. He dribbled swiftly past midcourt and then drove the lane, where he was met by Draymond Green, who was protecting the rim on the play. Green appeared to hit Westbrook in the face...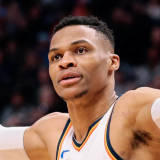 Law enforcement has reportedly acted swiftly against the fan who confronted Russell Westbrook after Thursday night's game.According to ESPN's Ramona Shelburne, the Denver Nuggets fan who walked onto the court and confronted Westbrook after Gary Harris's game-winning shot has received a summons and complaint for trespassing and won't be attending any more NBA games. It's nice to see...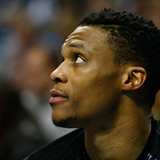 Oklahoma City Thunder superstar Russell Westbrook says the fact that a fan was able to walk onto the court and confront him following Thursday night's game against the Denver Nuggets is "totally unacceptable."The incident played out following the Nuggets' 127-124 buzzer-beater win over the Thunder at Pepsi Center. As Westbrook was walking off the court, a fan approached him, getting...
MORE STORIES >>
Thunder News

Delivered to your inbox

You'll also receive Yardbarker's daily Top 10, featuring the best sports stories from around the web. Customize your newsletter to get articles on your favorite sports and teams. And the best part? It's free!