Originally posted on
Sportsnaut
| Last updated 2/2/15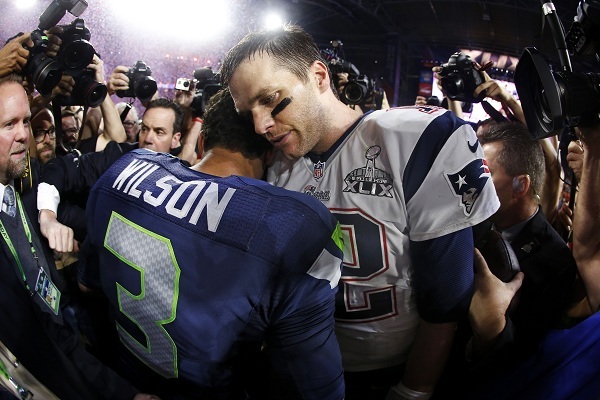 After one of the most memorable Super Bowls ever, what did we learn?
Christian Petersen/Getty Images
In our 21st and final installment in this series of articles, it's time to check in on Super Bowl XLIX between the Seattle Seahawks and New England Patriots.
In a game that ended with the then defending champion Seahawks on the wrong end of the scoreboard, New England—led by Tom Brady—earned the franchise's fourth Lombardi Trophy in dramatic fashion.
It was one of the better Super Bowls in recent history. The game was tied at 14 heading into the half, but Brady was able to outperform a previously dominant Seahawks defense to the tune of 328 yards and four touchdowns in the win.
Here are your takeaways from this, the pinnacle of the NFL season.
1. Initial Injuries to Seattle's Secondary Had Little Impact
Both Richard Sherman and Earl Thomas were playing with somewhat serious injuries in the Super Bowl. Meanwhile, Kam Chancellor suffered some sort of knee injury on Friday and had a noticeable limp prior to the game. Magnifying these injury issues even further, Jeremy Lane went down with a serious arm injury in the first quarter and didn't return to the game. This left a struggling Tharold Simon as the team's third cornerback behind Richard Sherman and Byron Maxwell. That would lead to some major mismatches in the Patriots' favor as the game progressed.
Despite this, Seattle's defense was able to force two Tom Brady interceptions—plays that ended up playing a major role as the game went on. And while Seattle's three Pro Bowlers in the Legion of Boom were nowhere near 100 percent, they proved to be more than up for the task. In the end, however, it was the Patriots who stepped up when it counted the most.
2. Simply Put, Tom Brady Outplayed Russell Wilson
Looking at it through the context of the game itself, Wilson seemed to be outplaying Brady up until that ill-conceived play call on Seattle's final offensive play of the game. Despite not completing a pass for the first 23 minutes of the game, Wilson was able to hook up with Chris Matthews and others down the field in the second quarter and throughout the second half.
However, it was Brady's ability to take on the Legion of Boom that helped New England pull off a 10-point comeback in the final quarter against one of the best defenses in the modern history of the NFL. And while he did have those two interceptions, Brady's confidence in his receivers and himself came out in droves as the game continued. In this, he completely outplayed his counterpart from Seattle.
3. Seattle's Failure to Push the Tempo Early Impacted the Game
Seattle was intent on establishing the run with Marshawn Lynch early on. But once the Seahawks decided to push the ball down the field from the second quarter on, their offense took off big time. Heck, a five-play, 80-yard touchdown-scoring drive in the final minute of the second quarter showed us just how capable Seattle's offense was of putting up some massive yardage numbers.
It makes us wonder how things would have turned out if Seattle had opened up the game with a less-conservative approach. As it is, Pete Carroll's squad left a lot on the table early on. And in reality, that impacted the outcome of the game.
4. Seattle isn't Going Away Anytime Soon
Despite the loss, Seattle isn't going to ride quietly into the night. This is still a team that has to be considered one of the favorites to win Super Bowl 50 next February in Santa Clara, California. The young talent is there, it looks like Marshawn Lynch is returning, and Russell Wilson is going to be just fine.
There will likely be some departures in Free Agency. Malcolm Smith and Byron Maxwell are going to demand more money on the open market than Seattle is likely going to be willing to spend. Meanwhile, James Carpenter should draw a nice amount of interest. However, the pieces remain in place for Seattle to contend for the foreseeable future.
5. Tom Brady's Legacy Now Set
The all-time leader in touchdown passes in Super Bowl history. Now tied with Joe Montana and Terry Bradshaw for the most Super Bowl wins for a quarterback in NFL history (four). If there was little doubt that Brady was an all-time great before this game, that has been thrown out the window and swept into the dustbin of history. What Brady has accomplished since taking over as the Patriots starter back in 2011 is nothing less than incredible. You simply won't see this type of sustained success in the NFL moving forward. Heck, it's unimaginable that Brady had this success in the salary cap era. And while we have no idea how the rest of his career is going to play out, the future Hall of Famer's legacy is now etched in stone.
6. Worst Play-Call in Super Bowl History.
On second-and-goal from the one-yard line and with Marshawn Lynch in the backfield prepared to lead Seattle to a second consecutive Super Bowl title, Pete Carroll and company may have made the worst play call in the history of the big game.
Instead of handing it off to Lynch, who had tallied 133 total yards in the game, Seattle decided to throw a slant to reserve wide receiver Ricardo Lockette. By now you already know how that turned out, but the call itself has to be considered the worst in the history of the big game.
In taking full responsibility for costing his team a championship, Carroll had this to say following the dramatic loss (via NFL.com).
I told those guys, 'That's my fault, totally. But we had plenty of time to win the game…we were playing for third and fourth down, give them no time left … but didn't work out that way."
This is the type of coach Carroll is. He's not going to throw anyone else under the bus—offensive coordinator Darrell Bevell and quarterback Russell Wilson included. However, we know full well that Bevell has play-calling duties and Wilson possesses full autonomy to change the play at the line. Whoever made the call, it really doesn't matter. Seattle lost the Super Bowl in large part due to it, and that will never change.
7. Chris Matthews is a Thing
Matthews—an undrafted free agent from Kentucky—played all of 19 snaps during the regular season. Not only did he match that total in the Super Bowl, the 25-year-old receiver caught four receptions for 109 yards and one touchdown in the loss. And less than a year after working at Foot Locker, the former Canadian Football League Rookie of the Year, is etched in stone as one of the most surprising players in the history of the Super Bowl. It's a story that has been told numerous times in league history. A player coming out of absolutely nowhere to step up and play his best game on football's biggest stage. Despite the loss, Matthews deserves a ton of credit for his worth ethic and undying perseverance in the face of great obstacles. That's what makes this game so grand.
8. The NFL Wins Again
Following a year that has tarnished the image of the league in the public realm, an epic Super Bowl was most definitely needed for Roger Goodell and company. Fortunately for the suits in New York City, that's exactly how it played out.
While we are sure to hear a whole lot about Deflate-gate in the coming weeks, no story is going to rival how Super Bowl XLIX captured the attention of an unsuspecting American public. From Katy Perry's awesome halftime performance to Tom Brady playing the role of goat before showing his cards as the GOAT, this game had a little bit of everything.
Obviously, the culmination of one of the greatest Super Bowls in modern history—an interception of Russell Wilson in the end zone—only magnified this further.
9. Game Marred by Ugly Ending
You know the old saying, "act like you have been here before?" It's readily apparent that Seattle linebacker Bruce Irvin didn't take that to heart. With his team pretty much on the verge of losing the Super Bowl following a last-second interception by Russell Wilson, Irvin decided to take his frustration out on members of the Patriots. In short, it just wasn't a good look. Irvin did indicate after the game that he was protecting a teammate—namely Michael Bennett—after punches were thrown. We will have to go back to the video and check in on this down the road, but there is some level of truth to this…
In any event, Irvin was the only one ejected from the game. And despite the fact that Patriots tight end Rob Gronkowski clearly threw a punch, Irvin will be the only one remembered from this fight. Regardless of whether it's justified, there will also be some thought given to the idea that Seattle can't lose with class.
10. A Rematch Isn't All That Unlikely
With Seattle primed to contend for a Super Bowl in the coming years, there's little reason to believe that Pete Carroll's squad won't find itself in the big game at some point soon. As mentioned above, the young talent is definitely there for Seattle to see sustained success for an extended period of time.
As it relates to the Patriots, they are pretty much going to be conference title contenders until Tom Brady decides to hang his cleats up. More so than any quarterback out there, Brady makes those around him much better than they actually are. That leads us to believe that no matter New England's deficiencies, Brady will have this team in contention again next season.
In short, it wouldn't be all too surprising to see New England and Seattle play once again in the Super Bowl next season.
PLAYERS:
Tom Brady
,
Richard Sherman
,
Earl Thomas
,
Kam Chancellor
,
Jeremy Lane
,
Tharold Simon
,
Byron Maxwell
,
Russell Wilson
,
Chris Matthews
,
Marshawn Lynch
,
Pete Carroll
,
Malcolm Smith
,
James Carpenter
,
Joe Montana
,
Terry Bradshaw
,
Ricardo Lockette
,
Roger Goodell
,
Katy Perry
,
Bruce Irvin
,
Michael Bennett
,
Rob Gronkowski
TEAMS:
Seattle Seahawks
,
New England Patriots
MORE FROM YARDBARKER
NFL News

Delivered to your inbox

You'll also receive Yardbarker's daily Top 10, featuring the best sports stories from around the web. Customize your newsletter to get articles on your favorite sports and teams. And the best part? It's free!