Originally posted on
Sportsnaut
| Last updated 3/16/15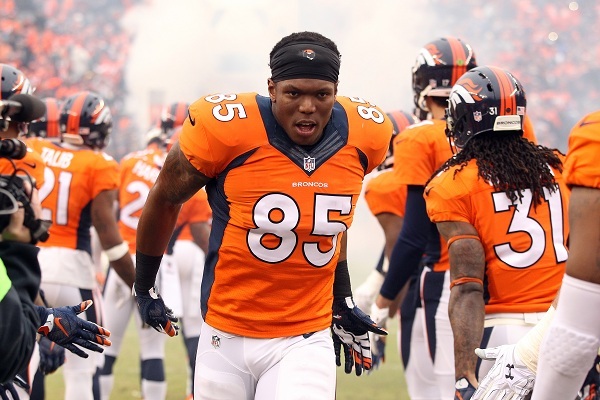 Denver's retention of Virgil Green may have Broncos fans forgetting Julius Thomas next season.
Ezra Shaw/Getty Images
By David Kenyon
Some guys get all the glory.
A handful of big-name talent found new homes around the NFL, while others stuck around at a familiar location. But rosters aren't solely comprised of superstars; rather, each one needs role players to solidify a championship-contending club.
Franchises utilize free agency and trades to build their squad, and five acquisitions from the 2015 offseason aren't receiving enough of the spotlight.
That's about to change.
Chicago Bears Ink Eddie Royal
Signing Pernell McPhee was an outstanding move for the team in the Windy City, but Eddie Royal gives the Chicago Bears something they've dearly missed: A downfield threat in the passing game.
Jay Cutler certainly struggled last season, but the inconsistency was also a product of a limited passing attack. The receiving corps was heavy on possession-oriented wideouts with little speed.
Chicago grabbed Royal for $15 million over three years, and his ability to stretch the field should help Alshon Jeffery dominate the intermediate level.
Royal tallied 91 targets during the 2014 campaign—his most since 2010—so he's a large part of Brandon Marshall's role, while Marquess Wilson will pick up the rest.
Denver Broncos Re-Sign Virgil Green
In one of the least surprising moves, Julius Thomas bolted the Denver Broncos in favor of a massive payday with the Jacksonville Jaguars.
Newly hired head coach Gary Kubiak reached out for an old friend in Owen Daniels, but Virgil Green will be Thomas' main replacement. Perhaps surprising to some, Green is an upgrade, too.
While Thomas was one of the league's worst blocking tight ends, Green was rated No. 4 in the run game, per Pro Football Focus. The 6'5″, 255-pounder perfectly fits Kubiak's ground-focused system.
Green signed an $8.4 million contract that will keep him in Denver for three years.
Indianapolis Colts Add Todd Herremans
Andrew Luck might just be the greatest thing since sliced bread. However, if the Colts don't upgrade their offensive line, the franchise quarterback will continue being smashed bread.
Luck was hit an NFL-high 61 times, and Pro Football Focus listed Indianapolis as 2014's seventh-worst pass-protecting unit, which was really a cobbled-together mess of fringe players other than Anthony Castonzo and A.Q. Shipley.
Consequently, the Colts brought Todd Herremans to town on a one-year, $2.3 million deal. He's not an elite addition, but the 32 year old is undoubtedly better than Gosder Cherilus, Lance Louis and Hugh Thornton.
Plus, since Herremans can line up at both guard and tackle, he provides versatility on a team that so desperately needs it. And hopefully for Indy, Luck's uniform won't have as many grass stains next season.
Miami Dolphins Acquire Kenny Stills
The headline-grabbing move in South Florida was Mike Wallace being shipped to the Minnesota Vikings in exchange for a bag of peanuts—otherwise known as a fifth-round pick.
But his replacement, Kenny Stills, contributes a similar skill set at 1/20th of the price. The Miami Dolphins swapped a third-round pick and an underperforming linebacker in Dannell Ellerbe for the Oklahoma product.
Stills caught 63 of his 80 targets, and Wallace reeled in just 67 passes in 108 chances. Considering they dropped just three and four, respectively, Stills is a comparable receiver and ultimately allowed Miami to save $17 million while only losing a third-rounder.
And with Ryan Tannehill likely to receive a large contract extension within the next 12 months, the Dolphins should have made the set of trades 10 times out of 10.
Oakland Raiders Snag Dan Williams
Lost behind the pursuits of Ndamukong Suh, Terrance Knighton, Jared Odrick and Nick Fairley was one of the league's more under-appreciated defensive tackles, Dan Williams.
The 6'2″, 327-pounder signed a four-year, $25 million with the Oakland Raiders. Williams will immediately become a key piece of his new defense, joining Justin Ellis in the trenches.
Williams, PFF's No. 8 interior defender against the run, will demand extra attention at the line of scrimmage, which will subsequently take pressure off Ellis, Khalil Mack and Justin Tuck.
Oakland is working to become competitive in a tough AFC West, and bolstering its run defense with Williams is a critical step in the right direction.
MORE FROM YARDBARKER
NFL News

Delivered to your inbox

You'll also receive Yardbarker's daily Top 10, featuring the best sports stories from around the web. Customize your newsletter to get articles on your favorite sports and teams. And the best part? It's free!