Originally posted on
Sportsnaut
| Last updated 3/6/15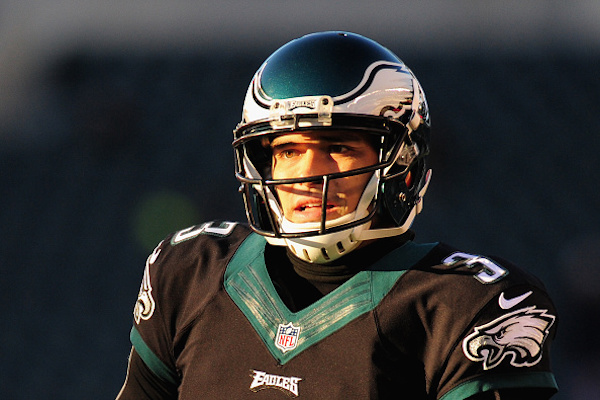 Mark Sanchez headlines a relatively weak quarterback free agent class, but could serve a QB-needy team well.
Evan Habeeb/Getty Images
By Rachel Wold
This year's free agent class is loaded at wide receiver and running back. However, the buck stops short at quarterback. With Josh McCown recently inked by the Cleveland Browns, an already weak class is set to hit the open market without what was the best option.
Here is a look at the top-five free agent quarterbacks set to be courted by teams come Tuesday.
1. Mark Sanchez, Philadelphia Eagles
2014 Stats: 2,418 passing yards, 14 touchdowns and 11 interceptions (nine games)
With many potentially good years remaining in his career, this former Jets and Eagles quarterback will hit the market to see what interest quarterback-needy teams might have in him. While his career performance has been all over the charts, Sanchez did lead the Jets to two playoff runs in 2009 and 2010. Unfortunately, things have not worked out as well since his earlier years. Sanchez, who has the ability to be produce well for spurts of time, makes for a solid veteran addition as training camp competition for the most needy of teams.
Potential Landing Spots: Chicago Bears, Tennessee Titans and Houston Texans
2. Jake Locker, Tennessee Titans
2014 Stats: 935 passing yards, five touchdowns and seven interceptions (seven games)
When healthy, Locker showed some solid upside during his four years in Tennessee. As one of the youngest free-agent quarterbacks, this former first-round pick could draw some solid interest on the open market. With that said, Locker's injury history ultimately led to his downfall with the Titans. He played in only 30 of a possible 64 games during his time with the team. It's likely Locker will find himself in position to compete for a starting gig somewhere.
Potential Landing Spots: Houston Texans, Philadelphia Eagles, Chicago Bears
3. Brian Hoyer, Cleveland Browns
2014 Stats: 3,326 passing yards, 12 touchdowns and 13 interceptions (14 games)
With just four career starts prior to the 2014 season, Hoyer struggled immensely when handed the keys to the Browns offense this past year. While this former Ohio State standout did jump out with some solid early-season success, he struggled down the stretch. In his final six games of the season, Hoyer tallied just two touchdowns compared to nine interceptions. Likely to land a role as a backup, Hoyer makes for a somewhat interesting option in a watered-down quarterback class.
Potential Landing Spots: Minnesota Vikings, Houston Texans, New York Jets
4. Ryan Mallett, Houston Texans
2014 Season Stats: 400 passing yards, two touchdowns and two interceptions (three games)
With not much experience under his career belt other than watching his former teammate Tom Brady throw the rock, Mallett makes for an interesting quarterback prospect moving forward. Unfortunately for Mallett, when given the opportunity to start for the Texans last year, he suffered a pectoral injury which ended his season prematurely after only two starts. If he doesn't stay with the Texans, any team willing to give the beastly 6'6″ guy a chance could end up with an inexpensive quarterback of the future.
Potential Landing Spots: Houston Texans, New York Jets
5. Michael Vick, New York Jets
2014 Season Stats: 604 passing yards, three touchdowns and two interceptions (10 games)
We are back to kicking around the idea of Vick being a potential free-agent acquisition. Strictly looked at as a backup option, Vick could find his niche for a young quarterback-led team. The former first-overall pick of the Atlanta Falcons in 2001 has only played one complete 16-game season in his career. Handy on his feet, Vick has accumulated 6,011 rushing yards during his 14 seasons. If any teams are interested in Vick's services, it will likely be for just a one-year gig.
Potential Landing Spots: Minnesota Vikings, Tampa Bay Buccaneers, Tennessee Titans
MORE FROM YARDBARKER
NFL News

Delivered to your inbox

You'll also receive Yardbarker's daily Top 10, featuring the best sports stories from around the web. Customize your newsletter to get articles on your favorite sports and teams. And the best part? It's free!